Practice-Based Teaching Encompasses All of Think. Teach. Do
.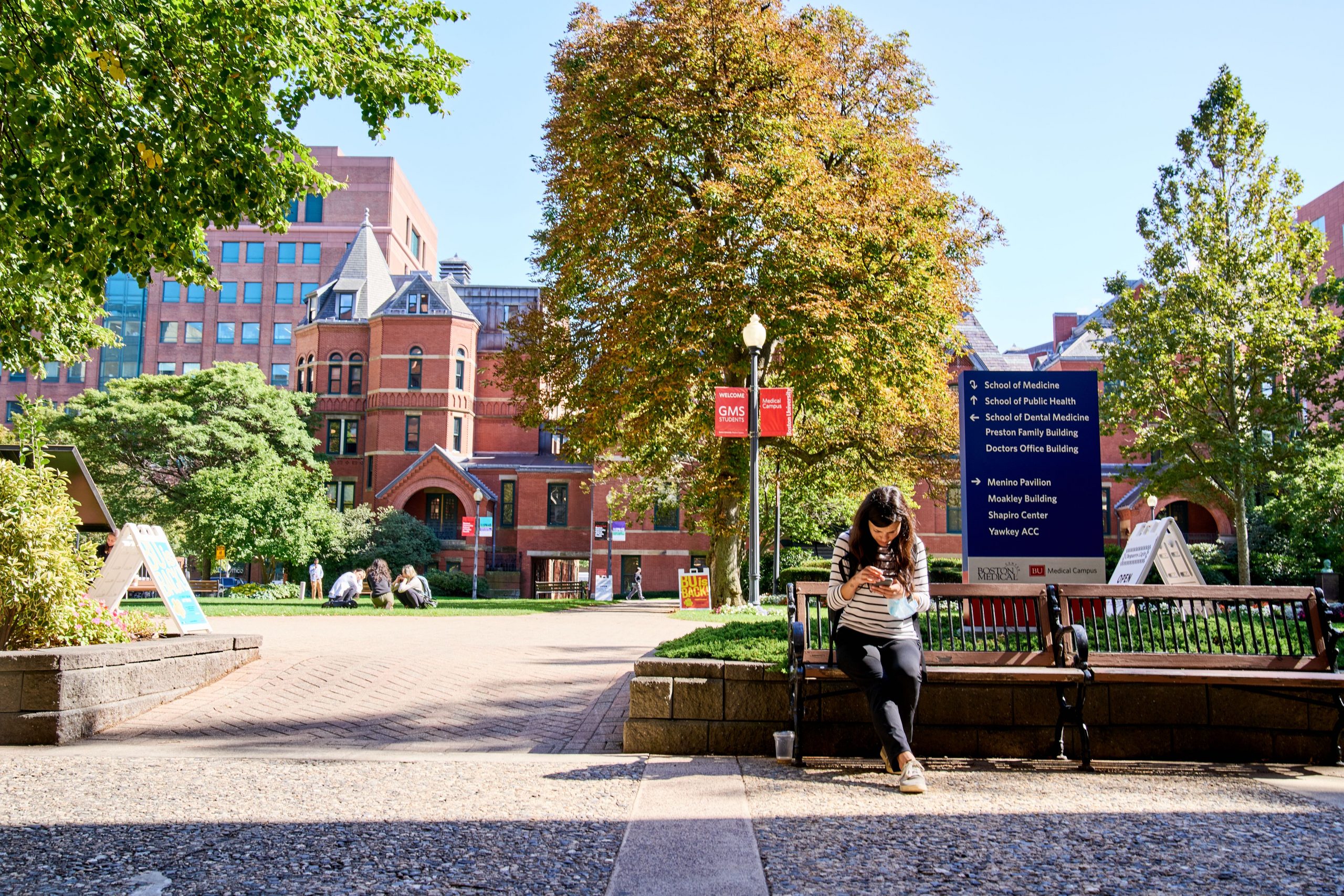 education
Practice-Based Teaching Encompasses All of Think. Teach. Do.
A new School of Public Health study evaluated the long-term impacts of practice-based teaching on students, faculty, administration, and collaborating agencies to determine if the reported benefits of the pedagogical approach outweigh the challenges.
At the School of Public Health, students are equipped with the knowledge and practical skills needed to tackle the most pressing local and global public health challenges of our time. And there is no better way for our future public health leaders to build upon these skills than through real-world application and practice.
Now, several courses at SPH center around practice-based teaching (PBT), a pedagogical approach that brings students, faculty, and outside organizations together to create evidence-based solutions for the organizations' specific public health needs. Through the combination of traditional methods of learning, the immediate application of skills, and collaboration, PBT supports students' learning inside and outside of the classroom and prepares them to enter the workforce through real-world public health problem-solving.
"PBT encompasses all that we do as a school through our mission of Think. Teach. Do.," says Jacey Greece, clinical associate professor of community health sciences, who has been instrumental in developing and adapting PBT for courses at SPH, including Communications Strategies for Public Health. "It puts innovation at the center of our thinking, and it encourages students to apply the skills they learn in the classroom to the real world in real-time. And as faculty, it ensures we are teaching our students tangible, applicable skills they can use in the workforce to move the field forward."
In a new study published in Public Health Reports, Greece and colleagues conducted a long-term, cross-disciplinary evaluation to identify the long-term impacts of PBT on students, partner agencies, faculty, and administration, as well as to determine whether the reported benefits of the approach outweigh its challenges.
Students across four PBT courses and all SPH concentrations were surveyed at the end of their semester through academic course evaluations, as well as three years follow-up. At follow-up, a majority of students reported they were able to effectively apply the skills they learned throughout the PBT course(s)—including consultation techniques, communication plans, and program evaluations—into their current work in the field.
Most students also reported that working directly with an agency as a student helped them to develop their problem-solving skills, enhance their leadership and communication skills, and gain a greater appreciation for the field, as a whole, making them better prepared to enter the workforce.
Partner agencies were also followed-up with after three years. The majority of agencies reported they were able to successfully implement a variety of deliverables created by SPH students, ranging from strategic management plans and needs assessments, to program intervention plans.
"Public health is such a low-resourced field, and oftentimes organizations don't have the time or space to dedicate to research how best to support their target population," says Greece. "Having our students essentially work for them over the course of a semester, while learning required competencies, to put forward really actionable, tailored deliverables helps to fill in these gaps. And hearing that our agencies have successfully implemented the products from our students successfully really shows the positive impact that PBT can have not only on our students, but also on our collaborating agencies and the communities they serve."
Agencies also reported gaining fundamental knowledge, skills, and professional benefits from their time working closely with SPH students and faculty, allowing them to gain a better understanding of their target population and how to best serve them.
"Every agency we partner with is invited to attend class sessions, guest lectures, and presentations," says James Wolff, associate professor of global health, who teaches PBT courses with a global health angle, including Implementing Programs in Developing Countries, mHealth, and Program Design for Global Health. "This really is a learning process for everyone, so in addition to receiving all of the deliverables that students work on throughout the semester, our clients also have access to the same lectures and information we are sharing with our students to help further enhance their understanding in these areas."
Among both faculty and administration, the study found that a majority agreed that PBT could enhance the School's reputation and has beneficial outcomes for students in regards to gaining hands-on experience in the classroom that will prepare them to succeed in their future career. However, they also recognized that challenges to incorporating PBT into courses, including enough time and preparation, adequate training, and a lack of networks with outside agencies, still remain.
"Our findings highlight that faculty and administration, even among those faculty and admins that are not engaging in PBT, believe there is value in investing in PBT, for our students, our faculty, and our School, as a whole," says Greece. "However, they also recognize that this work is very resource-intensive, so our findings of long-term workforce application really emphasize the need for more resources to support our faculty in taking on this pedagogy and successfully implementing it in the classroom."
While the study exclusively evaluated the impact of PBT on in-person learning, Greece and Wolff have now been teaching these courses in virtual or hybrid learning environments for over two years due to the COVID-19 pandemic. They highlight that although the pandemic hindered opportunities for many, the subsequent shift to online learning and teaching actually broadened the landscape of possibilities for PBT at SPH.
"COVID has made PBT more flexible and robust as a pedagogy," says Wolff. "Our technology now allows us to communicate better than we have ever before and work more closely with clients, outside experts, and each other, especially in the field of global health. People now need the skills to develop strong relationships and work effectively with clients in a virtual setting."
The pandemic has also helped widen the range of agency partnerships, especially in the domestic setting, allowing students to work with clients outside of the Greater Boston area. Over the last two years, students have had the opportunity to collaborate with organizations from across the United States, including California, Ohio, Tennessee, and Maine.
Globally, students have worked with organizations from a range of countries, including Tanzania, Albania, Saudi Arabia, Zambia, Lesotho, and Mexico.
"There are benefits to partnering with agencies in our own backyard, but this can provide a narrow view of the public health landscape," says Greece. "With PBT, we are training students to better serve the communities they want to work with in the field, and COVID has made the field more expansive and accessible. It has really given students the opportunity to gain both insight into public health problems across various geographic settings and the training to solve them."
The next step in the researchers' PBT study is to evaluate the pedagogy across multiple learning formats, including in-person, virtual, and hybrid, to determine if the setting impacts whether students are being equipped with the same level skills and workforce preparedness.
"We believed in this pedagogy long before COVID, and now since COVID, we believe in it a thousand times more," says Wolff. "Before the pandemic, practice-based teaching was a nice-to-have, and now it is a necessity."
"If COVID has taught us anything, it is that we cannot anticipate what the field needs and we have no idea what priority issues we may face," concludes Greece. "The best thing that we can do is invest in arming ourselves and our students with the skills to tackle anything that comes our way, and empower ourselves to create the networks and collaborations that we need to get the job done."
Check out some of the student projects developed through practice-based courses at SPH and learn how your organization can partner with SPH in the future on Collaborate Health, an online resource portal for PBT.