Remote Teaching Reflections: E. David Zepeda
.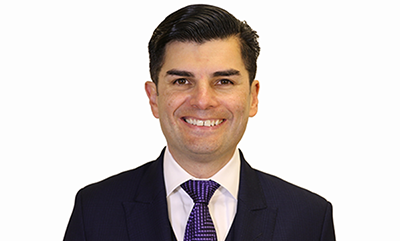 Five weeks in, and nearly 30 hours of Zoom class time! Readying for the sprint to the finish line—three weeks to go. As a clinical associate professor in the Department of Health Law, Policy & Management, I teach Leadership and Management for Public Health (PH718) as well as Operations Management in Healthcare (PM832). With each course, there have been specific challenges transitioning to the Zoom platform.
The first Zoom session for my PH718 course required 81 students to deliver an IGNITE presentation.  Undoubtedly, I had trouble getting the pre-assigned Breakout Rooms on Zoom to work—a big thanks to my TAs for stepping up and getting their own Zoom Meetings up and running. I am so proud of my students for also stepping up and delivering their IGNITE presentations as scheduled.
The students are now in the process of finalizing their semester-long team projects, which consists of responding to a request for proposal on climate change, gun violence reduction, safe disposal sites, or refugee resettlement. The final deliverable will include both a team presentation and a written proposal.
A specific challenge in my PM832 course has been the semester-long sponsored team project. Students work with a local sponsor organization on an actual operational issue that the sponsor organization is struggling with. Understandably, the current public health challenge requires that many of the sponsor organizations redirect some of their attention and resources. Operating remotely has also limited students' ability to get first-hand experience with the sponsor organizations' operations—one of the key learning opportunities provided by the course. Regardless of these challenges, my students have delivered their mid-term progress report recognizing the challenges that they are facing, and are now gearing up for their team presentation and final written report.
Despite these challenges, everyone—from the students, to staff, faculty, school leadership, and project sponsor organizations, understands that we are all in this together. The students have been incredibly flexible in adapting to the remote mode of teaching while also managing their personal circumstances. They also provide invaluable constructive feedback to assist me with adapting the courses. My TAs have been instrumental in stepping up to fill in the gaps. From grading, to communicating with students, to attending Zoom class sessions, to even serving as guest speakers, my TAs have provided unwavering support. The staff and leadership have been very supportive in providing me with the required resources for remote teaching. The sponsor organizations have remained engaged with my PM832 students during these challenging times, providing students with feedback and adapting or modifying the projects as needed.
Here are some tidbits of advice that I have picked up along the way:
When joining a Zoom Meeting, dial in using your phone for voice—the phone is not impacted by intermittent internet issues.
Breakout Rooms work best if they are pre-assigned—randomly breaking into rooms can be challenging, depending on how students are joining the session.
Use the Poll feature on Zoom throughout the class sessions to keep students engaged. I usually include a Poll question or two after each Breakout Room session.
Try new things! I am more comfortable with stumbling through a Zoom class session to try new things out, than in a physical classroom.
On a personal note, my family is a dual-career family with a two-and-a-half-year-old son at home. Thus, we have to plan our daily schedules accordingly. Anticipating that remote teaching and work will be with us longer than originally anticipated, my wife and I are in the process of adapting our South End apartment to be more conducive to working from home, while limiting the impact on our son's daily fun. I foresee our son being a guest in my classes in the near future!