'I Wanted to Understand Their Livelihood'
.
As a Master of Public Health student studying health communication, epidemiology, and biostatistics, Pallavi Puri is determined to bridge the gap between public health research and communication for policymakers and the public—especially around the subject of tobacco prevention.
This past summer, Puri had an opportunity to hone her investigative and messaging skills on this global health issue as a 2019 Pulitzer Center on Crisis Reporting Fellow. From June to August, Puri traveled to multiple cities in India to conduct an in-depth probe into the country's unregulated beedi (hand-rolled cigarette) industry—and its health and economic impact on a workforce comprised mostly of women and children. Puri recently presented a brief outline of her findings during a celebration of fellows' work October 18-20 in Washington DC.
In India, there are more beedi smokers than cigarette smokers, yet the industry is highly unregulated, Puri says. "Beedi workers work long hours for very little money. The women are exposed to tobacco dust, they don't use gloves, and many of them work from home with children on their lap."
Because it is loosely regulated, the true number and extent to which women and their families are impacted physically, psychologically, and economically are unclear, she says. "I wanted to understand how their health and livelihood are affected by this hazardous industry."
The Pulitzer Fellowship program is part of a collaboration that SPH has shared since 2011 with the College of Communication and the Pulitzer Center on Crisis Reporting through Boston University's Program for Global Health Storytelling. Pulitzer Fellows explore the intersection of journalism and public health while developing a multimedia project on an underreported health crisis abroad. At least one student is chosen from SPH and COM each year. This year, Puri was selected along with then-COM student (now alum) Daniel Merino and 41 other fellows from 35 schools.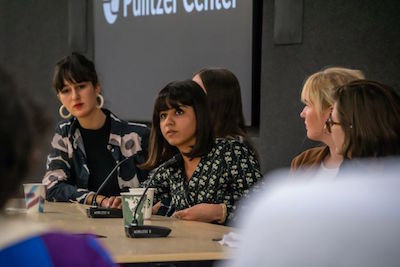 BU students who enroll in the Global Health Storytelling course  are eligible for the $5,000 fellowship, which is geared toward public health and journalism students interested in creating compelling narrative about global health issues to broad audiences. Taught by Jennifer Beard, clinical associate professor of global health at SPH, and Anne Donahue, associate professor of journalism at COM, the class is offered each spring through COM. There will be two informational sessions about the class and program: 1 p.m. on November 5 at SPH and 12:30 p.m. on November 15 at COM.
Beard says the goal of the class is two-fold: to train public health students to translate their work into compelling narrative, and to provide health-focused communications students with foundational public health knowledge—with a shared goal of creating positive change through the power of storytelling.
"As a discipline we talk in jargon, and we write in a way that often nobody wants to read and that few people can understand," she says. "We forget about the public part of public health—that we need to be able to communicate with the general audience what we need to do. This class gives students a new way of thinking about how to tell a story."
In addition to storytelling skills from the class, Puri also gained practical skills and mentorship from seasoned journalists at Vox and Politico during a pre-fellowship trip to the Pulitzer Center headquarters in June. She says the academic and professional guidance she received helped prepare her to navigate the powerful beedi industry, whose leaders have largely gone unchallenged.
"The Pulitzer Fellowship has been a great platform through which I have been able to bridge the gap between storytelling and research," Puri says. "During this fellowship, you'll make important connections and also get exposed to the diversity the fellows bring in terms of the issues and their storytelling approach."
For her report, Puri sought to learn more about the conditions of beedi rollers through personal stories and direct perspectives of the women impacted.
She traveled to New Delhi, Madhya Pradesh, and Karnataka, interviewing women beedi rollers in their homes—and in hospitals—and also questioned the business owners and local and national government officials on the inner workings of the industry.
The report details evidence-based solutions for government officials to improve the economic and health conditions for these vulnerable workers.
"Many women are really suffering, and were hesitant to speak or have their photos taken. Many government officials didn't want to go on record."
Puri also says she was humbled after learning about the myriad battles that beedi rollers face, and recognized that it is "a privilege" to be able to frame beedi rolling simply as a harmful health practice that workers should refrain from engaging in.
"To them, beedi rolling isn't an occupational hazard, it's their livelihood—one that does not even meet their basic needs," she says. "I have the option to choose another job, but this is all these women know."
"Being able to do this project was an incredible experience, and also an emotional one," Puri says.
"Public health is not only about the numbers, it's about the people who make those numbers," says Puri. "The Global Health Storytelling class does not just make you feel the emotions of thousands of people, but also helps translate those emotions for the public—it enables people to feel a public health crisis without calling it one."
For more information about the Nov. 15 Global Health Storytelling informational session at COM, click here.