Socks Are a Critical Component of Our Health
.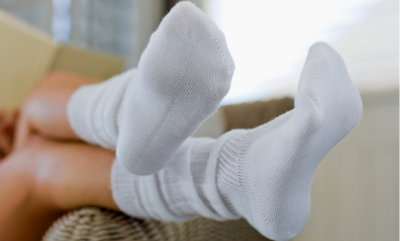 Last year, I had the distinct honor of being recognized by Mayor Walsh for my work with the Boston Public Health Commission, as April 12 was declared Harold Cox Day. To recognize the anniversary of that proclamation, the Activist Lab is hosting a sock drive to support and bring awareness to the Boston Public Health Commission (BPHC) Engagement Center. 
You may be wondering why have I chosen to focus my "big day" on the Engagement Center. The truth is, I cannot think of a more perfect representation of what public health practice should look like than the work being done by BPHC at the Engagement Center. This facility is a welcoming environment for individuals in need of a space to spend time during the day and serves as a safe space for participants to get connected to the many housing and recovery services offered by the City of Boston and partners in the Newmarket Square area. Our friends at the Dental School offer a monthly oral health screening there, and several Activist Bucks projects have been proposed to engage with BPHC and the Engagement Center clients.
I bet your next questions is, "Why socks?" The simple answer is, we asked the Engagement Center staff what they needed, and socks were first on the list. But it's important to understand why.
Living on the streets can be hazardous to the feet. Most homeless people face foot care problems because they often lack resources to buy well-fitting, adequate footwear. In most cases, these folks resort to wearing footwear in the wrong size, or footwear that lack adequate support, and often go for long periods of time without taking off their shoes or changing their socks. In some cases, they don't have access to footwear at all. Blisters and frostbite are two of the most common resulting conditions.
Moreover, many homeless people have a condition called polyneuropathy, in which they lose nerve function and cannot feel irritations of the feet. The thickened skin can then break down to an ulcer and become infected, causing sepsis or even deep bone infections. Lack of access to quality health care can exacerbate these problems. All of this can be mitigated with proper foot care, including access to clean socks.
To put it another way: Socks are critical to our health. 
Yet socks are a precious commodity at organizations like the Engagement Center. When our clothes start to wear out or go out of style, most of us donate them to a good cause. But what do people do with their old socks? We usually throw them out (and for good reason!). This means a homeless person asking for clothes at a shelter will likely get everything they need—except socks.
I therefore hope you'll join me in this opportunity to grow our connection with our neighbors on Albany Street and to help us reach our goal of 2,500 pairs of donated socks by April 12. To participate, please bring new, white, athletic socks for men and/or women to the Talbot Lobby, or purchase them online via our Amazon Registry. 
An important part of public health practice is learning to walk a mile in someone else's' shoes. During this drive, I'm asking you to consider what more we can do to serve the people in our community, by walking a mile in their socks.
Harold Cox is associate dean for public health practice and associate professor of community health sciences.
Donate Socks