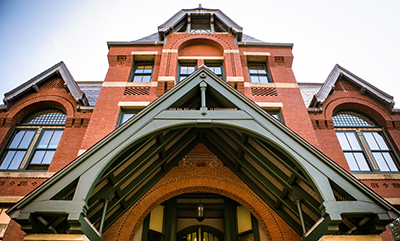 America has just been through an election that hinged, in part, on an explicit repudiation of "the other," of countries other than America or immigrants who move here from other countries. Unfortunately, the election's resolution and the inauguration of President Trump did little to change this tone. In fact, President Trump has acted on a number of campaign statements and promises that seemed rash then, and even more so now. In the past week alone, the president has moved, through a series of executive orders and memoranda, to roll back environmental regulations, limit immigration from several predominantly Muslim countries and give priority to one religion over another, withdraw the US from the Trans-Pacific Partnership trade agreement, and lay the groundwork for the construction of a wall along our southern border, angering Mexico.
The president has indeed followed through on his campaign promises, now crystallized in his America First language, appealing to nativist sentiments, and its chilling association to the national mood of anti-semitism as America considered involvement in World War II. I find this turn of events deeply disturbing and challenging, both from the perspective of a school of public health, and from the perspective of an American. I will comment on both.
I will start from the perspective of core principle, reflecting on some of the foundational documents that establish, to my mind, the basis of a modern, pluralistic society. In the United States, we draw inspiration and legal structure principally from two documents: the Declaration of Independence and the Constitution. The Declaration of Independence, drafted by Thomas Jefferson, includes language about what an ideal government ought to do; namely, it must preserve the right of citizens to "life, liberty, and the pursuit of happiness." In this sense, the Declaration is an aspirational document, expressing what a society can be at its best, when a government is founded on a concern for safeguarding human rights. The sentiments expressed by the Declaration and enshrined in the Constitution—a concern for liberty, for freedom of thought, and for the right of all people to be able to speak their mind without fear of persecution, among other basic freedoms—have since found expression on the global stage, in the Universal Declaration of Human Rights. In many ways, this Declaration further develops the values put forth in America's founding documents, as well as in other memorable statements about human freedom and the role of governments in safeguarding peace and stability.
It is important to point out that all of these documents build on principles that emerged from the European Enlightenment. The Enlightenment, sometimes known as the Age of Reason, was a 17th and 18th century intellectual movement informed by the application of reason to human affairs. It was a time when the tenets of the church and the state were questioned, reformed, and, in some cases, revolutionized. In politics, this meant that government was no longer regarded as the product of divine will, with a king at its head, but, rather, as a contract between the citizen and the state, meant to create the conditions where everyone can have the freedom to pursue knowledge and happiness, in peace. It strikes me that our current interconnected global order is, in many ways, an extension of this "social contract." Just as the relationship between the citizen and the state has evolved, over time, away from one of ruler and ruled towards one of coequal partners cooperating for the sake of mutual benefit, nations, too, have, in the years since World War II, increasingly found ways to come together in pursuit of mutual goals and shared aspirations. This progress has, of course, not been perfect, but it has been steady, creating many opportunities for those who wish to make a better world.
Through the lens of health, we are in a position to see the importance of maintaining this progress. We in public health know that, simply put, there is no local health without global health. Infectious disease does not abide by any borders; a collapse of health systems in West Africa can result in Ebola in Texas, just as a disease outbreak can originate in Asia and travel via plane to practically anywhere on earth. Agricultural practices and misuse of antibiotics are producing superbugs that cannot be treated with known antibiotics. It is therefore in our interest to invest in a global community that can build sustainable infrastructures across continents and among nations that safeguard population health, not just "over there" or "over here," but, simply, everywhere. There is an added benefit to such investment: just as these networks prevent the spread of disease, they encourage the spread of ideas and culture, scientific exchange, enriching and protecting us all, and creating the conditions for a better world that capitalizes on the potential of its 7 billion plus citizens to meet the challenges of an increasingly complex 21st century.
There are multiple ways that the administration's policies could potentially harm our health and well-being besides just through a breakdown of safeguards against newly emerging infectious diseases. For example, removing the health sector help that US foreign development assistance provides will erode recent gains in economic and social development, further promoting the threat of social and political instability and, possibly, terrorism. PEPFAR, USAID, and the US contribution to multilateral programs (GFATM, etc.) have made real health system differences in places. An isolationist pullback from these efforts will pose a strategic threat to us all. As Miller and Dowell wrote in Investing in a Safer United States: What is Global Health Security and Why Does it Matter?, "US investment in global health are a cost-effective 'soft-power' tool that promotes economic growth and economic prosperity in poor communities and that generates important earned goodwill towards the United States by visibly enhancing and saving lives."
Unfortunately, our administration's current actions are in direct opposition to these principles and this logic, and even more unfortunately this approach is simply wrong. An approach that builds walls, both literally and indirectly through a concerted approach to try to keep the world "out," is bound to fail. This approach will create unnecessary discord, fraying the global social compact and potentially causing health system breakdowns that will encourage the spread of disease and erode our capacity to promote well-being. By building walls, we also risk denying our country the benefit of great scientific minds who would otherwise be in a position to contribute to our society in meaningful ways. Indeed, six of the 2016 America Nobel Prize winners are immigrants. And we have already seen how immigration enriches our campuses. After the fall of Mao in China, for example, the influx of Chinese math PhDs in the US markedly improved American math faculty productivity. Losing our international talent pool would undermine scientific and health progress not only in the US, but around the world.
After the 9/11 terrorist attacks, Le Monde, one of the leading French newspapers, headlined its coverage "We are all Americans," a statement of solidarity with an America under siege. It was a sentiment, from the people that gave us the Statue of Liberty, that had resonance, that affirmed for Americans that they were not alone, that other countries ascribed to the same principles that animate our own traditions. These are the principles that truly "make America great," yes, but they are also the principles that stand to make the world great. And during a prior time, we did likewise with "Je suis Charlie". The time now has come to support and extend these sentiments. We are all global citizens. That does not, in any way, undermine being American for those of us who are American. That does not, in any way, undermine our core foundational responsibilities to our local community. Indeed, we at this school are extraordinarily engaged in the work of our local community through the work of our Activist Lab and that of several other faculty. It does, however, recognize that we dwell in a global world, and that we should act accordingly.
What does acting accordingly mean?
At the level of principle, it means clearly and consistently articulating the values of pluralism, justice, and equality that have animated the American project since its inception. These values, have shepherded us over the centuries towards greater social progress and an increasingly central engagement on the world stage. While it is concerning to see the energy being levied, at the federal level, against the continuation of this progress, I am heartened by the idea that it will take more than the actions of a single administration to roll back something so central to the character of a nation and its people. I am also heartened by the vast majority of members of emerging generations who continue to make clear, in ways big and small, their refusal to shrink from the world. At the School of Public Health, we stand with all our community, therefore, including always our global students, faculty, staff, and alumni, in remaining engaged with our world at the local, national, and international level.
At the level of action, we are part of a university that has affirmed its commitment to global engagement and inclusiveness, as President Brown stated in his recent letter to the BU community. I reiterate his sentiment, and would remind our international students that anyone who has questions or uncertainty about recent developments should contact the International Students and Scholars Office, which will also be reaching out to students who may be affected in the coming days.
At SPH, we are part of a school that sees its future as global, as we articulated in our 2015 Strategic Thinking Report. And we continue to be a school with a thriving and ever-growing portfolio of global health scholarship. None of this will change under this administration. We will, as a community, be doing more, not less global work. We expect to expand the global membership of our community, to grow our global networks, to push harder to live by the ideals that animate us, and to nurture and encourage scholarship and thought that makes us a global community of thinkers, teachers, learners, and doers.
Warm regards,
Sandro
Sandro Galea, MD, DrPH
Dean and Robert A. Knox Professor, Boston University School of Public Health
Twitter: @sandrogalea
Acknowledgement: I am grateful for the contributions of Salma MH Abdalla MBBS, Eric DelGizzo, Willis Wang JD, and Professors Patricia Hibberd and Don Thea for their contributions to this Dean's Note.
Previous Dean's Notes are archived at: https://www.bu.edu/sph/tag/deans-note/