New Tool to Assess Children with Spinal Cord Injuries
.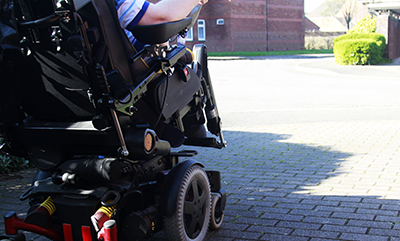 A measurement tool developed specifically to assess activity outcomes in children with spinal cord injuries is an important contribution that can improve pediatric care, according to a study led by a School of Public Health researcher.
The study, led by Mary Slavin, a research assistant professor of health law, policy & management and director of education and dissemination at SPH Health & Disability Research Institute, evaluated the use of a measurement tool called the Pediatric Spinal Cord Injury Activity Measure (PEDI-SCI AM) as an alternative to using generic pediatric outcome measures. It includes activities important to youth with SCI, assessing abilities in four domains: general mobility, daily routines, wheeled mobility, and ambulation.
"The PEDI-SCI AM is the first activity-limitation measure developed specifically for youth with SCI. Initial examination of the PEDI-SCI AM demonstrated strong reliability and internal consistency," the study says. "Given the void in robust outcome instruments for pediatric SCI, the PEDI-SCI AM is an important contribution that can elevate pediatric SCI practices."
The research team examined PEDI-SCI AM results from a sample of 381 children and adolescents with acquired SCI at US Shriners Hospitals for Children, and 322 parents or caregivers. The measure can be administered as a computerized adaptive test (CATs) or using short forms (SFs).
Results showed 10-item CATs and SFs demonstrated "acceptable group reliability" and internal consistency. While the study found an appropriate response range at the upper end of the scale for children with quadriplegia, the research team said that the measure needs adjustment to account for children with paraplegia who have high general mobility and functioning.
In addition to Slavin, SPH co-authors included: Alan Jette, director of the Health & Disability Research Institute (HDRI) and professor of health law, policy & management; Pengsheng Ni, a senior data analyst at the HDRI; and Stephen Haley, former associate director of the HDRI (now deceased). Other co-authors are from the Department of Occupational Therapy, Jefferson College of Health Professions, Thomas Jefferson University; and Shriners Hospitals for Children.
—Lisa Chedekel