Mapping a Path to Student Success
.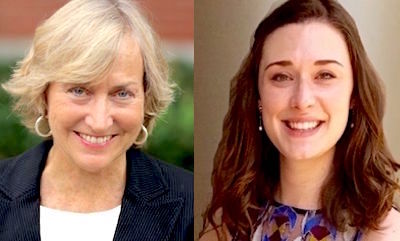 Lois McCloskey and Anneke Demmink presented a system for mapping learning objectives at Boston University's Second Annual Assessment Symposium on March 18.
McCloskey, associate professor and associate chair of education for community health sciences, proposed the system as a planning and quality assessment tool for certificates, making sure courses that count toward a certificate effectively build toward that certificate's competencies.
"I thought a map of the learning pathways would be a great tool for certificate directors, for advisors, and ultimately for students," she says. As the School of Public Health shifts into a new master's in public health (MPH) structure, McCloskey says it's vital to take a close look at "how we educate students toward competency and mastery."
Demmink—with a background in curriculum development, and an MPH of her own—came on as education program manager for the department last fall, and dove into the project.
She combed through syllabi, evaluating how each element and assignment contributed to the learning objectives in the course, and ultimately the competencies of a related certificate. Then she mapped out the possible paths a student could take to fulfill requirements and gain specific abilities, pointing out how courses could be re-sequenced or otherwise adjusted to fill gaps and reduce redundancies. Finally, she is creating comprehensive mapping packets for certificate directors, complete with sample job opportunities—a path from course to competency to career.
It quickly became clear to McCloskey and Demmink that this system could be useful in other departments, and even other parts of the University.
Jacey Greece, clinical assistant professor of community health sciences and chair of a new SPH subcommittee focused on educational evaluation, and Vanessa Boland Edouard, director of strategic education for SPH, are examining and developing tools to evaluate the MPH curriculum. They agreed this mapping system could be a valuable assessment of student learning.
Mapping out the way assignments lead to competencies, Greece says, is valuable "not just for accreditation, but for ensuring student success, which at the end of the day is what we are all here to do."
She and Edouard also agreed the system could be useful for the wider Boston University community. Edouard, who was on the Assessment Symposium's selection committee, suggested including the mapping project, and Greece co-authored a presentation with McCloskey and Demmink.
Gouri Gupte, assistant professor of health law, policy & management, also presented at the symposium, sharing a tool developed with the School of Medicine for assessing resident performance in clinic.
"We were shocked and even amused by how many attendants—faculty and directors—came up to us afterward to seek Anneke's consultation about how to do the same," McCloskey says. "Even a physics professor asked Anneke how he can figure out how to teach medical students what they really need to know!"
Demmink says she's thrilled to see so much enthusiasm for the project. "I hope that we'll be able to find new avenues for continuing to use it not just in our department, but in other departments across the school," she says. "I think competency mapping is a really valuable tool to help us assess what we're doing and why we're doing it."
"It's the sort of thing we teach our students to do as they design and implement programs," McCloskey adds, paraphrasing Greece, "to conduct quality assurance within health care organizations, and use data to assess outcomes.
"Now it's our turn to practice what we preach."