Biomarkers May Help Better Predict Who Will Have Stroke
.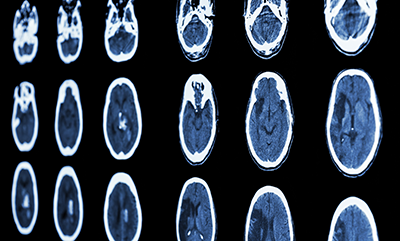 People with high levels of four biomarkers in the blood may be more likely to develop a stroke than people with low levels of the biomarkers, according to a new study co-authored by researchers from the Schools of Public Health and Medicine.
In the study, which appears online in Neurology, the medical journal of the American Academy of Neurology, the research team measured the levels of 15 biomarkers associated with inflammation in the blood of people from the Framingham Heart Study Offspring Cohort who had never had a stroke. The 3,224 participants were an average age of 61 at the start of the study and were followed for an average of nine years. During that time, 98 people had strokes.
Of the 15 biomarkers, four were associated with an increased risk of stroke. People with elevated homocysteine were 32 percent more likely to have a stroke; those with high vascular endothelial growth factor were 25 percent more likely; those with high ln-C reactive protein were 28 percent more likely; and those with high ln-tumor necrosis factor receptor 2 were 33 percent more likely to have a stroke during the study period.
The authors said the findings could help in identifying people who are at risk for stroke and who might benefit from new or existing therapies to prevent strokes.
Adding the four biomarkers to an existing method of predicting a person's stroke risk, based on factors such as age, sex, cholesterol and blood pressure—called the Framingham Stroke Risk Profile—improved the ability to predict who would develop a stroke.
While the study found a relationship between high levels of the biomarkers and stroke, it did not establish a causal association. The authors noted that the biomarkers were measured only once, and that the study did not account for infections, chronic diseases or other conditions that could have affected the results. In addition, study participants were mainly of European ancestry, and the results may not apply to other populations.
Co-authors on the study included: Alexa Beiser, professor of biostatistics and of neurology at MED; Sarah Preis, research associate professor of biostatistics; and Emelia Benjamin, professor of epidemiology and of medicine at MED. The study was led by Ashkan Shoamanesh, of the McMaster University and Population Health Research Institute in Canada.
The study was supported by the Framingham Heart Study's National Heart, Lung, and Blood Institute contract, National Institute of Neurological Disorders and Stroke, National Institute on Aging and National Institutes of Health.