When Public Health and Pop Culture Collide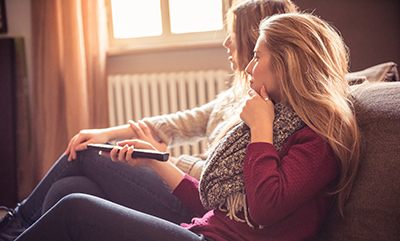 A Google search for "popular culture" turns up the following definition: "Culture based on the tastes of ordinary people rather than an educated elite." This definition reinforces the notion that what is popular art is in some way frivolous and uninformed, which may explain why it is often overlooked in academic study as a major factor influencing the health of populations. However, the relationship between health and pop culture is dynamic and complex, and is becoming increasingly more important to our health and well-being. Whether experienced visually or viscerally, art in all its forms can take us on a journey that impacts our thinking and behavior. Some such art exists on platforms large enough to influence thousands, maybe even millions, of minds and hearts.
Shows like The Bachelor are laughable (and insulting) to many of us, but the reality is that this show—from its contestants to the way it is edited and advertised—holds sway in the lives of thousands who are part of "Bachelor Nation." These viewers invest hours of their week to watching this show, engaging in conversation with friends and colleagues in person and online, to discuss the unfolding relationships (or "relationships"). The latest season included an unprecedented amount of open talk about pre-marital sex and the introduction of the first Black contestant to lead the show as Bachelorette or Bachelor in 33 seasons. Why does this matter? What does it mean? If nothing else, it serves as a read on the conversation about social issues in the United States. It may also mean there is an opportunity to partner with and impact the structure of such shows in a way that actually enhances population health and raises awareness about critical public health issues.
There are countless examples of celebrity impact on health decisions, both as a byproduct of celebrity status and as direct advice or endorsement. People may be influenced by the celebration of particular body types or features—as is the case with Michelle Obama's arms or Kim Kardashian's buttocks (the latter of which seems to be partly responsible for an uptake in butt enlargement surgery since 2014). Gwyneth Paltrow has suggested that women steam their vaginas, get regular colonics, and stop wearing bras because they increase the risk of breast cancer; she eventually inspired Timothy Caufield's Is Gwyneth Paltrow Wrong About Everything?: When Celebrity Culture and Science Clash. After Angelina Jolie wrote a 2013 New York Times op-ed about her double mastectomy and the BRCA1 gene, a Harvard Medical School study found a large spike in the rates of genetic testing for breast cancer, which it dubbed the "Angelina Jolie effect." Jenny McCarthy's infamous encouragement of the "vaccines cause autism" myth has galvanized an anti-vaccination movement. And then, of course, we have seen the power of celebrity in the most recent presidential election, which now has the potential to impact millions of lives across the globe through policy shifts in health care and environmental protection. Celebrity influence, in other words, is a powerful force in population health.
Conversely, we often obtain incomplete or misguided understandings of disciplines—such as law or forensic science—from television. CSI: Crime Scene Investigation has impacted the way many interact with police, lawyers and judges and their expectations of forensic investigation. The concept "CSI effect" has been introduced into the criminological lexicon—defined by Monica Robbers, an American criminologist, as "the phenomenon in which jurors hold unrealistic expectations of forensic evidence and investigation techniques." In this case, the limits of television become startlingly clear. It becomes dangerous when individuals anticipate an unrealistic outcome from a highly complicated and high stakes profession.
MTV Shuga is a brilliant example of the potential to create socially conscious popular art. The show has taken the notion of a PSA and blended it with what we know works—entertainment. The MTV drama follows the lives of young African people, delving into issues related to HIV/AIDS such as testing, stigma, mother-to-child transmission, transactional sex, gender-based violence, and condom use. The show has also become a useful teaching tool used by global educators, healthcare workers, and grassroots HIV/AIDS organizations.
So what does this all mean? Opportunity. Through popular culture, public health professionals have an incredible chance to influence the health of populations in a meaningful way. It's like wrapping your cat's medicine in a piece of delicious turkey—we have to learn to make things appealing. This isn't trickery or manipulation, but rather making use of the science behind behavioral change. Public health workers should grab this bull by the horns and collaborate with major players in the media sphere; the relationship between science and pop culture needn't be fraught.
MTV Shuga: Down South will screen exclusively at SPH on Tuesday, March 28, followed by a panel discussion with Georgia Arnold,senior vice president of social responsibility at Viacom International Media Networks and executive director of the Staying Alive Foundation, and cast member Given Stuurman.
Chase Crossno, learning and development manager at Population Health Exchange, will be teaching a short, non-credit professional development course about Communicating Your Science this summer. The priority registration deadline is April 15.