Pardee Center's IHI Hosts Symposium on Impacts and Aftermath of Pearl Harbor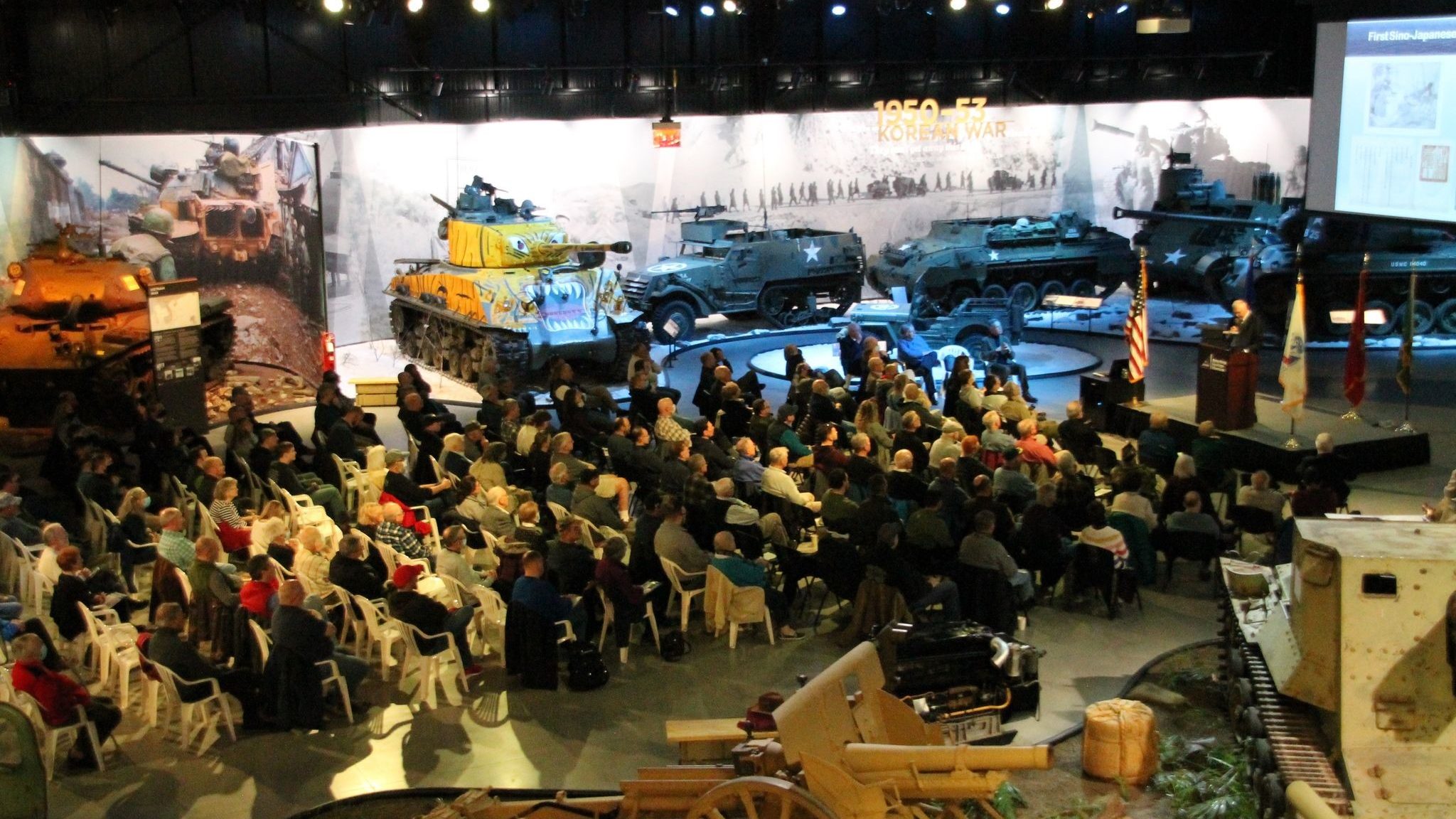 On December 4, 2021, the Frederick S. Pardee Center for the Study of the Longer-Range Future's International History Institute (IHI) held an all-day symposium at the American Heritage Museum in Hudson, MA about the origins, course, and meaning of great power war in China and the Pacific between 1937-1945.
Over 200 attendees heard five diplomatic and military historians speak on a wide range of topics pivoting around the attack on Pearl Harbor. Erik Goldstein, Professor of International Relations and History at the Frederick S. Pardee School of Global Studies at Boston University, spoke about "The Quest for Naval Mastery" among the major naval powers, from before WWI through the naval arms control conferences of the 1920s and 1930s, leading to war in the Pacific in 1941. Grant Rhode, Visiting Researcher at the Pardee School's Center for the Study of Asia, gave a talk on Japan's stumble into ever-widening wars entitled "From the China Quagmire into the Pacific," connecting the naval conflict with the huge land war on the Asian mainland. Professor John Maurer of the United States Naval War College spoke on "FDR and the Road to War with Japan," considering economic sanctions and the failure of prewar deterrence.
In the afternoon, Professor Craig Symonds of the Naval War College (ret.) spoke about "The Meaning of Midway," the key turning point in the naval war. He explained the battle's outcome through the lens of four key participants and emphasized the precarious contingency of combat. Professor Cathal Nolan, Director of the IHI, spoke on "How the East Was Won and Lost." He argued that Japanese defeat was rooted in a shallow military culture marked by short-war thinking and failure at long-war logistics, tied to ruthless Allied prosecution of a war of attrition at all levels.
This event was made possible by the support of the Military Historical Society of Massachusetts and the Collings Foundation, with logistical support from the American Heritage Museum. In attendance were several members of the Pardee School faculty, Naval Reserve Officers Training Corps and BU students, the IHI's Fulbright Fellow from Turkey, local high school student volunteers, and numerous veterans from Korea, Viêtnam, Iraq, and Afghanistan.
The International History Institute at the Frederick S. Pardee Center for the Study of the Longer-Range Future was founded within Boston University's College of Arts & Sciences (CAS) in 1999 to promote the importance of history in understanding international cultural, economic, political, and military affairs. IHI has been interdisciplinary since its founding, advocating a broad approach that welcomes all scholars who seek to understand the present and future as rooted in an appreciation of the abiding influence of the past. It embraces any who work within and across disciplines, while engaging policy questions and interests of the attentive public. Learn more about the Institute and its upcoming events on the Pardee Center's website.