The Bachelor of Science (BS) in Criminal Justice degree program at Boston University's Metropolitan College (MET) builds on methods and theories of social science while developing a specialized understanding of criminal activity, policing, corrections, criminal court procedures, and social policy as it relates to crime control. Graduates will be adept in critical thinking, computer applications, and quantitative analysis in relation to criminal study.
Program at a Glance
Part-Time Study
128 Credits Required
24—36 Months to Completion
 
A Foundation for Criminal Justice Success
Metropolitan College's Bachelor's in Criminal Justice equips you with:
Proficient knowledge of theoretical perspectives of crime causation and their implications and applications for public policy and practice.
Specialized knowledge of content areas connected to domains within the administration of justice (law, policing, adjudication, and corrections) and specific crime- and justice-related social problems.
A foundation for conducting, interpreting, and evaluating research designs, as well as the quantitative and qualitative analytical methods for understanding crime- and justice-related social problems.
A capacity to recognize and analyze legal and ethical constraints, their implications for criminal justice policy and decision-makers, and the effect of justice policy and practice on diverse sets of values and groups in society.
An ability to synthesize, evaluate, recognize implications, and communicate effectively using scholarly sources of information connected to crime theory and policy.
Explore Careers in Criminal Justice
Use the Career Insights tool to explore jobs that are the right fit for you. Filter by career area and job title or by industry sector to explore employment demand and average salaries. Select "Learn More" for a downloadable career report, or "Explore Other Options" to find the BU MET degree or certificate program that will prepare you for the job you want.
Why Complete Your Criminal Justice Bachelor's at BU?
Engaged Faculty: In BU MET's criminal justice bachelor's program, an exceptional student-to-instructor ratio ensures close interaction with highly qualified faculty who draw from active research and substantial professional achievements in areas such as law enforcement, corrections, cybercrime investigation and digital forensics, research and policy, forensic mental health, the judicial system, strategic management, and many other areas.
Track Record: Learn from the best—BU MET has offered criminal justice education since 1973, introducing the master's degree in criminal justice in 1980, which became BU's first fully online program in 2002.
Extensive Network: Study principles of criminal justice alongside peers with professional experiences, learn from faculty who have valuable contacts in community outreach, law enforcement, research, and corrections, and benefit from a global alumni community with strong connections.
Student Support: Benefit from access to personalized professional academic advice from the team of academic counselors in MET Student Services.
Valuable Resources: Make use of Boston University's extensive resources, including the Center for Career Development, Fitness & Recreation Center, IT Help Centers, Mugar Memorial Library, Frederick S. Pardee Center for the Study of the Longer-Range Future, Center for Antiracist Research, Initiative on Cities, Howard Thurman Center for Common Ground, George Sherman Union, and many others.
Flexible Schedule: Pursue your studies part-time, at the pace that works for you, evenings on campus.
Affordable Tuition: Complete your bachelor's part-time at BU at a substantial savings compared to full-time study.
Financial Assistance: Undergraduate students at BU MET are eligible for a range of financial aid and community-minded scholarship opportunities designed to support those investing in their education part-time who still need to navigate full-time responsibilities.
Flexible, Part-Time Degree Completion—at Boston University
The BS in Criminal Justice at Boston University's Metropolitan College is a self-paced bachelor's degree completion program offered in a convenient, part-time evening format—ideal for busy professionals who seek to earn a Boston University degree without turning their personal lives upside down or putting their careers on hold. Along with self-paced programs in a variety of majors, MET also offers the structured, two-year Accelerated Degree Completion Program—leading to a bachelor's degree in either Computer Science or Management Studies—and an online Undergraduate Degree Completion Program.
A variety of undergraduate certificate programs provide the opportunity for focused study in a specific subject. Certificates can work into select degree programs at MET, offer breadth to current studies, or build professional skills and knowledge.
Bachelor's-to-Master's Pathway
BU MET's Criminal Justice bachelor's degree program can serve as a preparatory building block to future graduate education opportunities—including the Master of Science in Criminal Justice and the Graduate Certificate in Criminal Justice. By mastering the fundamentals of the field under the tutelage of MET's world-class Criminal Justice faculty, you develop both the skills and the habits necessary for continuing graduate studies, and vital University connections. To be eligible for the degree, you must apply for admission and be accepted into the degree program. Consult with an admissions advisor to learn more about this option.


Bachelor's in Criminal Justice Curriculum
Tuition & Financial Assistance
Competitive Tuition
Our part-time rates are substantially lower than those of the traditional, full-time residential programs yet provide access to the same high-quality BU education.
Comprehensive Financial Assistance
Our services include
scholarships
, graduate loans, and payment plans.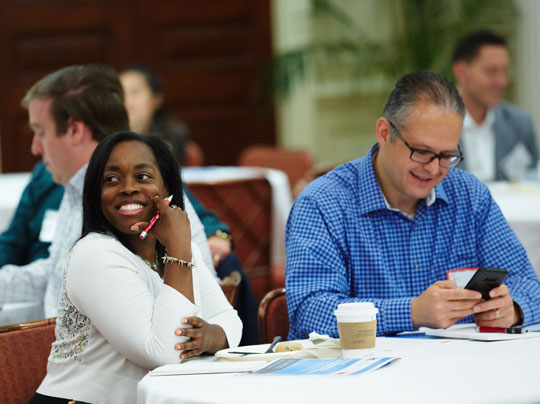 Get Started
Please visit the BU MET admissions page for details on how to apply, financial assistance, tuition and fees, requirements for international students, and more.
News & Events