Program at a Glance
Online and On Campus
Part-Time Study
16 Credits
6–8 Months to Completion
12 Core Faculty
No GRE/GMAT
Tuition & Fees—Part-Time Study*: $13,660
*Based on 2022–2023 Boston University tuition and fees. Merit scholarship may reduce cost.
Immersive Experience Leveraging Data to Drive Business Decisions
Available online and on campus, the Graduate Certificate in Applied Business Analytics at Boston University's Metropolitan College (MET) provides the data analytics concepts, techniques, and state-of-the-art tools to help you harness and transform available data into a valuable catalyst for business growth. In a recent analysis, PwC determined that 67 percent of job openings requiring data science and analytics competencies are for "analytics-enabled" roles, such as chief executive officer, chief data officer, director of IT, human resources manager, financial manager, and marketing manager.
Why BU's Applied Business Analytics Program?
Active Learning Environment: BU MET's Applied Business Analytics program focuses on practical, hands-on education, ensuring you develop expertise in integrating the "5 Vs of big data"—volume, velocity, variety, veracity, and value of information—into sound analytics-based business decisions.
Engaged Faculty: In BU MET's Applied Business Analytics graduate certificate program, you benefit from working closely with highly qualified faculty who draw from active research and substantial professional achievements in areas such as descriptive, predictive, and prescriptive analytics.
Extensive Network: Study analytics alongside peers with solid business experience, learn from faculty who have valuable contacts within the business analytics field, and benefit from an alumni community with strong professional connections.
Complementary Analytics Labs: Two levels of preparatory analytics laboratories offer access to advanced tools and provide opportunities to hone analytics skills using cases that are populated with realistic data.
15:1 Class Ratio: Enjoy an exceptional student-to-instructor ratio, ensuring close interaction with faculty and access to support.
Advisory Board: The ABA advisory board actively engages with students, alumni, and industry veterans. It provides access to the latest industry trends in data science and business analytics and facilitates learning about career pathways through seminars and talks.
Valuable Resources: Make use of Boston University's extensive resources, including the Center for Career Development, Educational Resource Center, Fitness & Recreation Center, IT Help Centers, Mugar Memorial Library, Center for Antiracist Research, Howard Thurman Center for Common Ground, George Sherman Union, Rafik B. Hariri Institute for Computing and Computational Science & Engineering, and many others.
Flexible Options: Study at the pace that works for you, evenings on campus or fully online. Courses begin fall, spring, and summer; online courses have two starts per term.
Track Record: Learn from the best—since 2014, BU MET's part-time master's programs in business and management have been ranked among the top in the nation by U.S. News & World Report.
Master the Analytics Tools to Excel in Business
The Graduate Certificate in Applied Business Analytics and the MS in Applied Business Analytics (MSABA) are offered through the Department of Administrative Sciences, which offers a variety of evening and online degrees and certificates to help you remain competitive in business and management and rise to the top of your field. Focusing on providing industry-specific programs that are innovative, scholarly, challenging, interdisciplinary, and practically focused, our mission is to produce critical and innovative thinkers—broad in perspective, international in attitude, skilled in communications—who are competent, capable, and comfortable in their ability to make strategic decisions either alone or in teams, and practiced in using the tools necessary to compete in their specialization. We prepare students to succeed in a global environment, within a professional and ethical framework.
Other data analytics and data science programs at BU MET include the MS in Computer Information Systems (MSCIS, concentration in Data Analytics), the MS in Computer Science (MSCS, concentration in Data Analytics), the MS in Applied Data Analytics (MSADA), and the Graduate Certificate in Data Analytics, all offered by the Department of Computer Science. The Department of Applied Social Sciences offers the Graduate Certificate in Crime Analysis and the MS in Criminal Justice (MSCJ, concentration in Crime Analysis).
Graduate Ready to Transform Business Using Data
Metropolitan College's Applied Business Analytics graduate certificate will equip you with:
The knowledge and skills necessary to better utilize available information in operational, tactical, and strategic decision-making in organizations.
Experience with various powerful emerging technologies and techniques for increasing the value of both in-house and third-party data sets.
An understanding of how organizations are using interlinked data-inputs, analytics models, and decision-support tools to better understand their operations, customers, and markets.
Expertise in web analytics and metrics, and the ability to procure and process unstructured text, and delve into hidden patterns within data sets.
The ability to facilitate knowledge discovery using data mining and visualization techniques over vast amounts of data.
Experience with building and assessing machine learning models.
Access to Analytics Laboratories
As a student in BU MET's Applied Business Analytics program, you have free access to hands-on analytics preparatory laboratories offered through the Department of Administrative Sciences. Our self-paced laboratories (SPLs) are organized in two levels:
Level 1 consists of the following two required prerequisite labs for our ABA programs: Open to all MET students, Level 1 labs include Pre-Analytics Laboratory (AD 100) and Introduction to R for Business (ADR 100).
Level 2 comprises intermediate knowledge-based labs where students learn how to work with professional tools or approaches, or to introduce professional software applications not covered in the graduate program but used in the industry. These labs include: Business Analytics Tools and Applications (AD 200) and Business Analytics with R (ADR 200).
In these specially designed SPLs, you will be exposed to cloud-based educational tools, software applications, and databases, along with pre-recorded internal and/or external tutorials, lectures, and video conferencing. You will have the flexibility to build your own path through the learning units and to proceed by completing assignments in a "learn and test yourself" mode—at your own pace. Upon successful completion of an SPL, you earn a standardized, digitally verifiable badge in recognition of your performance and visibility to current and future employers.
Certificate-to-Degree Pathway
BU MET graduate certificate programs can serve as building blocks to a master's degree. Students who earn the Graduate Certificate in Applied Business Analytics may waive Enterprise Risk Analytics (MET AD 616), Marketing Analytics (MET AD 654), and Web Analytics for Business (MET AD 688) for the Boston University Metropolitan College Master of Science in Applied Business Analytics degree program. To be eligible for the degree, you must apply for admission and be accepted into the degree program. Consult with a graduate admissions advisor to learn more about this option.


Applied Business Analytics Graduate Certificate Curriculum
As a
prerequisite
to the course Business Analytics Foundations (MET AD 571), students are required to complete
AD 100 Pre-Analytics Laboratory
and ADR 100 Introduction to R for Business. MET AD 571 is a prerequisite for MET AD 616, MET AD 654, MET AD 688, and MET AD 699. Some courses may have additional prerequisites.
Courses
(Four courses/16 credits)
MET AD 571

Business Analytics Foundations

Sprg '23

Summer '23
Plus three chosen from the following:
MET AD 616

Enterprise Risk Analytics

Sprg '23

Summer '23
MET AD 654

Marketing Analytics

Sprg '23

Summer '23
MET AD 688

Web Analytics for Business

Sprg '23

Summer '23
MET AD 699

Data Mining for Business Analytics

Sprg '23

Summer '23
Applied Business Analytics Faculty
View all Faculty
Tuition & Financial Assistance
Competitive Tuition
Our part-time rates are substantially lower than those of the traditional, full-time residential programs yet provide access to the same high-quality BU education.
Comprehensive Financial Assistance
Our services include
scholarships
, graduate loans, and payment plans.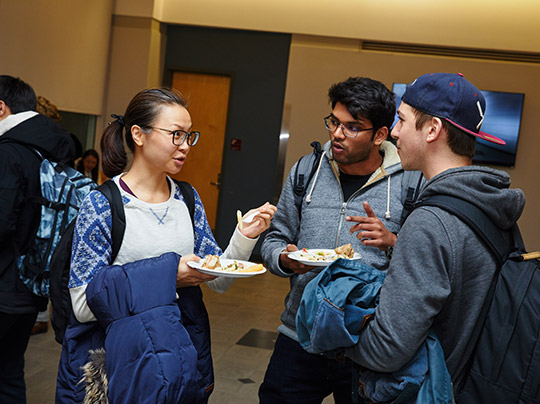 Get Started
Please visit the BU MET admissions page for details on how to apply, financial assistance, tuition and fees, requirements for international students, and more.
News & Events