New Student Housing Application Walkthrough
The following images provide a preview of the New Student Housing Application for freshmen, which must be completed in order to be assigned to an on-campus residence. All steps are shown to provide students with information that might be necessary when completing the application. Valuable information is provided at each step. Click on images to expand.
My Housing Portal
Access the My Housing portal by clicking here.
Login
Next, enter your BU login name and your Kerberos password.

Home
To start the application click "New Student Application Process" on the top ribbon.

Term Selector
Here you will be able to select the term for which you are completing the application. Students entering in September will see an application for the full academic year and students entering in January will see an application for only the spring semester.


Welcome
The first step in your application is the Welcome Page. It provides introductory information regarding the successful completion of the application and its various sections. This step is only shown during your initial log-in.

Residence License Agreement
The Residence License Agreement must be signed in order to continue with the application process. By entering your BU ID number you have signed the Residence License Agreement. For more information on the Residence License Agreement, click here.

Medical and Dietary Preferences
If there are any medical or dietary preferences that should be taken into consideration when making assignments, please select "Yes" to either of these questions. If you select "Yes," other pages will become available where you can provide more information.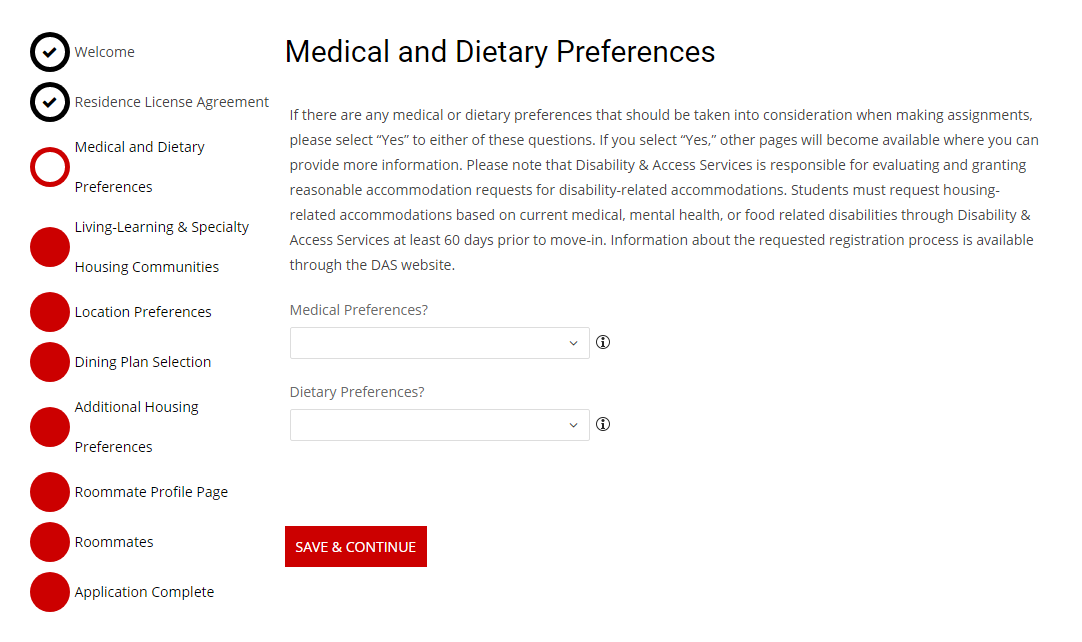 Medical Preferences
Dietary Preferences
Living-Learning & Specialty Communities
If you would like to apply for Living-Learning & Specialty Communities, select "Yes."  The application will prompt you to list up to three communities which interest you. A list of specialty residences on campus can be found here.

Location Preferences
Please list your top five choices for residences. All five fields must be completed. You may find more information about our residences here.

Dining Plan Selection
There are several dining plans available for students living in dormitory-style residences. Meal plans can be changed at any time before you are assigned to a room and changes are accepted for the first 4 weeks of each semester.  For meal plan information click here.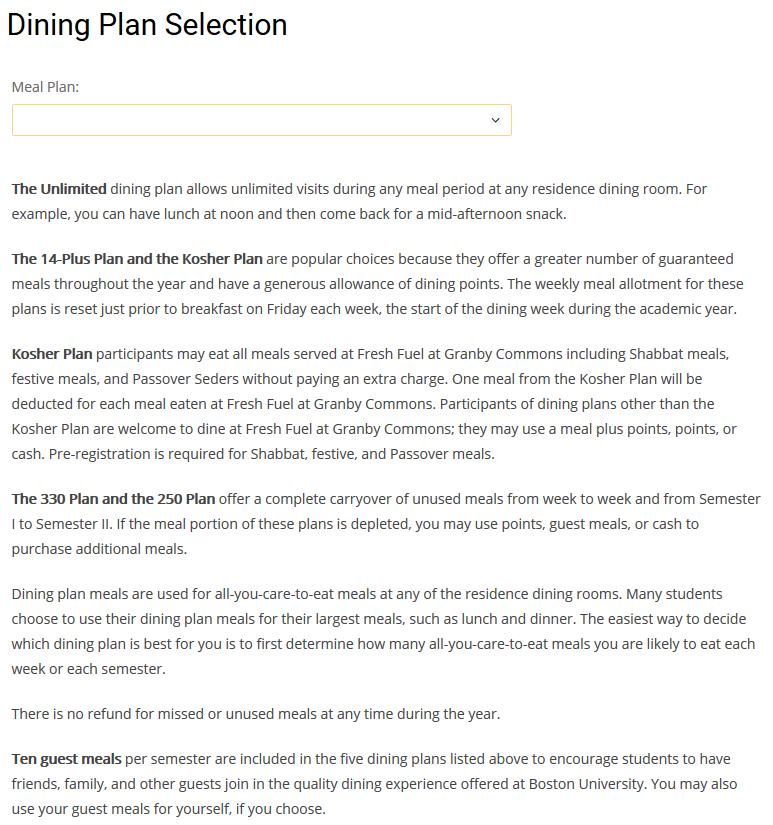 Additional Housing Preferences
These additional questions will provide us with more information to help us place you in an assignment. Although we do our best to satisfy all students' preferences, no requests are guaranteed. All questions must be answered in order to continue with the application.

Roommate Profile
Creating a profile will let other new students know a little bit more about you and whether you might be a good match for them as a roommate.
If you would like to be included in the roommate search, where other students will be able to see your profile, make sure that the check box under "Show in search results" is checked.  Even if you already have a roommate request in mind, do not uncheck the box. Doing so will prevent all students from being able to see your profile and requesting you as a roommate. If you do not wish to be included then uncheck the box and continue.
Roommate Requests – Search by Details or by Profile
Here, you have the option to find and request a roommate – it is not mandatory to make a roommate request. If you already know someone you would like to live with, select "Search for Roommates by Details."  The other option, "Search for Roommates by Profile" provides the option to find compatible roommates by answers to the Student Profile questions.  This page will also display any pending and confirmed roommate requests. The searches will only show students who have started the application. You can request up to three roommate requests.

When searching by details, enter the other student's BU ID number in the field listed.  Once you have sent a roommate request, they will be prompted to approve your request.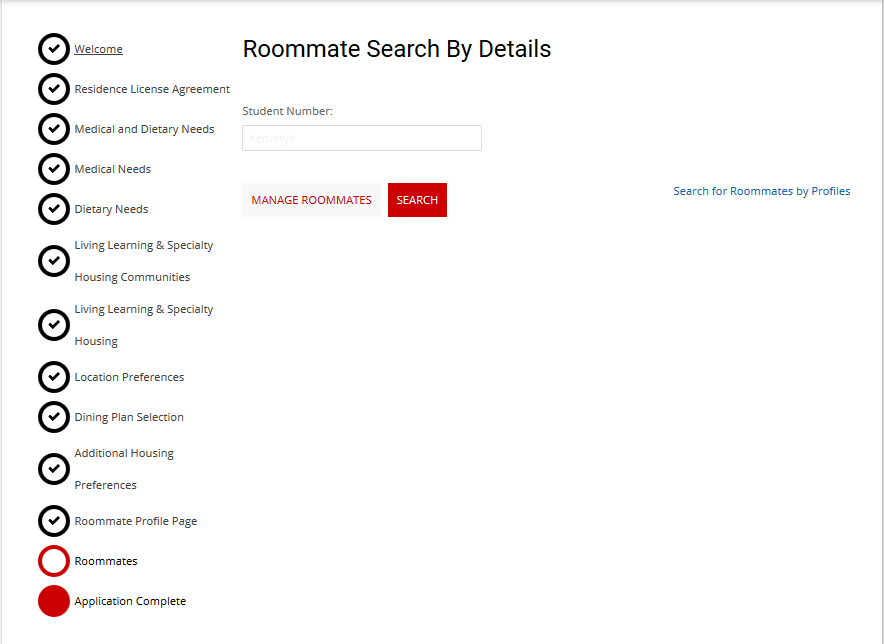 If you do not have a specific roommate request already identified, you have the option to review how others answered the Student Profile questions.  You can choose specific questions and answers to find matches.  You can send a message, view the profile, and make a roommate request to the results of your search. Once again, they must approve the request in their application.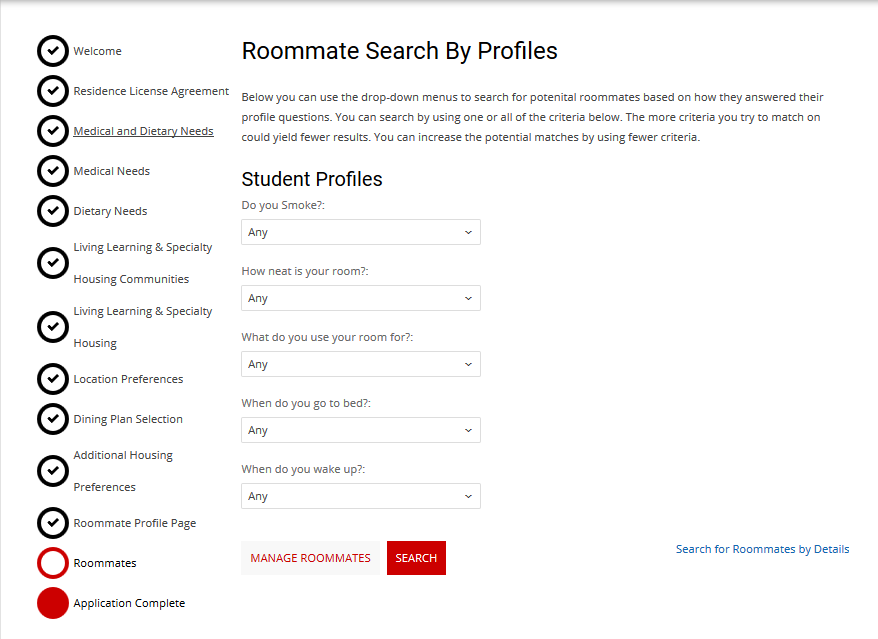 Application Status
Once the application is complete and submitted you will be prompted with the page below.