Continuing Student Housing Application Walkthrough
Below is a preview of the Continuing Student Housing Application, which must be completed by continuing students before selecting an on-campus residence. All steps are shown to provide students with information that is necessary when completing the application. Valuable information is provided on each step of the application. Click on images to expand.
My Housing Portal
Access the My Housing portal by clicking here.
Login
Log in to the My Housing Portal by using your BU login name and your Kerberos password.
Home
To start the application click "Continuing Student Application" on the top ribbon.
Term Selector
Here you will be able to select the term for which you are completing the application.
Welcome
Once an application has been selected in the Term Selector, you will be brought to the Welcome Page. It provides introductory information regarding the successful completion of the application and its various sections. This step is only shown during your initial log-in.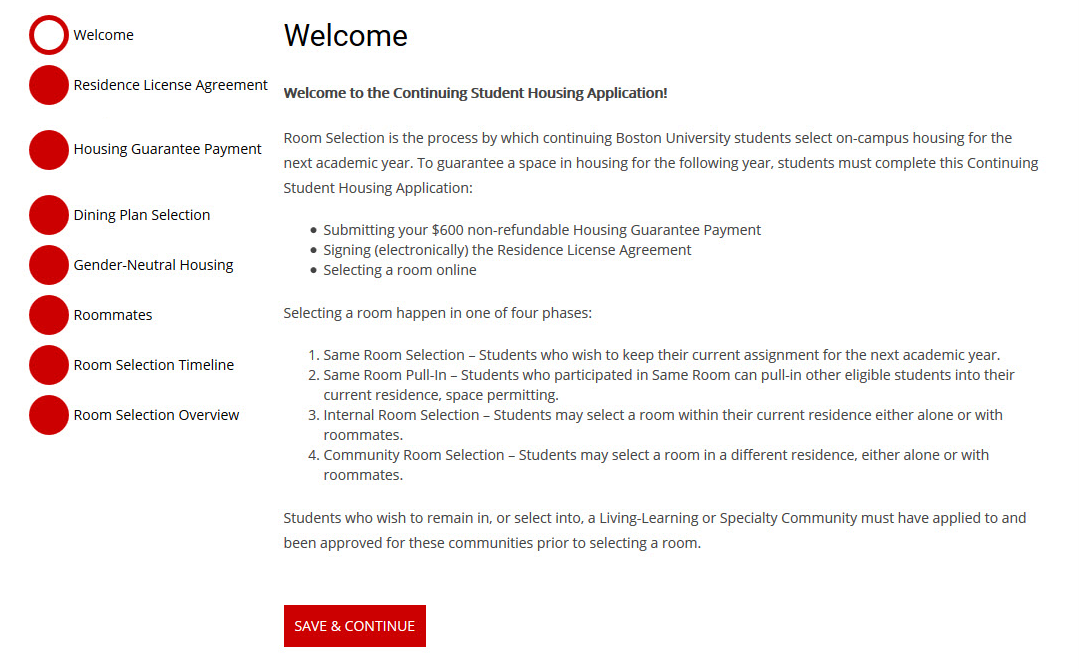 Residence License Agreement
The Residence License Agreement must be signed in order to continue with the application process. By entering your BU ID number you have signed the Residence License Agreement. Students under the age of 18 will need a parent to electronically sign by entering their name into an additional field. Once you save and continue you will not be able to go back to this step, so please take the time to review the information. For more information click here.
Housing Guarantee Payment Information
You will be prompted to select what method you would like to use to pay for the non-refundable Housing Guarantee Payment. Based on your selection you will be taken to another step to submit payment information. Once the payment is successfully completed, you will be brought back into the application.


Dining Plan Selection
The next step is to choose a dining plan for the up-coming year. For more information about our dining plan options, click here. You may change your dining plan for a semester at any point up until the fourth week of the semester.
Gender-Neutral Housing
If you plan to live in Gender-Neutral Housing, you must select "Yes" on this page.  Gender-Neutral Housing means that the unit you select will house students of both genders.
Roommates
On the next pages you will be able to start creating your roommate group.  There is a separate walkthrough for roommate groups.
Room Selection Timeline
This is a brief timeline of the Room Selection process. Please check all BU Housing emails for important information. BU Housing will notify students of their room selection number and selection times via their BU email address. Separate selection times for Same Room Pull-In, Internal and Community Room Selection will be emailed prior to the dates of each process. The dates will become more specific on this page as Room Selection nears.
Room Selection Overview
All the Room Selection processes are detailed on this page.