Make an Appointment with a Peer Coach
Peer Coach Office is open M-F 9am-9pm Please schedule an appointment here! 
Announcement: We'll be closed on February, 19th President's Day, the peer coach office will reopen on Tuesday February, 20 and run on a Monday class schedule. Please schedule your appointment/s accordingly.
Peer coach appointments are available for novice and experienced writers/presenters. In order to provide adequate time to make revisions and incorporate feedback, please try to schedule an appointment more than 24 hours in advance. You may drop in during office hours, but note that an appointment ensures peer coach availability. Note: The BUSPH Student Request for a Peer Coach Appointment  has moved its online reservations to https://bu.mywconline.net. 
WCONLINE INSTRUCTIONS
Visit our online scheduling system to reserve an appointment with a peer coach. We are located in Talbot, T116West.
Every individual using your WCONLINE® site for the first time has to create an account. After that initial registration, each person logs in using only their BU email address and password. Please Note: This is an external software is it different from your BU Kerberos account.  
All New Users Must:
Register for an account
Use a valid BU Email Address
Choose a password
Make an appointment
CHOOSE A SCHEDULE >> Make an Appointment with a Peer Coach

Viewing the Schedule:

Viewing the Schedule: The Schedule is organized by day and time slots available for each peer coach. White  blocks indicate an available appointment; blue and purple blocks indicate an unavailable time slot; gray blocks indicate a time that has already passed. Peer coach appointments are approximately 60 minutes.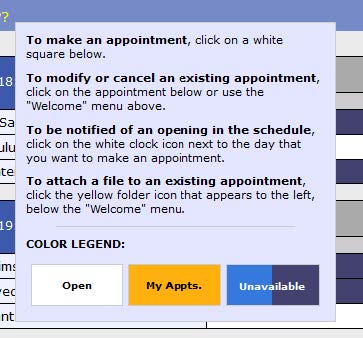 Scheduling an Appointment:
Click on a white block for the time and peer coach you would like to reserve. You will be asked to fill in: your reason for the visit; course title; list of group members if it's a group project;  type of appointment (writing or presentation); and choose from a list of options for goals you may have for your upcoming appointment. Once you have done this, click "Save Appointment". Once your appointment entered into the system the corresponding white block will turn orange. Shortly after you will receive a confirmation email.
Contact Information
The BUSPH Public Health Writing & Presentation Program
Room T116W
715 Albany Street
Boston, MA 02118
617-414-1416
Email: Sphwrite@bu.edu or Sphcoach@bu.edu
Please note that peer coaches help with the writing process. Any questions about finding research sources should be directed to the reference librarians at BU Alumni Medical Library. More information on can be found on the Finding & Using References page of the BUSPH Writing Guide.
If you have any questions please contact Program Manager, Mahogany Price