SPH Reads 2018
.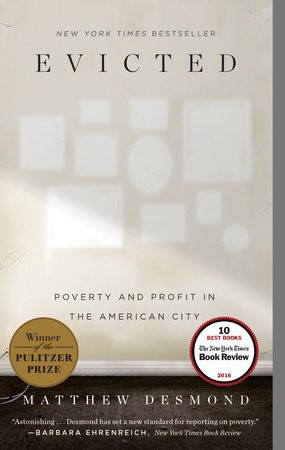 "SPH Reads" is a school-wide reading program hosted by the Office of Diversity and Inclusion. It aims to encourage critical thought and discussion among all members of the BUSPH community, and is centered on a carefully chosen, thought-provoking book. The fall 2018 selection is "Evicted: Poverty and Profit in the American City", the 2017 Pulitzer Prize winning book by Matthew Desmond.
All incoming (first year) MPH students and core-course faculty are encouraged to read the selected book and will be provided with copies. Returning students, non-core curriculum faculty, and staff are encouraged to read the book. Throughout the year, beginning with Orientation, there will be opportunities to gather and talk about the issues presented in the book through lectures, seminars, and small discussion groups involving all members of the SPH community.  Details about this year's selection and where to find the book are now available.
Sociologist and 2015 MacArthur "Genius" Award winner Matthew Desmond explores the stories of tenants and landlords in the poorest areas of Milwaukee during 2008 and 2009.  In these communities, families spend most of their income on housing and eviction is a routine, vicious cycle that deepens our country's vast inequality.
Based on years of embedded fieldwork and painstakingly gathered personal stories and data, Desmond proves that eviction undermines self, family, and community, bearing down disproportionately hard on women with children. In Milwaukee, being behind on rent gives landlords the opening to serve an eviction notice, which leads to a court date. On the face of it, it may seem easy to side with the landlords—of course tenants should pay their rent. But as Evicted pulls back layer after layer, what's exposed is a cycle of hurt that all parties—landlord, tenant, city—inflict on one another.
Hailed as "wrenching and revelatory" (The Nation), "vivid and unsettling" (New York Review of Books), Evicted transforms our understanding of poverty and economic exploitation while providing fresh ideas for solving one of 21st-century America's most devastating problems. Its unforgettable scenes of hope and loss remind us of the centrality of home, without which nothing else is possible.
All  new confirmed students will receive a copy of EVICTED sent to your home address. For the current BUSPH community, copies will also be available at the following locations in July:
Reception desk -2nd Floor Talbot Building
Graduate Student Life- 208C Talbot Building
Reception desk- 3rd Floor CrossTown