SPH Reads 2016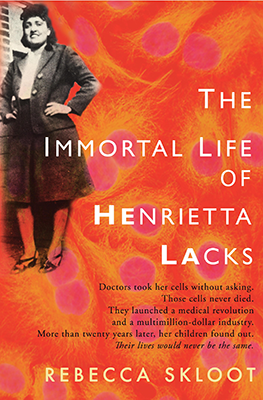 The Immortal Life of Henrietta Lacks by Rebecca Skloot is the story of Henrietta Lacks, a poor Black woman who died in 1951 from cervical cancer at age 31.  Prior to her death, a sample of her tumor was taken, and without her knowledge or consent, given to a tissue culture scientist who was attempting to find cells that would survive indefinitely in the laboratory.  Henrietta's cells did just that, signaling a medical and scientific breakthrough, and subsequently launching a multimillion dollar industry of which her family was unaware, and from which they never received compensation.
We selected this book because it encompasses many issues at the heart of public health research and practice.  These include, but are not limited to, race, class, access to healthcare, health literacy, paternalism, and informed consent.
Over the upcoming academic year, there will be opportunities to explore these issues with your fellow students, the faculty, and staff at SPH through the MPH curriculum, seminars, and smaller group discussions.
The book is available in the following places:
Your local library
Amazon and other book retailers
Copies in the Alumni Medical Library
E-copies (available after Labor Day)
If you have any difficulty obtaining a copy of the book, please do not hesitate to contact Yvette Cozier (yvettec@bu.edu).
A Conversation with the Family of Henrietta Lacks
February 21
4:30–6 p.m.
Hiebert Lounge
Planning on Attending? Let us know.