'We're Not Going to Recycle Our Way Out of This Problem'
.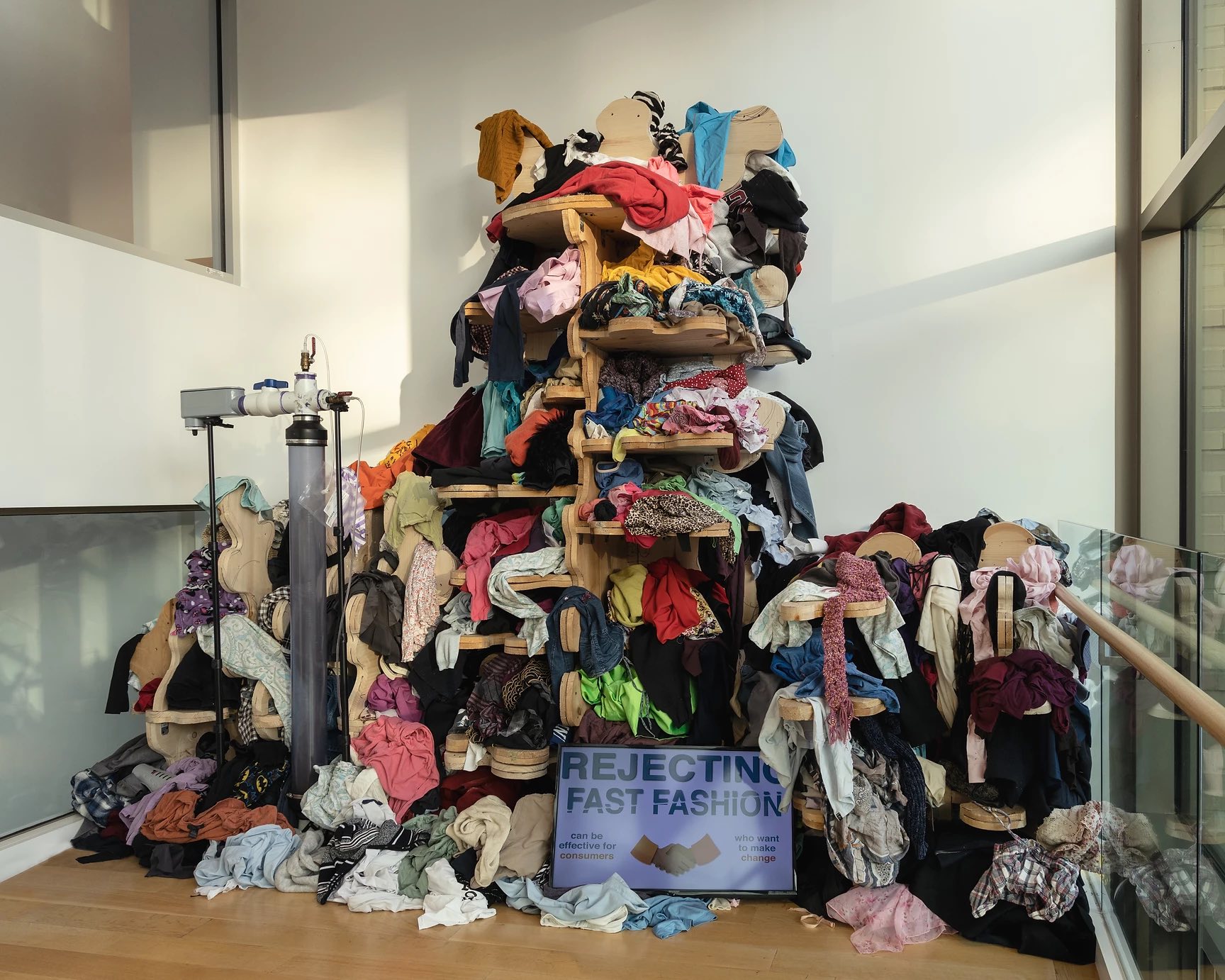 Environmental Health
'We're Not Going to Recycle Our Way Out of This Problem'
Dielle Lundberg, SPH alum and research fellow in the Department of Global Health, is collaborating with a team of researchers at Boston College who are using art, education, and research to tackle the environmental injustices of textile pollution.
The Activist Lab at the School of Public Health is partnering with Dielle Lundberg to bring "Aftermath (2021)" to the Boston University Medical Campus. The sculpture will be on display in the lobby of the Talbot Building from September 19 through October 7. The Activist Lab is also planning to hold an event during the exhibition that explores the public health consequences of textile waste and environmental racism and the role that art can play in advancing public health. Details for this event will be finalized and announced soon. Later in the fall, the sculpture will be on display in the George Sherman Union on the Boston University Charles River Campus. Read more about the project below.
The fast fashion boom of recent decades has accelerated the pace at which consumers buy and dispose of their clothing, at a growing cost to the environment and to the public's health. Americans throw out more than 34 billion pounds of clothing each year—a ten-fold increase since the 1960s—and two-thirds of these clothes are sent directly to landfills. Only 15 percent of annual textile waste in the US is recycled, and more than a third of the recycled waste is shipped abroad.
That means that the majority of discarded clothing ends up polluting the air, water, and land in local communities as it decomposes in landfills and open-air dumps, releasing leachates and toxic greenhouse gases.
A School of Public Health researcher dedicated to reducing textile waste is part of a team of researchers who have developed an unconventional initiative that blends art, activism, and public health to call attention to another consequence of this sartorial problem: environmental injustice.
Dielle Lundberg (SPH'19), research fellow in the Department of Global Health and a 2019 graduate of the MPH program, has worked for several years with researchers at Boston College (BC), where she completed her undergraduate education, to study and advocate for individual and policy-level changes that will reduce global textile pollution. This year, the team launched a multi-faceted public health art-activism initiative to raise awareness about the health impacts and environmental racism associated with textile pollution.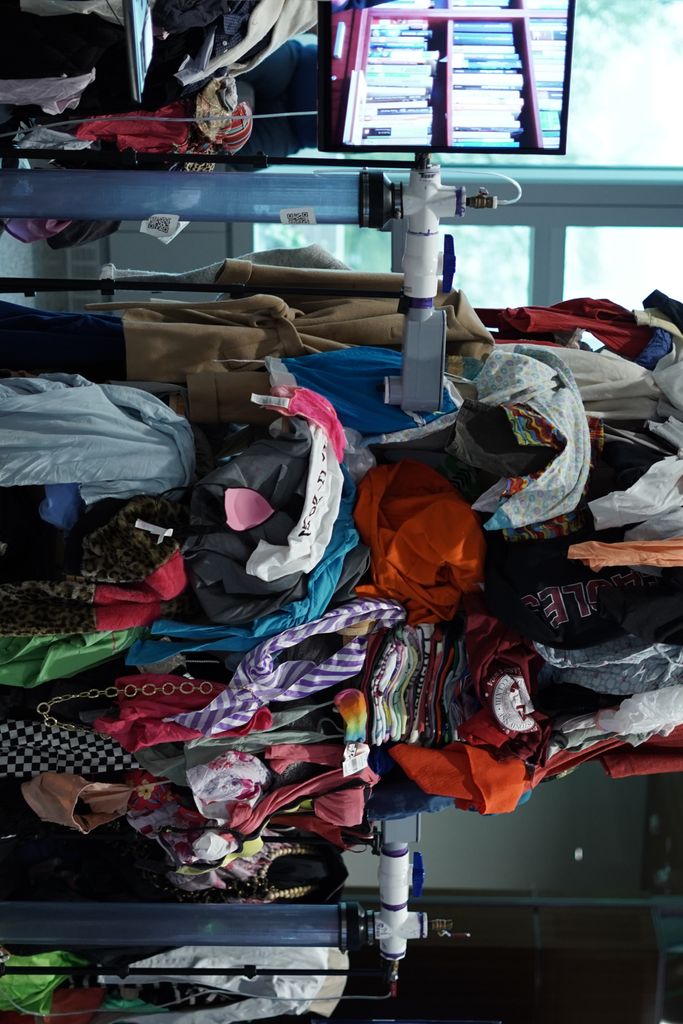 Led by Lundberg and Julia DeVoy, a developmental psychologist and social impact influencer at BC, the project includes three main components: a study in the journal Waste Management, which reveals how throwaway consumption disproportionately pollutes lower-income communities in the US and global south; free online modules that provide information about textile waste and what individuals and policymakers can do to reduce this waste; and an extraordinary sculpture designed by Mark Cooper, Boston-based artist and professor of the practice in the Art, Art History, and Film Department at BC. The sculpture features a landfill reactor simulator and a display of second-hand garments to underscore the waste generated from a culture of overconsumption.
The sculpture was on display at BC's McMullen Museum of Art earlier this year, and most recently at The Smithsonian Institution in Washington, DC, during the annual ACCelerate Creativity & Innovation Festival held April 8-10.
---

Scientists can learn a lot from collaborating with artists.

---
"The intersection of art and public health is a big passion of mine, and one that is often undervalued," says Lundberg, who is a cofounder and project advisor for Make Fashion Clean, a nonprofit working to change how jeans are consumed and disposed globally (and a collaborator of this multimedia initiative). "There are so many possibilities for art to be used as an intervention and as a tool for research dissemination. Scientists can learn a lot from collaborating with artists, and that is one of the most important things that I will take away from this project."
The researchers say overconsumption of textiles is a systemic problem being driven by a fashion industry that embraces non-durable clothing, rapid trend cycles, and harmful messaging that pushes people to constantly consume clothing.
"The clothing textile industry is one of the planet's most harmful, wasteful, energy-depleting, and polluting entities known," says DeVoy, who is principal investigator of the project. "Enormous degradation via greenhouse gas emissions and water pollution are just the very beginning of the environmental and public health consequences we face."
The idea for the multimedia initiative was borne after the team received an initial grant to build a landfill simulating reactor, to better understand the true public health impacts of textile pollution.
"No one knows how much pollution emerges from a single decomposing cotton T-shirt," Lundberg says. So the team designed the landfill-simulating reactor to be a closed system where they could decompose a T-shirt, and capture and measure the liquids and gas that come off of it.
From there, the researchers began to brainstorm about how to share this information in a way that is interesting to the public, and they decided to collaborate with artists to bring the scientific research to life.
Part of that research is the study in Waste Management, in which the team examined data from the Florida Department of Environmental Protection to estimate the amount of post-consumer textile waste generated and recycled across the state's 67 counties, from 2014 to 2019. They found that people living in areas with higher incomes, more education, more residential segregation, and more clothing stores generated substantially more textile waste per capita—but did not recycle more—than lower-income counties. The findings showed that the amount of textile waste that people generate is more than 10 times the amount that they recycle. The study also confirmed existing research that has shown that there are more landfills per capita in lower-income areas.
"There's an often-cited figure that Americans generate on average 80 to 100 pounds of textile waste every year," says Lundberg, who was a co-author of the study. "While that's a provocative statistic to cite and gives people an idea of the scale of the problem, it ignores the fact that people are not contributing to the problem equally. Our study highlights the environmental injustice issue that higher-income communities are contributing more to the problem of textile waste. Furthermore, people don't choose to live next to a landfill, so it is an issue of injustice because they are not dealing with any potential health effects by choice."
In the "Aftermath" sculpture, the haphazard display of strewn clothing next to the landfill-simulating reactor captures the urgency of this public health issue. Lundberg designed the accompanying modules, which are part of a 30-minute crash course that provides people with the most important facts about textile pollution, and helps them identify opportunities to change their own behavior and support systemic changes to reduce this harmful and avoidable waste.
"The power of 'Aftermath' is in the collaborative effort of combining within the installation the sculptural element with simulators to demonstrate the toxins given off, an interactive website, animations, and a video," says Cooper. "This combination of parts stimulates the viewer into considering the relationship of the parts, and serves a metaphor for the idea that the sum of the parts is greater than the individual parts. If we work together, we can solve problems around recycled clothing, and moving forward, take this collaborative approach to solve other shared concerns."
The researchers encourage individuals to curb textile waste by reducing their purchases of new clothes, or by thrift shopping, but they emphasize that policy change is critical to make an impact on a global scale. One example of policy change is Extended Producer Responsibility, already a law in France, in which clothing manufacturers are responsible for disposing of the products they produce once those products are no longer useful to consumers. In the US, Massachusetts will implement a ban on disposing certain textiles later this year.
The team will continue their research, and is now closely tracking where second-hand clothing lands when portions of textile waste are shipped overseas. The waste is often shipped to East and West African countries, many of whom have attempted to ban second-hand clothing imports. Communities in these areas often have less advanced municipal waste systems, meaning that pollutants from decomposing textiles will more easily enter the environment and potentially affect groundwater and human health.
"We're reaching a point where there's a lot more awareness that there are issues in the textile industry, but waste generation hasn't slowed at all," Lundberg says. "We're not going to recycle our way out of this problem."