Student Fosters Difficult Conversations on Racism, Racial Disparities
.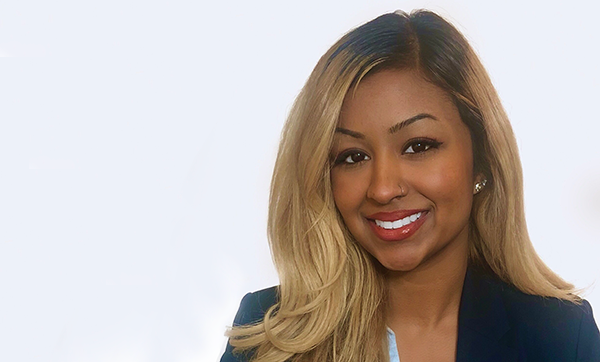 Student Profile
'Diversity Makes All Experiences Richer and Fuller'
MPH student Anupallavi Sinha has raised awareness about racial disparities in health through her work with the Activist Lab and the Diversity, Equity, Inclusion & Justice Committee.
As an international student from Ottawa, Canada, Anupallavi Sinha was drawn to the School of Public Health for its "undeniable commitment to diversity.
"I knew there would be an ample amount of opportunities to empower and advocate for people in underserved communities, and to dive into difficult topics that deal with racism and racial disparities in healthcare," says Sinha, a second-year MPH student studying health policy & law, and who is set to graduate this spring.
Indeed, throughout her time at SPH, Sinha has embraced numerous opportunities to raise awareness and spark conversations about a range of public health issues both inside and outside the classroom.
In her first year, she served as the Student Engagement intern for the SPH Activist Lab, where she wrote editorial content, developed social media campaigns, participated in community outreach, and encouraged students to become involved with the Lab's advocacy and social justice projects and programming.
Her role soon evolved into a primarily editorial one, where she penned reflective and informational pieces on critical public health topics of interest. Oral health is one of Sinha's key interests, and last year, she published a piece in which she presented a public health perspective to oral care, discussing the barriers to dental services and the disproportionate impact of dental diseases on underserved populations. Sinha plans to attend dental school in the near future, with aspirations to practice public health dentistry and cosmetic dentistry.
"In my opinion, I believe one of the first, major barriers to the improvement of oral health outcomes in the US is the population's perception of dental disease – people simply do not view dental problems as bearing the same gravity and urgency that is automatically provoked by other, systemic diseases. We need to focus on changing this perception by reframing oral disease as a health and healthcare issue, as opposed to solely a dental problem."
Sinha has also dedicated much of her time to supporting the school's Diversity, Equity, Inclusion, and Justice (DEIJ) agenda as the student representative on the DEIJ committee for faculty. In this role, she served as the liaison between the committee, composed primarily of faculty and staff, and the student body. She has shared suggestions on how the school can enhance and improve several DEIJ initiatives, including fostering more discussion of instances of microaggressions, power and privilege in the classroom, suggesting ways in which international students may feel more welcome and included at SPH, as well as placing a concerted effort to solidify the importance of spelling and pronouncing names of different cultures, correctly. During SPH's Teaching Public Health symposium last June, she served on an esteemed panel to provide a student perspective on how to foster difficult conversations around race, and how faculty members can create more inclusive classroom environments.
"My name—it's a long one—was one of the first things that I realized separated me from others," says Sinha. "I decided very early on that if I could not blend in, I would do everything in my capacity to stand out, and to be unique.
"I hope to be an example for others to realize that there is beauty and strength in being different—it is diversity that makes all experiences richer and fuller," she says. "Here at BU, discussing the significance of cultural names was a critical topic that I brought to the conversation, and one that I found a lot of people related to, as well."
Sinha decided to pursue the health policy & law certification to gain a foundational understanding of the US healthcare system and costs, and the complexities of health insurance, in contrast with Canada's universal healthcare system that is publicly funded.
"My number one takeaway from this degree so far is how political healthcare is," Sinha says. "In Canada, the system functions completely differently, and while it has its own issues, it is not as inordinately influenced by politics."
Sinha says that Harold Cox, associate professor of community health sciences, former associate dean for public health practice and former director of the Activist Lab, and Yvette Cozier, assistant dean for diversity, equity, inclusion, and justice, associate professor of epidemiology, and chair of the DEIJ committee, have both been instrumental in helping her excel in her DEIJ and Activist Lab roles, and have made lasting impacts on her SPH experience.
"Dr. Cox's genuine interest and expertise in helping disadvantaged communities in Boston has inspired me to be even more passionate about amplifying voices that are currently not being heard," says Sinha, who was also a graduate teaching assistant to Cox in his Leadership and Management course. "He was the first person at BU to affirm and encourage my commitment to promoting oral health, both inside and outside of the public health sphere—this was big for me, as it really confirmed in me the notion that I am definitely headed in the right direction to achieve my personal and professional goals."
Cozier has consistently encouraged Sinha to fully engage in difficult conversations about racism, and to unapologetically speak her mind in any setting, she says.
"Dr. Cozier's unequivocal dedication to the DEIJ committee, along with her willingness to listen to a variety of perspectives, always made me feel comfortable and justified in expressing my honest concerns and opinions to the board," Sinha says. "It has never been more apparent to me that the world needs more representation of people of color on these types of boards; there is simply no other way that we may be able to gain a comprehensive and cross-cultural understanding of each other—and that is something that all fields are in need of right now."