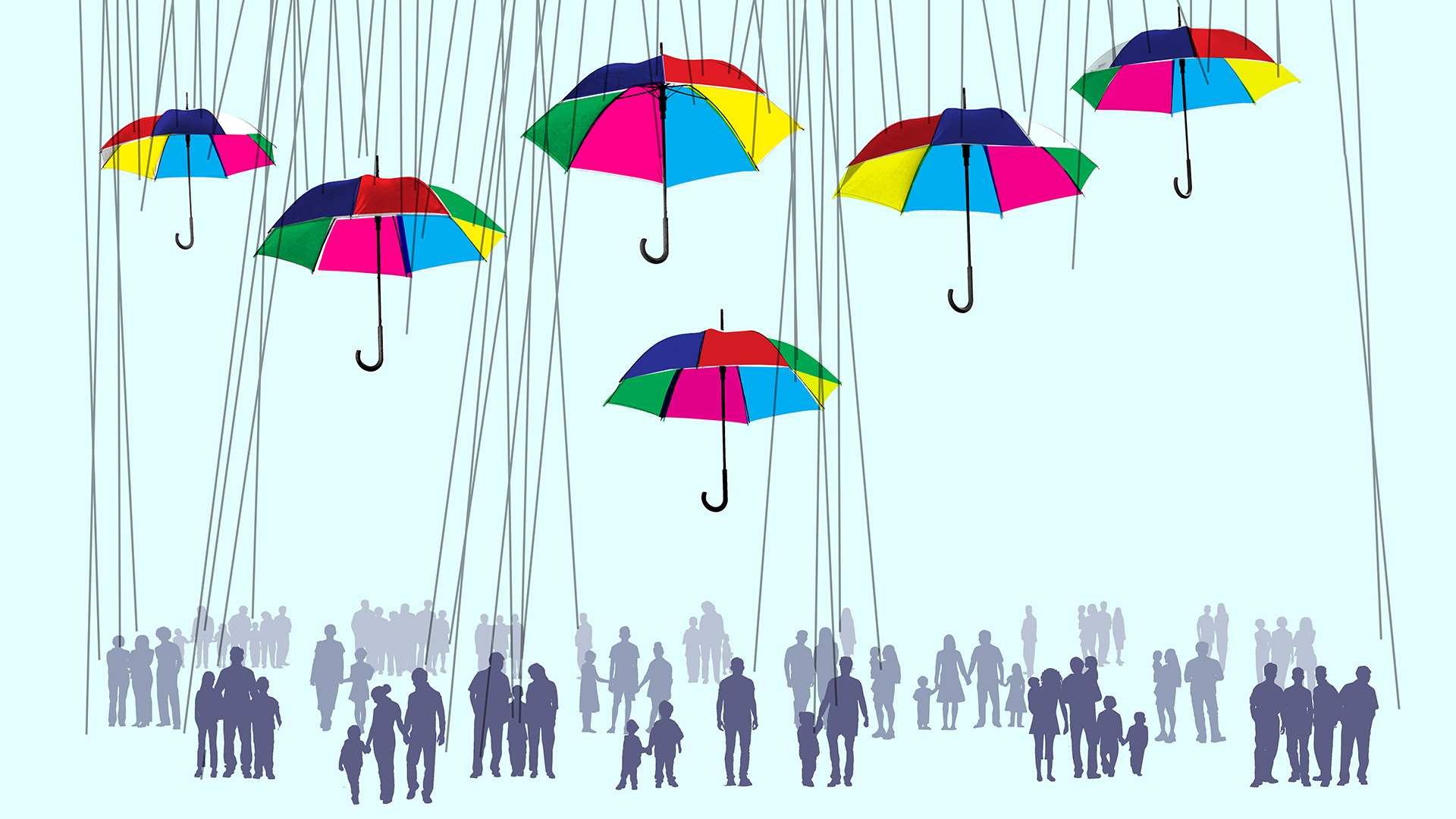 SPH This Year 2021
Curing MEDICAID
Making it available to more people is critical.
SPH researchers are investigating how the program and its complex interplay of state and federal policies can improve the health of populations despite a host of challenges to determining eligibility and delivering care.
In their own words, taken in part from a "lightning talk" introducing the interdisciplinary work of the Medicaid Policy Lab, our researchers help answer the question of why we should all care about Medicaid – and what might be done to fix it for the health of all:
---

Medicaid is a state-federal partnership program that provides health insurance to over 70 million people. Medicaid touches most American lives. Many of us or our loved ones will rely on it at some point over our lifetimes, as Medicaid is a primary payer for births, children, mental health care, and long-term care in the US, and is the largest source of funding for medical and health services for people with low incomes in the US.

---
One of the biggest post-ACA challenges in Medicaid policy is that the 2012 Supreme Court ruling on the ACA left Medicaid expansion optional in states, thereby creating what's known as the "coverage gap," where in non-expansion states, low-income childless adults are ineligible for Medicaid yet make too little money to qualify for subsidies in the ACA Marketplaces. Creating a public option that is "free" to low-income Americans or expanding existing Marketplace subsidies to persons under 100% of the federal poverty level would help to address this critical gap.

Megan Cole Brahim, assistant professor of health law, policy and management
---

The Biden administration is taking meaningful steps to expand health insurance coverage but we need meaningful reforms to address underinsurance, when people have insurance but can't afford to use it. This affects 1 in 5 Americans, making their insurance card a passenger in their wallet rather than a vehicle to getting the care that they need.

---
As states slowly rolled out Medicaid expansion over time, Medicaid became one of the most important, most studied insurance rollouts, maybe in our history. As of now, there are more than 400 studies that show that Medicaid expansion improves individual and public health supports providers, especially rural providers in rural hospitals and stabilize the state budgets. In addition, Medicaid has the effect of doing things like improving access to care, improving health equity, and other important measures. Nevertheless, we have more than 2 million people across the country who remain in that coverage gap.

Nicole Huberfeld, Edward R. Utley Professor in Health Law at the School of Public Health and Professor of Law at the BU School of Law.
About 50% of patients at federally qualified health centers (FQHCs) are enrolled in Medicaid and about one in four are uninsured and the majority of these patients come from racial and ethnic minority groups. For these populations, FQHCs provide comprehensive, culturally competent, quality primary healthcare services. And they provide these services to over 30 million people across the US – about one in 11 people, one in eight children, one in five Medicaid patients, and one in three people who are below the federal poverty level.

Megan Cole Brahim
If you're a parent in North Carolina and make more than $744 a month for a family of four, you don't qualify for Medicaid. As a childless adult, there is no income-based pathway through which you can qualify for Medicaid in North Carolina, because it's not an expansion state and $744 is not very much, particularly in the context of in a global pandemic when availability of resources and jobs is as heavily constrained…Even before the pandemic, North Carolina had over 200,000 people in the coverage gap, meaning that they made too much to qualify for Medicaid, but not enough to qualify for subsidies in the marketplace. Perhaps not surprising, the uninsured rate in the state rose to approximately 20% during the pandemic. Medicaid expansion is a key piece to ensuring access to health care during public health and economic crises.

Paul Shafer
---

Our work has also found that Medicaid accountable care organization implementation has been associated with things like relative improvements and cancer screenings such as pap testing, and colorectal cancer screenings at federally qualified health centers as well as improvements in indicators of maternal health, including timely access to prenatal care and decreases in low birth weight.

---
Medicaid finances 42% of all US births and the majority of births to low-income women. The program is therefore a key policy lever in improving maternal health in the US yet current Medicaid eligibility policies can hinder continuity of care before, during and after pregnancy… the postpartum period is increasingly acknowledged as a critical time to address maternal health as one-third of maternal mortality occurs in the year after delivery. This period of time also offers opportunities to address complications from pregnancy or childbirth, as well as promote women's physical and emotional health.

Sarah Gordon