Less Seen/Less Heard: Learning from the Disabilities Community
.
Activist Lab
Less Seen/Less Heard: Learning from the Disabilities Community
In a new conversation series by the Activist Lab, Craig Andrade, associate dean for practice and director of the Activist Lab, and Eric Rubenstein, assistant professor of epidemiology, discuss their shared experiences working with people with intellectual and developmental disabilities.
Less Seen/Less Heard: Stories from the Margins is a periodic conversation series by the Activist Lab, in which experts discuss a range of pressing public health topics. This week, Craig Andrade, associate dean for practice and director of the Activist Lab at SPH, and Eric Rubenstein, assistant professor of epidemiology, talk about their shared experiences working with people with intellectual and developmental disabilities.
Listen to the full conversation here or read the transcript. For highlights, read the Q&A below.
Less Seen/Less Heard: Conversations from the Margins
With Craig Andrade and Eric Rubenstein
Learning from the Disabilities Community
Audio — 43 minutes 38 seconds
Eric Rubenstein, assistant professor of epidemiology, has worked closely with people with intellectual and developmental disabilities (IDD) since he was in the fifth grade. What started as a fun volunteer opportunity quickly became Rubenstein's passion and motivation for doing the research he is conducting at the School of Public Health around maternal health equity and expanding access to Medicaid for the IDD population.
"Epidemiology tends to focus on risk factors for a lot of the conditions that people with IDD face, so to fill some of these gaps, much of my research focuses on the health outcomes for this community," says Rubenstein, who joined SPH in 2020. "We see there are a lot of poor outcomes, both mental and physical, for these populations that really are preventable."
In addition to his research, Rubenstein has been a Special Olympics coach for over 21 years, which he says has been a great way to pair his academic work with his life. "I don't have these conditions myself, but I do consider myself a part of the community," he says. "I have been able to develop great friends and personal connections through this work, and I really wouldn't trade it for anything."
Rubenstein spoke more about his work, how public health and society, as a whole, can better serve the IDD community, and how students can get involved with community-based work they are passionate about with Craig Andrade, associate dean for practice and director of the Activist Lab at SPH, who has also spent much of his career working with this community.
This conversation has been edited and condensed for clarity.
Q
&

A
With Craig Andrade and Eric Rubenstein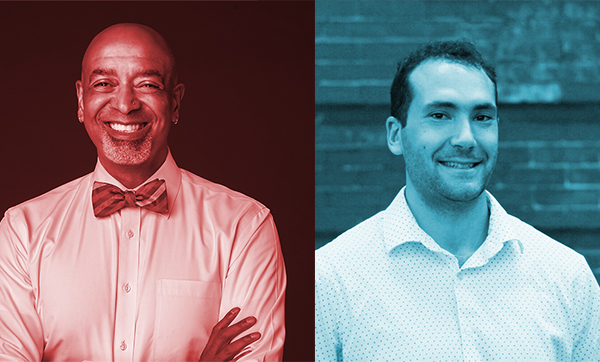 Craig Andrade: You've worked with this community for much of your life, so what has helped you stay connected and now make it part of your academic career?
Eric Rubenstein: An important motivator has always been my mom. I'm the epidemiologist, and my sister is an occupational therapist, and my brother is a physical therapist. We always joke that this is a family business because we all work with this population in one way or another.
I also think that it's very clear when you spend time with this community that there is a lot of need, regardless of income and other factors. Even as a young kid, this need was very clear to me.
When I started my academic career, my research focused mostly on autism, of which the rise and identification is really a 21st century issue. It is not something that we've been studying for hundreds of years, so there's still so much we need to know and understand. I felt like I could make a difference in this area, whereas in some other areas of public health, the ground is a little more trod. There's really a lot of ground to cover here, which is really exciting.
Andrade: We, to some degree, have side lined an entire community across multiple ways of identifying intellectually and physically to the side margins of our community. There clearly have always been advocates, champions, and allies. But it is only in relatively modern times that we've been more deliberate about including a population of different communities in education and healthcare. Has this been part of your research in any way?
Rubenstein: I recognize the same struggle of getting these voices into the public health arena. I think there are a lot of educational barriers in figuring out how to get these folks a seat at the research table. With the IDD population, especially with those with intellectual disabilities, it can be a little harder to be given that chance to be able to be included in a research team of academics and community members.
So, actually with the help of SPH and the Activist Lab, we have funding to do a researcher training with Special Olympic athletes to start involving these folks more in our research conversations. The pilot project is led by a master's practicum student, who has been excellent. We are focusing on both delivering the message that these athletes can be researchers and that they do belong at this table. We are hoping to show them some of the ins and outs of what they will need to know, both the hard skills and the soft skills, with the goal of eventually being able to have the skills so that I can hire them to be on my research team. There are some structural limitations to this and some loopholes that we are still ironing out, but we are figuring out how we can make this work.
I'm a straight, cis, het white guy talking about the disabled population. And I'm able-bodied, which, in a way, is part of the problem. I try my best, I try to stay grounded, to do the best work I can do for a community that I've really taken the time, and feel I am a part of. I try to use my voice to advocate for others, but I am in the ivory tower. My boots are not always on the ground, so the real people that are living these experiences, 24/7, are the ones whose voices should be leading.
Andrade: What would you say to students that are interested in working with this population and are interested in finding ways to continue to push the field in this area in ways that continue to create better health outcomes?
Rubenstein: I know that not everyone has the luxury of time, but my number one piece of advice is to volunteer for an organization that you like, doing something that you enjoy and are passionate about. So many opportunities come about that way, especially in a city like Boston. The skills that you're developing at SPH are very valuable to a lot of these smaller nonprofits, and in a world where everyone in the building has a public health degree, or has studied public health, or has a PhD in some public health-related field, you may forget in the real world how valuable your unique skills are.
Getting outside of the "bubble" is a worthwhile experience, even if you have to, maybe, wake up early on a Saturday or forego something else. It's beneficial spiritually. I also think that if this is something that you want to have a career in, making these connections and showing that you're willing to put in the legwork for this cause are really things that nonprofits value.
Andrade: I resonate with that word "spiritually," and the connection that comes with getting proximal to people and whatever challenges they may face and really trying to understand them. Volunteering and getting closer to the community, listening to their stories, there is a kinship that just can't really be put into words.
The idea that we get as much as we give is a consistent theme in my life. It is why I became a public health practitioner. The surprises that come from it, the network, the connections, the learning, the growth that happens. It is just phenomenal.
So, the Activist Lab has a significant focus on activism and advocacy. How would you frame your brand of advocacy in the work that you do?
Rubenstein: In my research and my advocacy, I try to find things that everyone agrees on and try to use my platform to promote things that, across the board, we know work. My research can move the needle in strong ways. BU has a great corps of Medicaid researchers at the new Medicaid Policy Lab, and this is an area where I can make a difference and actually help a lot of people
Personally, I really love advocating for my friends and athletes. There are so many opportunities in the community and in supporting them to find jobs and things like that. I try to advocate for these more large-scale, societal changes, which are very hard.
I also really focus on listening to those that are leaders in the advocacy space, and follow their lead. So, if they say, "Call your representative," and I trust them, and their input, I call my representative. For me, knowing who the leaders are and what they're saying is really important. Sometimes it's about having my voice in the chorus rather than being the solo singer.