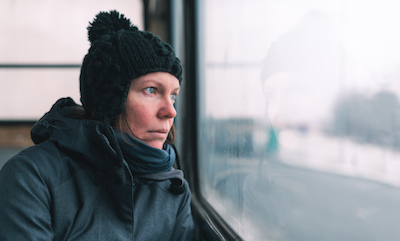 Suicide rates in much of the world have been stubbornly consistent for decades, accounting for about 1.4 percent of all deaths globally. Unlike most public health issues, where researchers have been able to identify risk factors for effective interventions, suicide is still incredibly difficult to predict and prevent, says Jaimie Gradus, associate professor of epidemiology at the School of Public Health.
"Every suicide death is the result of multiple interacting risk factors in one's life," she says. "One of the reasons that the suicide rate has not really improved despite decades of research is  because studies have been hampered by what traditional statistics will allow us to look at at once."
So, Gradus and her colleagues at Boston University and at Aarhus University in Denmark tried a new approach to look at as many factors as possible.
Their study, published in JAMA Psychiatry, is the first to use data on thousands of different factors from the population of an entire country—Denmark—and parse it with a machine-learning system to identify new suicide risk factors and interactions. The study takes advantage of the Danish national healthcare system's thorough and standardized health records, looking at all 14,103 individuals who died from suicide in the country from 1995 through 2015, and the health histories of 265,183 other Danes in the same period.
New Insights
One of the study's new findings is that physical health issues were an important predictor of suicide in men, but not in women. This may be because physicians are more likely to ask men about physical health but women about mental health, Gradus says, or because women are more likely to report mental health symptoms while men are more likely to report physical symptoms—or for some other reason entirely. "It's something worth exploring more," she says.
The study also found that having post-traumatic stress disorder (PTSD) or another stress disorder raised the risk of suicide, something that had been unclear in previous research. "There is literature that shows that PTSD is either not associated with suicide or actually protective against suicide," Gradus explains. Her own research and her analyses of those other studies point to an issue with methodology: "Essentially, the studies that have found this have only been among people with depression or mishandled adjustment for depression. Depression is a very strong risk factor for suicide, so when you're comparing people with PTSD and depression with people who have depression alone—a comparison group that already has a high risk—the additional effect of PTSD looks small." This new study does not fall into that trap, she explains, likely painting a more accurate picture of the relationship between stress disorders and suicide risk.
As in previous research, the study found that the most important variables for accurately predicting suicide were psychiatric disorder diagnoses and associated medications. But the new study found that diagnoses and medications were more important to suicide prediction when they occurred months or years earlier, while diagnoses and medications within six months of suicide were less important to accurate suicide prediction.
"What I think is that it is really the interaction between living with these disorders in the long term and the chronic effects they have on your life, and probably some immediate stressor like loss of a job or loss of a relationship prior to the suicide that actually potentiates risk the most," Gradus says.
But these more immediate life issues don't show up in medical registry data, she points out. Even with thousands of factors to look at, the study is not able to look at everything that comes together to cause a suicide.
Next Steps
While it may not yet be possible to predict suicide, Gradus says models like this one are already in use: The US Department of Veterans Affairs recently developed the Recovery Engagement and Coordination for Health – Veterans Enhanced Treatment (REACH VET) program, which uses VA registry data to help clinicians identify veterans at high risk of suicide, and sets off a chain of increased follow-up, including with a suicide prevention coordinator.
Gradus' study and similar research can help continue to make these screening models more and more accurate, and better able to identify those at risk as early as possible. To do that, Gradus says research needs to keep drilling down into the already-identified and newly-identified risk factors.
"For example, depression is strongly associated with suicide, but many people have depression and then few actually will go on to engage in suicidal behavior," Gradus says. "Next, we want to see which patients with depression a clinician might need to be more concerned about."
Suicide Epidemiology
Gradus says she was drawn to study suicide in part because she likes a challenge, and the incredible complexity and difficulty of bringing together enough data to capture "the constellation of factors in someone's life" that lead to suicide make it one of the greatest challenges in epidemiology. "It remains so hard to predict, and it might for the rest of my career," she says.
But the main reason Gradus is working on the issue, she says, is because a suicide represents more than a death. "To me, suicide is an indicator of years lived in suffering," she says. "That's why suicide particularly feels like something worth spending my time on as an epidemiologist."
Gradus says that, working with these massive quantities of data, it can be easy to lose sight of that pain behind the numbers. "I feel so grateful not only to the people who worked with me on the study, but also the people whose data I have," she says. "I try to always extend a little gratefulness to the people who were involved in any way, and hope that it can somehow lead to help for somebody else. I may never know as an epidemiologist, but I put that hope out there."
The study was co-authored by: doctoral candidate Tammy Jiang; Henrik T. Sørensen, chair of the Department of Clinical Epidemiology at Aarhus University Hospital in Denmark and adjunct professor of epidemiology at SPH; Amy E. Street, clinical psychologist at the VA National Center for PTSD and associate professor of psychiatry at the BU School of Medicine; Anthony Rosellini, research assistant professor in the Department of Psychological and Brain Sciences at BU; Erzsébet Horváth-Puhó of Aarhus University Hospital; Isaac Galatzer-Levy of the New York University School of Medicine; and Timothy L. Lash of Aarhus University Hospital and the Emory University Rollins School of Public Health.
 The National Suicide Prevention Lifeline provides 24/7, free and confidential support for people in distress, prevention and crisis resources for you or your loved ones, and best practices for professionals. 1-800-273-8255