When Should Schools Take Sides
?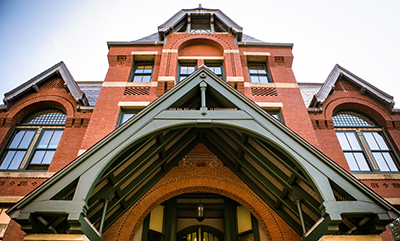 As a faculty member, I often weigh in on issues, inviting disagreement and debate. It is with that spirit in mind that I write these Dean's Notes; it is also the sentiment behind my latest book. When I speak, I speak on behalf of myself, not the SPH community. In my role as dean, however, I am frequently approached to endorse statements and sign public letters on behalf of the school regarding a range of subjects; from recent federal efforts to defund Planned Parenthood, to the fate of climate change regulations. This raises a question: When is it acceptable for us to take a position on an issue collectively, as an academic institution?
All schools must consider this to some degree, of course, but it is perhaps especially relevant to a school of public health, given the many issues that fall within the remit of creating healthy populations. The social, economic, and environmental conditions that shape health are themselves shaped by the outcome of often hotly contested debates, making our engagement with the question of when to take sides all the more important. This question has taken on new urgency in the wake of President Trump's initial reluctance to condemn white supremacists for sparking the violence in Charlottesville, when he instead equivocated that "many sides" were to blame for the bloodshed. This response was widely viewed as inadequate, given the stark divide between the forces of hate and those of tolerance, and clarified the importance of influential American institutions naming injustice and speaking out on behalf of the marginalized and the oppressed. For today's note, then, I explore the topic of when it may be appropriate for us to take positions as a school, and how best to do so when the occasion arises. I do this to help clarify my own thinking, to be transparent about that thinking, and, as always, to invite comment and disagreement that can help advance our collective engagement with this issue.
Why do schools avoid regularly taking official positions on issues? The answer lies with the principle of institutional neutrality, a central, if still much debated, tenet of our academic system. Institutional neutrality is the principle whereby schools refrain from taking a political or ideological position, creating space for a nonpartisan pursuit of the facts wherever they may lead. Our neutrality is core to our function as a school. It allows us to examine a host of ideas with clear eyes, to parse the fundamentals of a given concept, and to recognize the good in what may be generally regarded as "bad" ideas and see the areas where "good" ideas can fall short. This delicate, difficult work is rendered even more challenging if we begin our inquiry with our preferred conclusions already in mind. For a school to subscribe to a set ideological agenda would encourage us to do just that, unduly influencing the empirical process that is the lifeblood of a healthy academic enterprise. Academic neutrality is also important to the world of ideas beyond our campus. I have written previously about how our ability to advance understanding through free inquiry and fact-based debate is a value-add for society. It is also an indispensable alternative to those who would promote an agenda through appeals to prejudice or political bias. Our words carry weight in the public sphere precisely because we do not choose them in the service of a partisan aim, but rather to express the facts as we encounter them during the course of our scholarship.
Important as our neutrality is, there have been times when schools have formed a consensus that taking no position is not a morally acceptable option in the face of injustice. By way of one obvious example, this was the case in recent decades when academia took steps to pressure the South African government to end its policy of apartheid. This action took two principle forms—divestment and an academic boycott. Divestment was largely a result of students arguing that schools should stop investing in companies that did business in South Africa. By the end of the 1980s, about 150 educational institutions chose to do so. The academic boycott consisted of institutions and individual scholars refusing to collaborate with South African universities in a range of areas, such as hosting visiting scholars or students, evaluating theses, sharing research, and publishing articles. While the effectiveness of divestment and the boycott remain subject to debate, they nevertheless were part of a broader international stand against apartheid that ultimately yielded results. They were the product of a moral imperative to protest the country's racist political system and the extension of this injustice into higher education. Racial discrimination is inimical to the mission of schools and universities to foster an inclusive, respectful learning environment. Taking an anti-apartheid position was therefore not just a defense of oppressed black South Africans, but of the most cherished values of higher education.

Academia's stand against apartheid teaches us that the principle of neutrality is sometimes overtaken by other principles. While schools should not be ideological or partisan, when policies arise that are at odds with our fundamental values, we can and should take a position. There are two ways we can do so. First, we can speak out, using our voices to oppose injustice and express solidarity with marginalized or threatened groups, as we have recently done in the face of the Trump administration's immigration ban. Since the ban was implemented, our university spoke out in support of the immigrants we are privileged to call our students, and in opposition to any policy that would demonize or exclude them. The university did so to stand for our academic values—immigrants enrich our school community and add vital new perspectives to our scholarship—and to advance our vision for a more inclusive, diverse society. While speaking out may not always lead to immediate results or policy changes, it is, I think, all the more important that we raise our voices when the road to a better world seems long, so that we may contribute to the work of nudging the present towards a more just future. Second, we can take a stand by taking action, coupling our words with specific deeds to mitigate the injustice we see, as schools did in opposition to apartheid. This action can take several forms—from participating in marches and demonstrations, to working with elected officials to craft policies that help create healthy populations. Indeed, as an activist school of public health, such work is, in many ways, already encoded in our institutional DNA. Our action is also represented by the actions we refuse to permit; when we decline, for example, to give an on-campus platform to voices that promote bigotry and hate.  

Prompted by my evolving thinking on this issue, I suggest that there are three criteria we could consider when choosing whether to declare a position. First, we should take a position only when a core value is at stake. In our school's value statement, we commit to "[creating] a respectful, collaborative, diverse, and inclusive community within SPH, and to [promoting] justice, human rights, and equity within and across our local and global communities." We pursue these values while recognizing that our school and our society will, from time to time, fall short of them. However, when these lapses are the product of a concerted effort by the powerful to marginalize and exploit the weak, in the political realm or elsewhere, then it is necessary for us to take a more formal, organized stand. Second, we should only take a position when we think that doing so will make a substantive difference—when we think our involvement can help build or nudge a movement to either move policy in a healthier direction or prevent policy from encroaching on our academic values and the health of the populations we serve. Third, we must take care, when declaring a position, that we do not overextend ourselves. We cannot weigh in on every issue, nor should we seek to. In attempting to stand for everything, we run the risk of effectively standing for nothing by spreading our efforts too thin. It strikes me that if we follow the first two of these criteria, the third shall take care of itself, even if it feels at times, as perhaps is the case in the present, like issues that meet these criteria are happening with some regularity.
I hope everyone has a terrific week. Until next week.
Warm regards,
Sandro
Sandro Galea, MD, DrPH
Dean and Robert A. Knox Professor
Boston University School of Public Health
Twitter: @sandrogalea
Acknowledgement: I am grateful to Eric DelGizzo for his contributions to this Dean's Note.
Previous Dean's Notes are archived at: https://www.bu.edu/sph/tag/deans-note/