Journalists Visit Poverty Class
.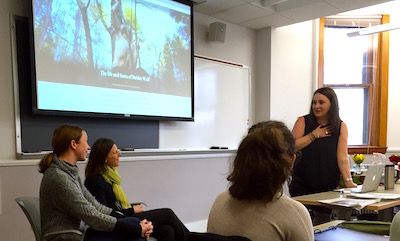 Boston Globe reporter Sarah Schweitzer and photographer Jessica Rinaldi visited the class Seeing Poverty: Understanding and Addressing Poverty in America on December 1.
To Sophie Godley, clinical assistant professor and director of undergraduate programs in Community Health Sciences, it was as if they had been there all along.
When she read their recent long-form piece, "The Life and Times of Strider Wolf," Godley says, "it felt like they had been sitting in our class for the last two months."
The Globe piece shows a few months in the life of Strider Wolf Grant, a little boy living in extreme poverty in Maine with his grandparents and younger brother, and the effects of the abuse, scarcity, and uncertainty he has faced.
Godley immediately reached out to Schweitzer and Rinaldi, and soon they agreed to come speak to Godley's students.
Seeing Poverty, taught by Godley at BU's Kilachand Honors College, explores issues in American poverty through multiple disciplines and approaches.
"The combination of photojournalism and narrative was exciting," Godley explains, "because our class has spent a lot of time thinking about imagery in terms of poverty and how the poor are depicted."
After a brief introduction—in which Schweitzer and Rinaldi joked about public speaking being a departure from their usual fly-on-the-wall approach—the reporters answered student questions about telling stories about poverty from a place of privilege.
One student asked about being "let in" to the family's life to create such an intimate portrayal of incredible hardship.
By way of an answer, Rinaldi described her first meeting with the family: She arrived almost immediately after the Grants were informed of their eviction.
"I said, 'I understand if you don't want me to shoot anything,'" Rinaldi recalled. Strider's grandmother replied, "'You shoot anything you need to.'"
Rinaldi said that was the moment of permission: "It's okay for you to be here. It's okay for you to see this. It's okay for you to tell this story."