Pardee School Hosts 2021 Virtual Convocation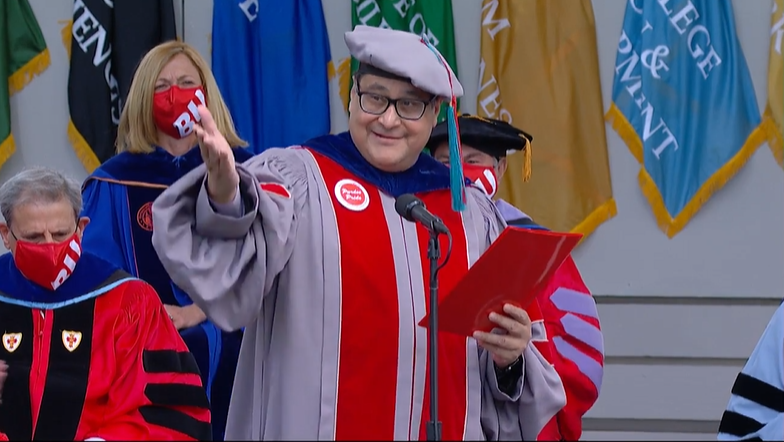 On May 15, 2021, the Frederick S. Pardee School of Global Studies at Boston University hosted it's 2021 convocation ceremony online.
Adil Najam, Dean of the Pardee School, kicked off the ceremony welcoming the friends, family, and students tuning in to the broadcast. After the brief introduction, Dean Najam presented previously recorded remarks from former United Nations Secretary-General Ban Ki-moon. In his address, Ki-moon delivered a message of hope to Pardee School students and a charge to "think big, think globally" and "be a global citizen."
Following Secretary General Ban Ki-moon's remarks, Najam invited his Pardee School faculty colleagues – Erik Goldstein, William Grimes, Noora Lori, Manjari Chatterjee Miller, Adela Pineda, Henrik Selin, Jack Weinstein, and Min Ye – to present the various student and faculty awards for 2021. Faculty presented the three Pardee School Undergraduate Academic Excellence Awards, the Graduate Academic Excellence Award, the Undergraduate and Graduate Ambassador Hermann Frederick Eilts Thesis Awards, the Carole A. Chandler Student Citizenship Award, and finally the Gerald and Deanne Gitner Family Prize for Faculty Excellence.
Following the presentation of the awards, Dean Najam presented his Dean's Charge to the graduating class. In the address, he instructed the graduating class of 2021 not to be content with going "back to normal" following the COVID-19 pandemic. He stated that what was once called normal – inequity, injustice, climate change, systemic racism, abject poverty – was never really normal and tasked the graduating class with defying "the ugly side of normal, wherever you see it, whenever you see it…move beyond that which might have once been thought normal. To move to a better world."
A recording of the Pardee School's 2021 virtual convocation can be viewed below.
Boston University's in-person commencement for undergraduate and advance degree students took place the following day on May 16, 2021. A recap of the 2021 in-person commencements can be read in BU Today.