William W. Grimes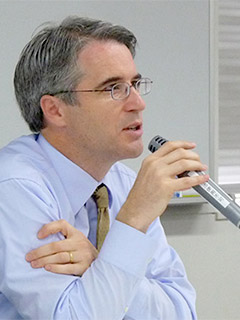 Title

Associate Dean for Academic Affairs,
Frederick S. Pardee School of Global Studies;
Professor of International Relations and Political Science

Education

BA Yale University
MPA Princeton University
PhD Princeton University

CV

Email

Phone

(617) 353-9420

Address

152 Bay State Road Boston, Massachusetts 02215
William W. Grimes is Associate Dean for Academic Affairs and Professor of International Relations at the Frederick S. Pardee School of Global Studies at Boston University, where he has taught since 1996. He previously served as chair of the Department of International Relations and as the first director of the BU Center for the Study of Asia.  He has also spent time as a post-doctoral researcher and as a visiting assistant professor at Harvard University.
Professor Grimes is the author of Unmaking the Japanese Miracle: Macroeconomic Politics, 1985-2000 (Cornell University Press, 2001) and Currency and Contest in East Asia: The Great Power Politics of Financial Regionalism (Cornell University Press, 2008), as well as co-editor (with Ulrike Schaede) of Japan's Managed Globalization: Adapting to the 21st Century (M.E. Sharpe, 2002). Currency and Contest in East Asia was awarded the 2010 Masayoshi Ohira Prize for outstanding book on the Pacific Basin and received an Honorable Mention in the competition for the Asia Society's Bernard Schwartz Book Award in 2009. He has published articles, book chapters, monographs, and commentary on East Asian financial regionalism, the impacts of financial globalization in Japan, Japanese monetary policy making, US-Japan relations, and related topics. His current research focuses on the effects of the 2008-9 global financial crisis on regional cooperation as well as on competition among financial market centers in East Asia.
Professor Grimes has spent time as a visiting researcher at the Japanese Ministry of Finance, the Bank of Japan, and several universities in Japan and Australia. He has been the recipient of various fellowships and awards over the years, including two Fulbright fellowships and a book-writing grant from the Japan Foundation Center for Global Partnership. He is an active lecturer in Japan and the United States in both academic and policy venues and has been recognized for his teaching and advising at Boston University. Professor Grimes is committed to policy-relevant research and works regularly with government officials and financial professionals, particularly from the United States and Japan. He is a life member of the Council on Foreign Relations and has been a Research Associate of the National Asia Research Program.
Professor Grimes received his B.A. in East Asian Studies from Yale University, his M.P.A. in International Relations from the Woodrow Wilson School of International and Public Affairs at Princeton University, and his Ph.D. in Politics from Princeton University.
Specialization:
Japanese and East Asian Political Economy, Japanese Politics, International Political Economy.