Program at a Glance
Online and On Campus
Full-Time or Part-Time Study
16 Credits
8–12 Months to Completion
4 Full-Time Faculty Members
No GRE/GMAT
Tuition & Fees Range—Part-Time Study*: $12,040–$13,720
*Based on 2023–2024 Boston University tuition and fees. Merit scholarship may reduce cost.
Develop Criminal Justice Leadership Skills with a Graduate Certificate
Online or on campus, the Graduate Certificate in Strategic Management in Criminal Justice at Boston University's Metropolitan College (MET) offers an interdisciplinary curriculum designed to provide the skills needed to face contemporary criminal justice challenges and lead reforms—not only domestically, but internationally.
To be an effective manager in a criminal justice organization, you have to be more than "tough on crime": you have to comprehend the culture within your department, communicate with first-line supervisors and other personnel, collaborate with external agencies, maintain rapport with the press and other observers, and ensure that you are able to understand and confront deeply entrenched ideas, cultures, and expectations. More importantly, you have to answer to the public—most likely in the aftermath of a crisis. Successful management in this environment requires innovative strategies, the ability to develop accountability systems and streamline processes, and a deep commitment to best practices. It is important to maintain focus on evidence-based planning and to approach practical and systemic obstacles with a vision—and a solution.
Effective leadership in the increasingly complex field of criminal justice requires a strong footing in ethics, business, and analysis, as well as the ability to keep pace with issues that include the realities of terrorism, the emergence of cybercrime, questions of police legitimacy, and stagnant correctional outcomes in terms of recidivism among offenders. The Strategic Management certificate develops valuable skills that enhance the ability to analyze diverse problems and develop sound and sustainable policies that are guided by logic and planning—making it the ideal credential for experienced, mid-career criminal justice professionals who seek to advance into policy-making, upper management, or executive-level positions in their agencies.
"I chose BU MET for my graduate studies because it had everything I was looking for in a graduate program: world-renowned instructors, detailed focus on relevant subject matter (that is, topics relevant to current or recent criminal justice cases), and rave reviews by former students who found that the program really contributed to their success in their chosen fields."—Madeleine Nay (MET'18), Gang Intelligence Technician, Gang Intelligence Operations, California Department of Corrections and Rehabilitation
Why BU Should Be Your Top Choice for Criminal Justice Graduate Study
Active Learning Environment: Benefit from criminal justice coursework that employs case studies, simulations using real data, and hands-on problem solving to develop practical skills you can immediately apply on the job.
Engaged Faculty: Collaborate with faculty who have subject-matter expertise, research-based insight, and extensive field experience in law enforcement, corrections, cybercrime investigation and digital forensics, research and policy, forensic mental health, the judicial system, strategic management, and many other areas.
Extensive Network: Study alongside classmates whose diversity of criminal justice experience inspires discussion and debate, along with the opportunity to form valuable, long-lasting connections in the field.
15:1 Class Ratio: Enjoy an exceptional student-to-instructor ratio, ensuring close interaction with faculty and access to support.
Valuable Resources: Make use of Boston University's extensive resources, including the Center for Career Development, Fitness & Recreation Center, IT Help Centers, Mugar Memorial Library, Frederick S. Pardee Center for the Study of the Longer-Range Future, Center for Antiracist Research, Initiative on Cities, Howard Thurman Center for Common Ground, George Sherman Union, and many others.
Flexible Options: Study at the pace that works for you, evenings on campus or fully online. Courses begin fall, spring, and summer; online courses have two starts per term.
Track Record: Learn from the best—BU MET has offered criminal justice education since 1973, introducing its master's degree in criminal justice in 1980, which became BU's first fully online program in 2002.
Prepare for the Future of Criminal Justice
The Strategic Management in Criminal Justices graduate certificate is part of BU MET's portfolio of criminal justice programs, which includes the Master of Science in Criminal Justice (MSCJ) with concentrations in Crime Analysis, Cybercrime Investigation & Cybersecurity, and Strategic Management, along with additional four-course graduate certificates in Crime Analysis, Cybercrime Investigation & Cybersecurity, and Strategic Management in Criminal Justice.
Housed in the Department of Applied Social Sciences at MET, Boston University's criminal justice programs prepare you to tackle contemporary challenges in the field, providing training in critical specialization areas and emphasizing practical, insightful, and adaptable knowledge that can be immediately applied on the job while informing your career growth for years to come.
Online or on campus, BU MET students of criminal justice come from all walks of life and comprise an intricate network of organizations. Whether you are pursuing or enhancing a criminal justice career, planning for a doctoral program, or considering a future in teaching, BU's criminal justice programs will give you the foundation to navigate difficult issues, improve your practice, and open new possibilities for your future.
Graduate with Valuable Strategic Management Tools
Metropolitan College's Graduate Certificate in Strategic Management in Criminal Justice will equip you with:
Familiarity with organizational structures of the criminal justice system along with the classical and contemporary theories of organization, planning, and reform.
The ability to learn and apply planning skills related to criminal justice policymaking and program design.
Knowledge of policy monitoring and program evaluation techniques.
Proficient comprehension of quantitative and qualitative practices that enhance organizational decision-making, evaluation, and accountability.
An understanding of the nature of public emergency management and preparedness across public and private jurisdictions.
Certificate-to-Degree Pathway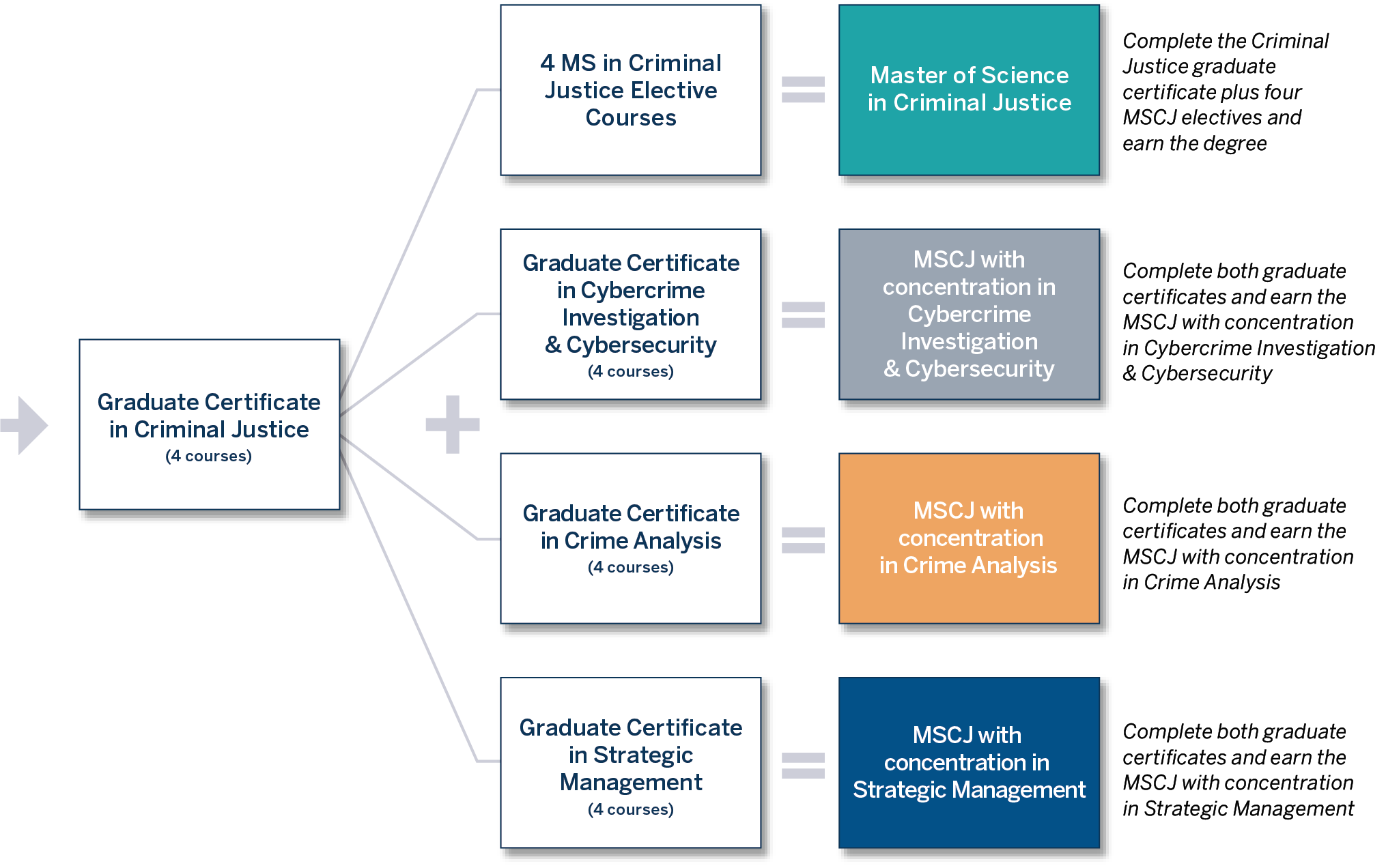 You can earn a master's in Criminal Justice with a concentration in Strategic Management by completing the Graduate Certificate in Criminal Justice and the Graduate Certificate in Strategic Management in Criminal Justice. Students currently enrolled in a graduate certificate who are interested in transitioning into a master's degree should contact their academic advisor to declare their interest in this pathway. A new master's degree application is not required. Connect with a graduate admissions advisor at apssadmissions@bu.edu to learn more about this option.
Strategic Management in Criminal Justice Graduate Certificate Curriculum
(Four courses/16 credits)
MET AD 612

COO-Public Emergency Management

Fall '23
MET CJ 571

Criminal Justice Administration and Ethics

Fall '23

Sprg '24
MET CJ 711

Criminal Justice Policy and Planning

Fall '23

Sprg '24
Plus one of the following:

MET CJ 511

Rehabilitation and Re-Integration

Sprg '24
MET CJ 512

Sexual Violence

Fall '23
MET CJ 520

Violence and Trauma
MET CJ 531

Youth Crime Problems
MET CJ 610

Cybercrime

Fall '23
MET CJ 612

Crime and Intelligence Analysis

Fall '23

Sprg '24
MET CJ 620

Cyberterrorism and Cyber Defense

Fall '23

Sprg '24
MET CJ 632

White-Collar Crime
MET CJ 640

CJ Management & Accountability Analytics

Fall '23

Sprg '24
MET CJ 660

Gender and Justice
MET CJ 710

Applied Digital Forensic Investigation

Sprg '24
MET CJ 720

Trauma and Crisis Intervention

Fall '23

Sprg '24
MET CJ 725

Forensic Behavior Analysis

Sprg '24
MET CJ 750

Policing in a Democratic Society
MET CJ 775

Seminar in the Law and Criminal Procedure
MET CJ 801

Special Project in Criminal Justice
MET UA 507

Law and Justice in the City
Any request for addition or substitution of elective courses requires approval from the department.
Criminal Justice Faculty
Tuition & Financial Assistance
Competitive Tuition
Our part-time rates are substantially lower than those of the traditional, full-time residential programs yet provide access to the same high-quality BU education.
Comprehensive Financial Assistance
Our services include
scholarships
, graduate loans, and payment plans.
How Much Does This Program Cost?
BU MET programs offer the flexibility of part-time study, either on campus or online. Tuition, fees, and total program cost are determined by enrollment status. Course enrollment in this certificate program is 1–2 courses (4–8 credits) in a semester, and tuition is charged the part-time per-credit rate.
Strategic Management in Criminal Justice Graduate Certificate (Online and On Campus)
Enrollment Status
Part Time
Courses per Semester
2 courses
(8 credits)
Time to Degree
2 semesters
(8 months)
Tuition*
$535-$955
per credit**
Fees per Semester*
$60
Total Degree Cost*
$12,040–
$13,720
*Based on 2023–2024 Boston University tuition & fee rates.
**Cost per credit is determined by course number (100–599 = $535/credit, 600–999 = $955/credit).
Questions? Please contact us to hear from an Admissions Advisor who can help you determine the best enrollment pathway. For information regarding financial aid, visit BU MET's Financial Aid page.
Get Started
Please visit the BU MET admissions page for details on how to apply, financial assistance, tuition and fees, requirements for international students, and more.
What to Read Next: MET Criminal Justice Knowledge Center
News & Events