As a graduate of Boston University's Metropolitan College (MET), you are eligible for a wide variety of discounts and benefits, some of which are listed below. Some benefits require a BU Alumni Card, which you can download now. Be sure to also visit the BU Alumni & Friends website to see the many ways you can put your alumni membership to use.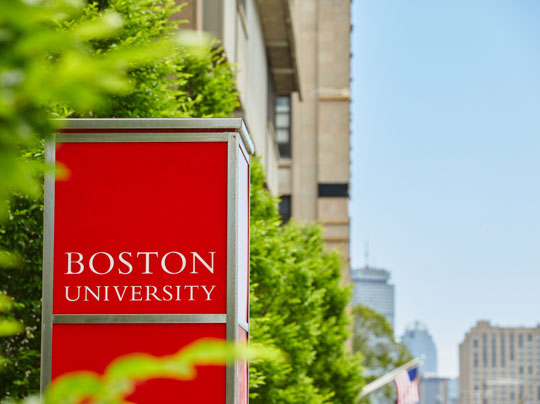 Support BU MET
A gift in any amount makes a difference—support our students, our academic and research programs, and the work we do in the Greater Boston community.
Learn More
Alumni Card
Did you know alumni have an all-access pass to benefits and activities on and off campus—including discounted parking on the BU campus? Alumni cards are now available electronically (no more passing of paper, just show your phone). Simply log in or register for an alumni account; then choose "Print Alumni Card" from the menu. Take a screenshot and save to your favorites. (Graduates from 2011 and after do not need to register.) Check out the perks you get with your Alumni Card.
BUAA Membership
The Boston University Alumni Association (BUAA) connects alumni with the University and fellow BU graduates through volunteer activities, service projects, continuing education programs, and alumni events around the world. BUAA is led by the Boston University Alumni Council, a volunteer organization of fellow alumni.
Your BUAA membership means:
For more information on your alumni benefits, visit BU's Alumni Services page, email alumni@bu.edu, or call BU MET Alumni Relations & Development at 617-358-5501.
Career Resources
As part of an alumni community of nearly 400,000, you have at your fingertips a range of career resources that tap into alumni know-how through webinars, networks, events, job postings, and other activities and tools.
Email Forwarding for Life
All recent graduates (2010 and after) keep their student email accounts for life. If you graduated before 2010, you are invited to set up alumni email forwarding for life, which allows you to provide friends and family with one email address for your lifetime. For more information, view the Alumni Account page.
Get Involved
There are many ways alumni of BU MET can participate in life at Boston University, whether be sitting on a committee, joining a council, or volunteering. Learn more about how alumni can get involved.
Lifelong Learning Opportunities
Auditing Courses
Along with access to educational programs and academic webinars at Boston University, alumni of BU MET alumni can also audit eligible onsite MET undergraduate courses starting at just $40 per credit plus the registration fee. Learn more on the BU Alumni & Friends Continuing Your Education page.
Alumni Career Enrichment in IT (ACE IT)
If you graduated from Metropolitan College with a degree in applied data analytics, computer science, information systems, software development, or telecommunication, you can keep learning with us—at half the cost—with the ACE-IT Scholarship program.
Recognizing that the IT field continues to evolve at a rapid pace, BU MET can help you stay ahead of the curve by waiving 50 percent of the tuition costs on the latest graduate IT courses.
What is ACE IT?
ACE IT is our continued investment in your success as a Metropolitan College alum. Your favorite faculty members—and some new ones, too—are ready to help you brush up on the latest data analytics approaches, management strategies, cybersecurity issues, database technologies, and programming tricks.
ACE IT is an opportunity to:
Enroll in up to two on-campus Metropolitan College IT graduate courses per semester (sorry, no online courses)
Receive course credit
Enjoy waivers of course prerequisites
Enhance your career skills and IT knowledge
Reconnect with the Metropolitan College community
Who can ACE IT?
There is just one qualification for participating in ACE IT:
For more information about ACE IT, please contact Kim Richards at 617-353-2566 or kimrich@bu.edu.
Transcripts
Official transcripts and degree verification for Metropolitan College are provided by the Office of the University Registrar.
Contact BU MET's Alumni Office
We welcome your questions, comments, and ideas. Please contact us at any time:
Katherine Meyer Moran, EdD
Director, Alumni Relations & Development
Boston University Metropolitan College
1010 Commonwealth Avenue, 5th Floor
Boston, MA 02215
Phone: 617-358-5501 | Email: kcmeyer@bu.edu
Contact Us
News & Events