Will We Be Ready Next Time
?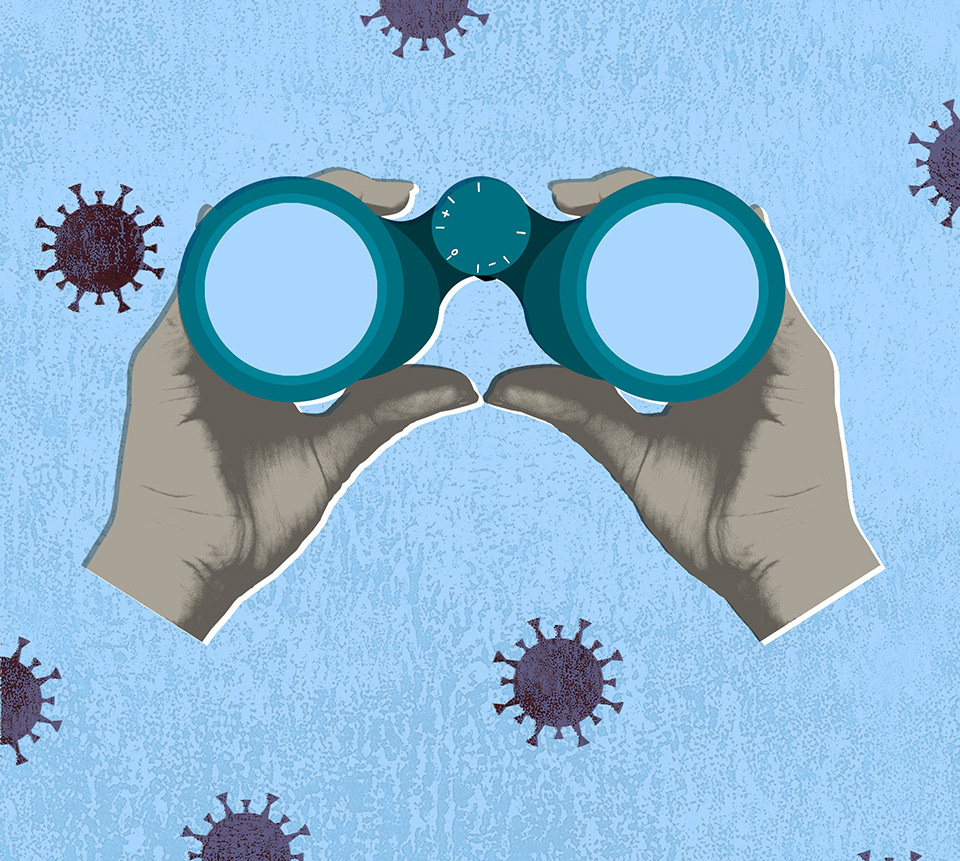 COVID-19
Will We Be Ready Next Time?
The COVID-19 pandemic taught us that we have much work to do before the next crisis.
The COVID-19 pandemic has changed everything, pushing public health into the national and global conversations like never before.
In some ways, the response to the pandemic has been a triumph. In less than a year, safe and effective vaccines were developed and distributed across the globe, which can often take a decade or longer. However, a lack of pandemic preparedness, unclear communication with the public, and a disproportionate threat to vulnerable populations have created an unprecedented challenge.
As the pandemic took shape, School of Public Health faculty, staff, students, and alums responded on every front. And as the world transitioned into its "new normal," the SPH community looked to the future to prepare for the next inevitable health crisis.
On Pandemic Preparedness.
As COVID-19 case counts rose and hospitals quickly became overburdened with patients, it became clear that the United States was not prepared for a crisis of this magnitude. "This was, in part, a consequence of an underfunded public health infrastructure over the last several decades," says Christopher Gill, associate professor of global health, "as well as a result of leadership being slow to act when COVID-19 became a clear threat."
A lack of testing capacity and appropriate data collection systems and standards also left experts unable to fully grasp the scope of the outbreak. And as death counts began to rise across the globe, SPH researchers found that testing shortages and a lack of accurate data collection left deaths largely undercounted, both in the US and Africa.
"The importance of pandemic preparedness has never been more clear," says Davidson Hamer, professor of global health. "The challenge now is to develop infectious disease surveillance systems in places where outbreaks are likely to occur, such as low- and middle-income countries, and build collaborations so the global community can rapidly and collectively respond to future emerging threats."
On Communicating with the Public.
As the pandemic unfolded, a torrent of ever-changing and often unclear information came out from the media, which resulted in a breeding ground for misinformation and distrust.
"It is important to recognize that public health literacy is distinct from health literacy," says Eleanor Murray, an assistant professor of epidemiology well-known on Twitter for accessible explanations of complex epidemiology concepts. "Conveying messages to the public about the importance of thinking collectively to stop disease spread during the pandemic has been a huge challenge because of low public health literacy, and filling this gap is crucial for countering the spread of misinformation in the future."
To help fill some of these communication gaps related to the pandemic, Murray co-founded the Epidemiology COVID-19 Response Corps at SPH. From educational Twitter threads and collaborations with online publications to creating an informational YouTube channel, the COVID Corps prioritized distributing accessible pandemic information to the public that evolved with the current science.
On Protecting the Vulnerable.
As COVID-19 case counts and death rates rose across the country, it quickly became evident that the social injustices that existed long before the first coronavirus cases emerged were being exacerbated by the virus. Not only were people of color and low-income communities at a greater risk for contracting the virus, but they were also more likely to suffer the physical, mental, and economic consequences.
Along with an abrupt shift in how we live, work, and play came one of the steepest economic downturns in modern history, leaving tens of millions of Americans unemployed and increasing food and housing insecurity across the country. "Stimulus checks have been a lifeline to many during this pandemic, especially households with children" says Julia Raifman, assistant professor of health law, policy & management and lead author on a study that found that unemployment help directly translates to people being able to put food on the table.
Of those able to continue working during the pandemic, not all could transform their living space into a home office. "Lower-income people simply couldn't stay home as much because they needed to go to work," says Jonathan Jay, assistant professor of community health sciences, who lead a study that found that physical distancing policies alone were not enough to protect lower-income people from the virus. Jay says that policies that make it easier to work from home—and stay home when sick—are critical for protecting low-income workers from future threats.
"Disaster preparedness isn't just the National Guard, personal protective equipment and bottled water anymore," highlight Paul Shafer, assistant professor of health law, policy & management, and Cecille Joan Avila, policy analyst in health law, policy & management, in a report on how COVID-19 has exposed gaps in the US social safety net. "This pandemic has shown that it is now also the ability to keep people economically afloat through a potentially prolonged and sudden financial crisis."
A mapping tool created by SPH researchers, faculty, and students also helped spotlight environmental injustices and the contributions of structural racism that led to the deep inequities exposed during the pandemic. "The populations vulnerable to COVID-19 are vulnerable to climate change and a host of other stressors," says Jonathan Levy, professor and chair of environmental health. "We need to start making smart investments now to increase resiliency not just to future pandemics, but to climate change and other unanticipated challenges. The systemic changes we make cannot just address a single problem at a time."
The COVID-19 pandemic has shown that it is time to rethink our approach to health, that we cannot create a world that supports the health of all if we do not address racial inequities, climate change, economic injustices, and safe housing.
There is much to do to prepare for the next health challenge, but with a newfound spotlight on the work of public health, the time to make a change is now.