'Shine a Spotlight'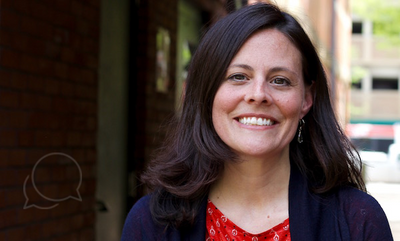 Arianne Henry MPH Student; Research Assistant in the Center for Health Law, Ethics & Human Rights
Breakfast: Iced coffee ("I was on the go, getting everyone to school.")
Hometown: Whitinsville, Massachusetts.
Extracurricular: "I'm definitely an introvert, so I do a ton of reading. The next fiction book I'll be reading is Beneath the Lion's Gaze by Maaza Mengiste, about the revolution that saw the fall of Ethiopia's last ruling emperor, Haile Selassie, and his replacement by a military regime known as the Derg, who were responsible for the Red Terror of the 1970s and famine and economic collapse of the 1980s. I'm interested in the way her novel humanizes the experiences of many Ethiopians through a compassionate portrayal of the characters living through this time period."
My proposal was called, "The Disappearing Women of Ethiopia." A lot of women are being trafficked to the Middle East. They're working there as domestic servants, and a lot of times they're being confined, or assaulted—really mistreated. Sometimes, that leads to mental health problems, so they're being sent back to Ethiopia and really struggling with trauma and their mental health. There's not a lot of mental health access, and there's a lot of stigma when they return.
I'll be exploring those dimensions, and also the solutions. There's a feminist movement developing right now in Ethiopia, and I'd be looking at how they're trying to change gender norms, and what's happening for these women.
What led you to this subject?
I really have to give credit to Christina Borba. Last semester she came in to talk to our global mental health class, and her presentation and the work that she's doing on the underreporting of schizophrenia in women in Ethiopia got me really interested.
(Read about Borba's research with SPH students on this topic here.)
Also, what first led me to public health was, in 2002, I was in the Peace Corps in Suriname. I saw people who were struggling with mental health and were really unable to access much.
My husband and I experienced an aggravated assault when we were there. I had a hard time afterwards, and the Peace Corps actually sent me to work with a psychiatrist while we were there. It added another dimension to see how challenging it was, and how little mental health infrastructure there was. I had a lot of mixed emotions, because there are very few psychiatrists in the country, and I think that, because I was there as a volunteer, they were able to connect me to that service.
What I learned and saw impacted me so much that I wanted to find the best way to serve the people that I met there, and others too. I thought that the intersection of health and human rights just had so many options to do that. That's why I came here.
What other work are you doing at the intersection of health and human rights?
For my practicum I'm working with Michael Grodin, helping him with the research for his three chapters in a trade book, Health and Human Rights in a House on Fire. He has a chapter on refugees, one on medical neutrality, and the third one is on the International Criminal Court and its successes and failures.
I've also been doing other research with him. We wrote an editorial together on Massachusetts General Hospital's Freedom Clinic's new model to help victims of human trafficking, which addresses the social determinants of trafficking in addition to mental health, and how taking a public health approach that recognizes the social and structural determinants of human trafficking allows the Freedom Clinic to both recognize and empower victims. We also have an article coming out on the successes and failures of the Nuremberg Code and human rights in the US.
As I keep learning about health and human rights, I'm seeing more and more complexity and nuance. It's made me think about how, in public health, you're looking at the population level, but now I'm adding this other dimension, of the individual.
What are your hopes for this Pulitzer project?
Dr. Grodin always talks about the importance of shining a spotlight and writing about these issues. I really loved that idea of using journalism and public health together, so I took Jen Beard and Anne Donohue's global health storytelling course this past semester, which was an amazing opportunity.
I want to go to Ethiopia and really learn from these women and get their stories, instead of going in with this preconceived idea of what's happening for them.
I just want to do justice to the story, and add a deeper level of understanding and awareness—not just walk away with something exploitative. We talk a lot about this in our classes, about the ethics of telling a story, and always trying to find that balance of telling an important story and making sure that you honor the people involved. I'm going to try really hard.
---
Related Profiles: