A Note of Gratitude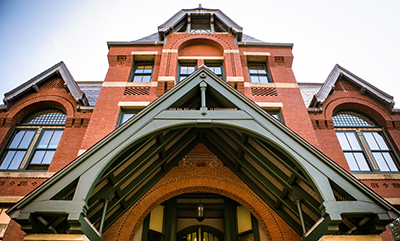 "Gratitude," wrote the German philosopher Georg Simmel, "originates from interaction." In this sense, gratitude is a product of community, of the networks we encounter through our daily routine and the broader progress of our lives and work. As we approach the end of the year, I have been reflecting on our own community here at SPH, and have found myself filled with a sense of deep gratitude. This feeling arises centrally from the opportunity our work gives us to be part of a mission-driven community of ideas, where we are empowered to apply these ideas to the creation of healthier populations. To engage with this community in pursuit of a truly worthy goal—better health for all—is indeed a privilege; one which, on a personal level, I have long cherished. Even amidst what has been by most measures a challenging year on the national political landscape, I have found myself continually elevated by the example of our students, faculty, staff, alumni, and the many friends of SPH who have made our mission their own, helping us, through their support, to expand the range of opportunities we can offer. I would therefore like to use this note to express my gratitude for our community, and the privilege of being able to participate in the ongoing work of public health.
I will begin with my gratitude for a constant source of dynamism and energy in our school community—our students. At SPH, we are committed to developing the next generation of public health professionals, giving them the tools they need to build a healthier society. In turn, our students provide us with new approaches and perspectives, a sense of hope for the future, and an encouraging glimpse at what that future may look like. We see this in the classroom, in our students' engagement with our new, redesigned MPH, and off-campus, in their efforts to promote health at the local, national, and global level. I always enjoy hearing about these experiences at the coffee chats we host throughout the year, which allow me to meet informally with students and learn directly from them about their activities. Our student's work covers the full range of social, economic, and environmental conditions that shape the health of populations, and has included studying mental health in Zanzibar, improving food access in the Mississippi Delta, and working to inform health policy here in Massachusetts, among many other research initiatives and projects. The diversity of our students' experience is complemented by the diversity of their backgrounds. Our students hail from 49 countries, and speak more than 60 languages. In this way, they not only represent a key channel through which our school engages with the world in the hope of changing it—by adding their voices and ideas to our community, they also give the world a way to engage with, and change, us. For this we are truly grateful.
I also wish to acknowledge, with gratitude, the contributions of our faculty, whose pedagogy and scholarship broaden the horizons of both our students and our field. In the classroom, our faculty provide an inclusive learning environment that is at once supportive and challenging, helping students to refine their thinking and achieve their full potential as public health practitioners. As scholars, our faculty produce world-class research that extends beyond the world of academia, to influence the broader public debate around issues of consequence. Indeed, there are few areas in the public health conversation that have not been influenced by our faculty. From opioids, to sexual harassment and assault, to guns, to international human rights, to many other issues core to the health of populations, our faculty continue to lead and break new ground. In a time of "alternative facts," when the utility of data itself has been questioned, the work of our faculty serves as a powerful counterargument to those who would dismiss the value of empiricism and its potential to create positive change. It has been especially exciting to see this influence extend into the realms of digital media and podcasting, through the work of our Population Health Exchange (PHX).
I am grateful to our school's staff, who work each day to support our students and faculty, amplify our message, engage with local and global communities, and promote the values of public health. In recent years, SPH has added a range of new initiatives to the already complex task of being a top school of public health. Throughout this change, our staff has led the way towards a higher level of functioning, doing so always with professionalism and good humor. Proof of their success can be seen in everything from the smooth administration of academic departments, to our expanded event portfolio, to the quality of our award-winning communications materials, to the reach of our alumni engagement, to our redesigned curriculum, to the safety and cleanliness of our physical space. In creating this partial list, I am keenly aware that I am leaving many contributions out. This, too, speaks to the success of our staff. Through their efforts, they have—to borrow a term from our field—made excellence endemic to SPH, fostering a culture where ideas can be turned into actions that benefit the broader community. By making this excellence routine, they lay the foundation for ever-greater achievement in the future.
As we conclude 2017, there is indeed much for which we can, collectively, be grateful. Despite the difficulties of this political year, and the entrenched, structural obstacles that have long stood in the way of better health for all, there is clear evidence of progress on many issues that we in public health care about. Consider the challenge of gun violence. While we continue, tragically, to see regular mass shootings in the US, there has been a definite shift in how gun violence is perceived and discussed. It is now increasingly viewed as a public health problem, responsive to public health solutions. The recent actions of New York Governor Andrew Cuomo reflected this growing awareness, when he proposed removing firearms from anyone convicted of domestic violence, a measure in line with the data on how taking this step can reduce intimate-partner homicide rates.
We are also witnessing incremental but real progress in the area of opioids. This was evident at the Police Assisted Addiction and Recovery Initiative (PAARI) summit, which SPH was pleased to host earlier this month. PAARI is a Massachusetts-based organization that works to mitigate the stigma of addiction by empowering police departments to promote treatment for this disease, rather than continue to apply a counterproductive punitive approach. SPH has long been associated with PAARI, in keeping with public health's goal of reducing stigma and applying data-informed solutions to this epidemic. This approach, combined with thoughtful action at the state level, has contributed to a slow turning of the tide on opioids. In the first nine months of 2017, for example, Massachusetts saw a 10 percent decrease in overdose deaths over last year. Respecting the degree to which the opioid crisis has shaped health in the US, we are today re-running a prior Dean's Note on opioids. It is a reflection on the causes and consequences of this epidemic, and on the potential solutions that help us to imagine an end to this ongoing tragedy.
I end the year filled with optimism. Public health is moving the needle in the direction of a better world, and our community is contributing to that, every day. We have ample reason to believe that even at our present, unsettled moment, we are planting the seeds for a future that is fairer, more compassionate, healthier. To be part of a community that is committed to creating this future remains an enduring source of gratitude. I look forward to continuing our collective pursuit of healthy populations in the coming year.
I hope everyone had a terrific holiday break. See you in 2018.
Warm regards,
Sandro
Sandro Galea, MD, DrPH
Dean and Robert A. Knox Professor
Boston University School of Public Health
Twitter: @sandrogalea
Acknowledgement: I am grateful to Eric DelGizzo for his contributions to this Dean's Note and to all members of our 10,000-plus strong community of students, faculty, staff, and alumni who inspired it.
Previous Dean's Notes are archived at: https://www.bu.edu/sph/tag/deans-note/
---
Related Profiles: