Student Name on University Documents
Legal Name on Boston University Records
At this time, Boston University's student information system, transcript, diploma, and degree verifications reflect an individual's legal name. This means that all official documents related to student records at Boston University reflect the legal name of an individual. An individual's legal name is defined as the name that identifies an individual for legal and official purposes. Legal name identifies an individual on official government records such as U.S. social security cards, state licenses, passports, and marriage or divorce decrees.
Students who do not want their legal name made available in the Boston University directory should consider restricting access to directory information, in accordance with FERPA (Family Education Rights and Privacy Act).   Changes to directory information may be updated by the student via the Student Link. Restricting name and other information in the Boston University directory does not mean that this information is anonymous to University faculty and staff, but rather to those outside of the University.
A Boston University student  who has completed a legal name change in Massachusetts or another state may update the name on their Boston University student record via the Personal Data Update form. Documentation of the legal name change must be submitted to the University. Upon receipt of this form and documentation, the legal name will be updated on the official student records.
 For information on the court process to change a name legally in Massachusetts please visit the website of the Massachusetts Court System. Students who may be non-US citizens should consult with the International Students and Scholars Office.

Chosen Name at Boston University
There are also opportunities where a Boston University student may use a chosen name. Chosen name is an individual's name that defines how a person chooses to identify themselves, and to others in line with their personal desired presentation of self. This may be different from the name an individual was given at birth.
Students may update their Boston University email display name, or the first name that is linked to an email address and the name recipients see when an email is sent from that account, to their chosen name. Chosen name may be changed in a student's email display name for students who use Boston University's google mail accounts. More information and directions are found here. Non-student members of the Boston University community may find directions on changing their email display name here.

Students may edit their first name on Boston University's Learning Management System, Blackboard. This allows students to have their chosen name display when utilizing services on learn.bu.edu. Students should be certain to notify faculty if a chosen name will display on Blackboard that does not match the student's legal name as a student's name on Blackboard does not constitute a legal name change on Boston University Records. Directions on how to change chosen name (first name only) on Blackboard are available below and here. 
To change your first name on learn.bu.edu.
-Select the "Personal Information" option in the drop down under your name:
-On the next screen, click on "Edit Personal Information" tab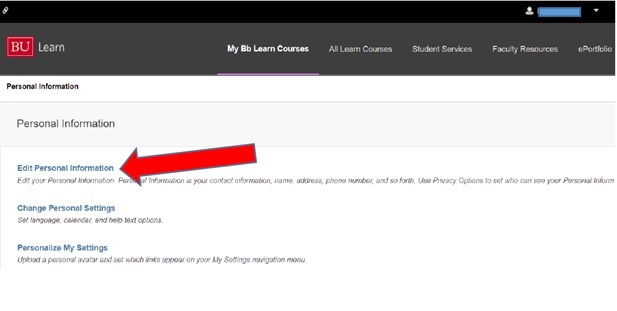 -On this page edit your first name, then click "save."
-Log out, then log back in again and your updated first name will now appear.