Pardee School Historians Hold Round Table Discussion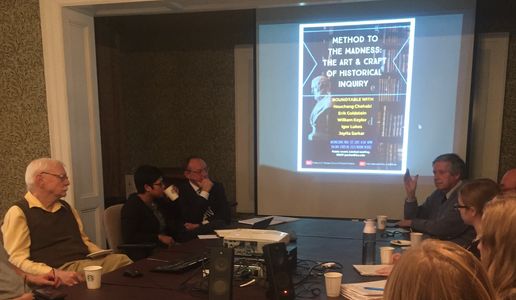 Historians at the Frederick S. Pardee School of Global Studies at Boston University spoke at a November 1, 2017 in-house roundtable discussion on historical scholarship entitled "Method to the Madness: The Art & Craft of Historical Inquiry." The roundtable discussion was organized by Jayita Sarkar, Assistant Professor of International Relations at the Pardee School, and was attended by several Pardee School students interested in archival research and textual data.
The roundtable kicked off with Houchang E. Chehabi, Professor of International Relations and History at the Pardee School, speaking on how he became interested in historical scholarship during his original training in comparative politics, and how that has influenced his current research on pre-1979 Iran.
Erik Goldstein, Professor of International Relations and History at the Pardee School, shared his journey as a historian studying the First World War, and how the British archives have been a treasure-trove of information for his research— not merely the government records in London and elsewhere but personal papers emerging in rather unsuspecting places like an English barn.
William Keylor, Professor of International Relations and History at the Pardee School, discussed his trajectory first as an intellectual historian of France, his gradual turn to diplomatic history and the history of international relations, and how that enriched his scholarship and teaching.
Igor Lukes, Professor of International Relations and History at the Pardee School, recounted how he stumbled by 'luck' upon his research on the Stalin-era show trials in Eastern Europe and how finding the right document in the right moment is in fact 'luck,' because that is what allows the historian to make a path-breaking contribution to knowledge.
Finally, Sarkar discussed how inductive reasoning, counterfactuals and multi-archival research are part and parcel of her toolbox as a historian of the Cold War and nuclear proliferation, and how she chased documents on India's nuclear program in far-flung places like Ottawa, London, Paris and Abilene, KS.
The audience questions and comments led to an animated discussion on how historians tackle some of the challenges in their field of inquiry. The panelists argued that language skills are a must-have asset that allows historians to consult primary and secondary sources in foreign languages, which not merely multiplies the sources of archival data but also allows them to go beyond an Anglo-American perspective that dominates English-language scholarship.
There was also a discussion on how to conduct research on countries that are not necessarily 'friendly' to historians in terms of declassification procedures, and access to officially declassified documents. Goldstein, Lukes and Sarkar advised the students to look elsewhere, namely, other countries that have cooperated or interacted with the country being studied, which might have better declassification processes than the country of interest. Sarkar added that oral histories are often helpful in this regard so long as the historian takes the interview data with a grain of salt, and triangulates it with documentary evidence.
Goldstein gave an overview of the Howard Gotlieb Archival Research Center at Boston University, and how resourceful the repository could be for Pardee School students using primary source data in their research papers and theses. Student interest and participation in the roundtable event made it a resounding success.