Norton Honored at Pardee School Convocation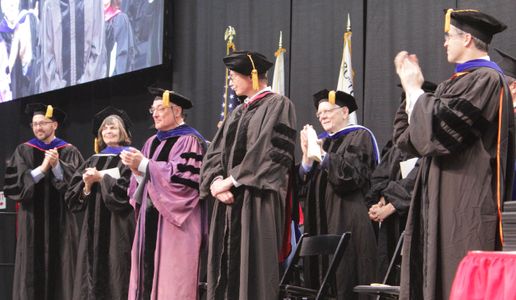 Augustus Richard Norton, Professor of International Relations and Anthropology at the Frederick S. Pardee School of Global Studies at Boston University, was honored at the school's Convocation ceremony on May 20, 2017 for his distinguished career and numerous contributions to the field of International Relations as well as to the Pardee School, its students, faculty and staff.
Dean Adil Najam thanked Norton for the pivotal and formative roles he has played in the development of the Pardee School, and conferred on him the status of Professor Emeritus at the Frederick S. Pardee School of Global Studies. Najam also presented Norton with a commemorative gift on behalf of the Pardee School.
A tribute to Norton was read at the Convocation ceremony by Professor of International Relations and History Houchang Chehabi.
"Throughout his distinguished career, Professor Augustus Richard Norton has epitomized the combination of pure and policy-oriented scholarship of which we at the Pardee School for Global Studies are so proud," Chehabi said. "We celebrate Dick Norton for his contributions to the profession, to the Pardee School and its students, faculty, and staff, and we wish him the very best in retirement."
Trained as a political scientist at the University of Chicago specializing in Middle Eastern politics, Norton taught political science at the United States Military Academy (West Point) and then joined Boston University as a professor of international relations and anthropology in 1993.  Before embarking on an academic career, he served as an airborne infantry officer in the U.S. army and later as an unarmed United Nations observer in the United Nations Truce Supervision Organization in southern Lebanon.
Norton has been the recipient of numerous grants and prestigious fellowships, which allowed him to do extensive field research in the Middle East. The fruits of this research are contained in many important books and articles on Middle Eastern politics and society that exemplify the interdisciplinary approach to scholarship that we prize at the Pardee School.
Generations of Boston University students, both undergraduate and graduate, learned from Norton about the momentous political developments and fascinating social transformations in the Middle East and the Islamic world more generally, and policy makers in Washington DC have sought his advice on matters of Middle East policy.
His research experience in the Middle East spans nearly three decades, including residences in Bahrain, Egypt, Jordan, Kuwait and Lebanon.  In the 1990s he headed a widely-cited three-year project funded by the Ford Foundation that examined state-society relations in the Middle East and the question of civil society in the region. It is indicative of his interests that many of his courses are often cross-listed with the departments of Anthropology and Political Science.