Hare in Miami Herald: A New Cuba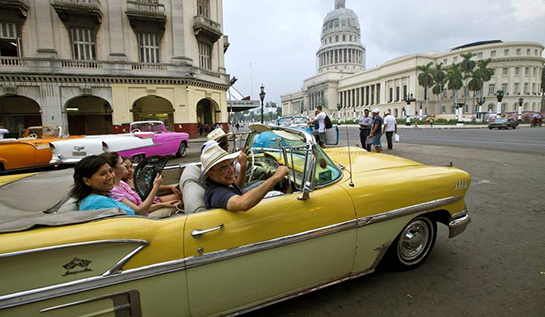 Paul Webster Hare, Senior Lecturer at the Frederick S. Pardee School of Global Studies at Boston University, said that the pace of change in Cuba is slower than many would like, but that many still hope increased openness with the U. S. will bring greater future opportunities.
Hare made the argument in a Jan. 20 Op-Ed in the Miami Herald entitled "American Air Freshener for a Tired Revolution."
From the text of the Op-Ed:
Back in Havana 11 years after leaving Cuba. The taxi's radio was playing the pop song "It's all coming back to me now'' — and indeed it was. And then I noticed the air freshener in the car was a small American flag. Unlike many recent visitors I didn't want to see Cuba before it changed. After 57 years of "Revolution" I wondered how Dec. 17, 2014 and the U.S. rapprochement were changing Cuba…

Dec. 17 has registered with Cubans on the street. There is more expectation than optimism. Yet only the small private businesses, waiters and taxi drivers have seen any effect on their lives. The recent exodus of mainly young Cubans has been extraordinary. They are impatient with the pace of change and some have sold houses and used family money to finance the trips.
You can read the entire Op-Ed here.
Hare was a British diplomat for 30 years and the British ambassador to Cuba from 2001-04. He served overseas at the UK Representation to the EU in Brussels, in Portugal, New York, and in Venezuela as Deputy Head of Mission. He was Head of the Foreign Office's Non-Proliferation Department and the first Project Director for the UK's presence at the Shanghai World Expo in 2010. Learn more about him here.