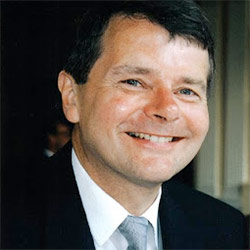 Paul Webster Hare
Senior Lecturer; Interim Director, Center for Latin American Studies
Paul Webster Hare was a British diplomat for 30 years and the British ambassador to Cuba from 2001-04. He is currently a Senior Lecturer in international relations at the Frederick S Pardee School of Global Studies at Boston University.
Hare graduated with First Class Honors in Politics and Economics from The University of Oxford in 1972 and from the College of Law in London in 1976. He worked for 5 years in the private sector, in law and investment banking, before entering the British Diplomatic Service. He served overseas at the UK Representation to the EU in Brussels, in Portugal, New York, and in Venezuela as Deputy Head of Mission. He was Head of the Foreign Office's Non-Proliferation Department and the first Project Director for the UK's presence at the Shanghai World Expo in 2010.
Hare is a Fellow of the Weatherhead Center for International Affairs at Harvard University and served as president of the British Baseball Federation from 2000-01. He has been designated a Lieutenant of the Royal Victorian Order by Her Majesty Queen Elizabeth II.
Ambassador Hare teaches classes at Boston University on Diplomatic Practice, Arms Control, Intercultural Communication, Public Diplomacy, Reform of Diplomacy and on Cuba in Transition. His novel, "Moncada – A Cuban Story", set in modern Cuba, was published in 2010. His book "Making Diplomacy Work; Intelligent Innovation for the Modern World.' was published in 2015. His article "Corroding consensus-building: how self-centered public diplomacy is damaging diplomacy and what can be done about it" was published in Place Branding and Public Diplomacy in August 2019.
He has written widely on Cuba with recent articles appearing in, inter alia, The Financial Times, The Atlantic, Newsweek, The Miami Herald, The Orlando Sentinel, and The Huffington Post. He served on the Brookings Institution core group on Cuba. He is consulted on Cuba issues by, inter alia, The New York Times, The Washington Post, Reuters, The Associated Press, Agence France Press, The Inter-American Dialogue, and the BBC.
Hare co-edited the Palgrave Handbook of Diplomatic Reform and Innovation, which was published in February 2023. In the book, 40 authors from some 30 different countries critically analyze current practices of diplomacy, many of which are rooted in a different era. They propose some practical steps that might make diplomacy and innovation more effective for the contemporary world.
He and his wife Lynda have six children and live in Marblehead, Massachusetts.
Professor Hare's areas of expertise include Latin American foreign policy, diplomacy, Latin American studies, and arms control.
Specialization
Diplomacy and Negotiation, Europe, Latin America, Law and International Organization