Develop Financial Skills for a Prosperous Future
Offered on campus and online, the Master of Science in Financial Management (MSFM) at Boston University's Metropolitan College (MET) provides a specialized education in global quantitative finance, including investment analysis and international finance. The program provides a hands-on, immersive financial analytics experience, including a significant amount of statistical analysis, forecasting techniques, and programming, preparing you for leadership roles in modern global finance. The MSFM is ideal for those seeking careers in corporate finance, financial management, investments, and multinational finance, and offers the option of choosing a concentration in one of the following areas:
The curriculum is constantly improving to meet current financial industry demands for contemporary skills and to prepare graduates for the highly competitive financial services environment. Meet the top demands of finance professionals today with a master's degree in Financial Management from BU MET.
Program at a Glance
Top 10 Online Program
Online and On Campus
Part-Time or Full-Time Study
40 Credits
12–20 Months to Completion
7 Core Faculty
No GRE/GMAT
Tuition & Fees Range—Part-Time Study*: $35,020–$38,500
*Based on 2022–2023 Boston University tuition and fees. Merit scholarship may reduce cost.
Advance Your Career in Financial Management
According to the Council on Foreign Relations, the world faces a recession more severe than that of the 2008 financial crisis. Coronavirus pandemic has created unprecedented uncertainty in the global stock markets, economy, trade, and entire industries—and financial organizations and networks are not immune. In order to negotiate risk and vulnerability within this highly interconnected industry, financial organizations and individuals alike need skilled, well-prepared financial managers and advisors. The master's program in Financial Management at BU MET can help ensure that you have the finance education you need to navigate the choppy waters ahead.
The MS in Financial Management offers courses that require data organization, analysis, and visualization to aid financial decision-making and risk management. To prepare you for the analytical and programming curriculum, we also provide several laboratories that cover mathematics and statistics with applications in management, advanced Excel, R, and Python. Additionally, you are encouraged to work on projects and a master thesis involving various aspects of data analysis, using data to extract and present helpful information for financial and investment decision-making. You will use sophisticated tools to design comprehensive visualization of significant organizational trends and prepare convincing presentations.
BU MET is also a participant in the Chartered Financial Analyst® Institute University Affiliation Program. The Financial Management master's degree curriculum embeds a significant portion of the CFA® Program Candidate Body of Knowledge™ (CBOK) and covers the Standards of Practice Handbook, offering excellent preparation for the internationally recognized CFA® Program exams. In addition, scholarships for the CFA Program exam are available to enrolled students.
The online Financial Management master's is ranked #20 among the Best Online Master's in Finance Programs by Intelligent Report 2022, and recognized for Best Assistantships.
"Two years at BU MET helped me become a better professional. All my professors and advisors inspired me to think critically and independently, as well as think ahead. I learned how to 'Be You' at BU when I met MET. Studying at MET always made me feel at home. One great example is when the commencement for our Class of 2020 was canceled due to the COVID-19 pandemic. MET held an online commencement for us to celebrate our achievements and encourage us to pursue a brighter future, which moved me a lot. I'm so glad to be a BU MET alumna."—Sijia "Scarlett" Hao (MET'20), Founder, Youth Today
Why BU's Financial Management Degree is Ranked in the Top 10
Active Learning Environment: BU MET's Financial Management program focuses on practical, hands-on education, ensuring you are immersed in all aspects of financial management and related research—education you can apply on the job.
Engaged Faculty: In BU MET's Financial Management master's program, you benefit from working closely with highly qualified faculty who draw from active research and substantial professional achievements in areas such as international finance, financial analysis, portfolio management, systemic risk analysis, investment analysis, mergers and acquisitions, economics, financial markets and institutions, and more.
Extensive Network: Study principles of finance alongside peers with solid business experience, learn from faculty who have valuable business contacts, and benefit from an alumni community with strong professional connections.
Exam Preparation: As a participant in the CFA Institute University Affiliation Program, the MS in Financial Management curriculum provides excellent preparation for the CFA Program exams. Scholarships for the CFA Program exam are available to enrolled students.
Waivers for Charterholders: Upon acceptance into the MS in Financial Management program, CFA Charterholders may waive two courses (8 credits), including Corporate Finance (MET AD 731) and one elective course, enabling them to earn the degree by completing just 32 credits.
Complimentary Analytics Labs: Two levels of self-paced analytics laboratories offer access to advanced tools and provide opportunities to hone analytics skills using cases that are populated with realistic data.
OPT Designated: Eligible graduates on student visas have access to an Optional Practical Training (OPT) of 12 months.
15:1 Class Ratio: Enjoy an exceptional student-to-instructor ratio, ensuring close interaction with faculty and access to support.
Valuable Resources: Make use of Boston University's extensive resources, including the Center for Career Development, Educational Resource Center, Fitness & Recreation Center, IT Help Centers, Mugar Memorial Library, Center for Antiracist Research, Howard Thurman Center for Common Ground, George Sherman Union, and many others.
Flexible Options: Study at the pace that works for you, evenings on campus or fully online. Courses begin fall, spring, and summer; online courses have two starts per term.
Track Record: Learn from the best—since 2014, BU MET's part-time master's programs in business and management have been ranked among the top in the nation by U.S. News & World Report.
Merit Scholarships: All applicants are automatically considered, and admitted students are nominated based on eligibility.
Master the Concepts of Global Finance
Offered through BU MET's Department of Administrative Sciences, the MS in Financial Management program expands upon classic theory taught in traditional MBA courses, providing the insights, critical thinking, and analytical skills needed to solve problems in today's changing financial landscape.
Graduate with Expertise
Metropolitan College's Financial Management master's degree will equip you with:
Understanding of quantitative analysis in financial management and investment decision-making.
Proficiency in application of mathematical and statistical modeling in financial analytics.
Mastery in forecasting techniques to the analysis of problems of business organizations and performance.
Comprehension of optimization theories and data analytics techniques in portfolio management.
Knowledge and ability to perform data organization, analysis, and visualization for financial decision-making.
Certificate-to-Degree Pathway
BU MET graduate certificate programs can serve as building blocks to a master's degree. Each certificate shares specific courses with the master's in Financial Management program and its concentrations, giving you the option to take one or two certificates on your path to a master's degree. To be eligible for the degree, you must apply for admission and be accepted into the degree program. Consult with a graduate admissions advisor to learn more about these options.
The following graduate certificate programs can be applied to the master's degree: Corporate Finance; Financial Management; International Finance; and Investment Analysis.

Master's in Financial Management Curriculum
A total of ten courses (40 credits) is required.
Students not pursuing a concentration in International Finance or Investment Analysis must complete the degree core courses, specialization courses, and electives. CFA Charterholders may waive two courses (8 credits), including Corporate Finance (MET AD 731) and one elective course.
Degree Core Courses
(Four courses/16 credits)
MET AD 630

Financial and Managerial Accounting

Sprg '23

Summer '23
MET AD 678

Financial Regulation and Ethics

Sprg '23

Summer '23
MET AD 685

Quantitative Methods for Finance

Sprg '23

Summer '23
MET AD 731

Corporate Finance

Sprg '23

Summer '23
Specialization Courses
(Four courses/16 credits)

MET AD 712

Financial Markets and Institutions

Sprg '23

Summer '23
MET AD 714

Mergers and Acquisitions

Sprg '23

Summer '23
MET AD 717

Investment Analysis and Portfolio Management

Sprg '23

Summer '23
Plus one of the following:
MET AD 709

Case Studies in Current Corporate Financial Topics

Sprg '23

Summer '23
MET AD 713

Derivative Securities and Markets

Sprg '23

Summer '23
MET AD 719

Fixed Income Analysis

Sprg '23

Summer '23
MET AD 763

Multinational Finance and Trade

Sprg '23

Summer '23
General Electives
(Two courses/8 credits)
Select two from the following list:

MET AD 528

Blockchain Finance

Sprg '23
MET AD 587

Interdisciplinary Methods for Quantitative Finance

Sprg '23
MET AD 605

Operations Management: Business Process Fundamentals

Sprg '23

Summer '23
MET AD 610

Enterprise Risk Management

Sprg '23

Summer '23
MET AD 642

Project Management

Sprg '23

Summer '23
MET AD 644

Project Risk and Cost Management

Sprg '23

Summer '23
MET AD 648

Ecommerce

Sprg '23

Summer '23
MET AD 680

Global Supply Chains

Sprg '23

Summer '23
MET AD 715

Quantitative and Qualitative Decision-Making

Sprg '23

Summer '23
MET AD 741

The Innovation Process: Developing New Products and Services

Sprg '23

Summer '23
MET CJ 632

White-Collar Crime
MET CS 555

Foundations of Machine Learning

Sprg '23

Summer '23
Or choose any other graduate-level course selected from other Administrative Sciences offerings or Metropolitan College departments as well as from other Boston University schools and colleges, with an advisor's approval.
*Degree requirements may vary for those students transferring credits from previous coursework at Boston University or receiving course waivers due to professional designations.

Financial Management Faculty
View All Faculty
"At MET, we teach our MS in Financial Management (MSFM) students that the real world is dynamic and global, and that they should expect to see that reflected in the financial markets as well. Throughout the curriculum, we think about and ask numerous intriguing questions. We teach our students to ask the hard questions addressing real-world problems that are often fuzzy and unstructured. We accomplish the real-world experience in the classroom through projects, assignments, and a master's thesis. This approach, bringing to a close proximity the theoretical instruction and the real-world experiences, is well-suited to prepare our students to be competitive in the corporate world upon their graduation."—Irena Vodenska, PhD, CFA, Associate Professor and Director of Finance Programs
Tuition & Financial Assistance
Competitive Tuition
Our part-time rates are substantially lower than those of the traditional, full-time residential programs yet provide access to the same high-quality BU education.
Comprehensive Financial Assistance
Our services include
scholarships
, graduate loans, and payment plans.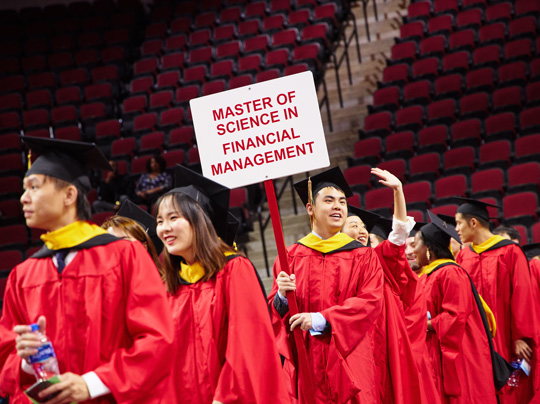 Get Started
Please visit the BU MET admissions page for details on how to apply, financial assistance, tuition and fees, requirements for international students, and more.
News & Events