ECE Faculty Prominent Among Research Incubation Award Recipients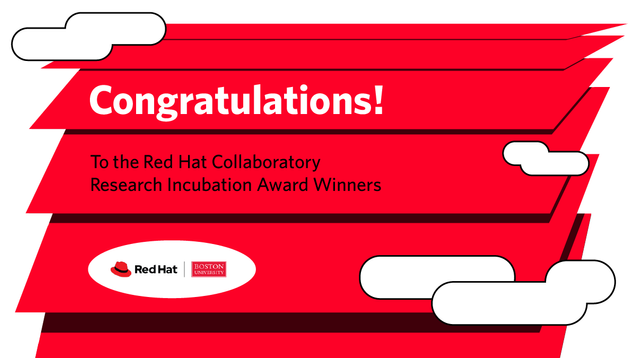 by Allison Kleber
Eight ECE faculty members are among the recipients of the inaugural Red Hat Collaboratory Research Incubation Awards, with a combined total of approximately $1.5M in funding for their respective projects.
Funded projects include:
"Privacy-Preserving Cloud Computing using Homomorphic Encryption," by Professor Ajay Joshi.
"Enabling Intelligent In-Network Computing for Cloud Systems," by Professor Alan Liu.
 "Intelligent Data Synchronization for Hybrid Clouds," by Professor David Starobinski.
 "OSMOSIS: Open-Source Multi-Organizational Collaborative Training for Societal-Scale AI Systems," by Professor Eshed Ohn-Bar.
"Practical Programming of FPGAs with Open Source Tools" and DISL: A Dynamic Infrastructure Services Layer for Reconfigurable Hardware" by Professor Martin Herbordt and collaborators at Red Hat.
"AI for Cloud Ops" by Professors Ayse Coskun, Alan Liu, Gianluca Stringhini, and Red Hat collaborators.
"Creating a global open research platform to better understand social sustainability using data from a real-life smart village" by Professor Christos Cassandras and his collaborators in other BU departments and at Red Hat.
More information on each project can be found at the official award announcement page.
Under the joint leadership of ECE Professor Orran Krieger and Red Hat Director of Research Hugh Brock, the Red Hat Collaboratory, a partnership between Boston University and Red Hat which was renewed and expanded earlier this year, is dedicated to supporting innovative work on cloud computing and other compute platforms, and especially to encouraging fruitful collaboration to enrich and advance computer science and engineering. Strategic and administrative guidance for the Collaboratory and this new funding program are provided by the Boston University Rafik B. Hariri Institute for Computing and Computational Science & Engineering.
Congratulations to all the Incubation Award recipients! The ECE community looks forward to the upcoming developments in and outcomes of each of these projects as they move forward in the New Year.