Wheelock Family Theatre's Walking the Tightrope a Story of Love and Loss as Experienced by Two Generations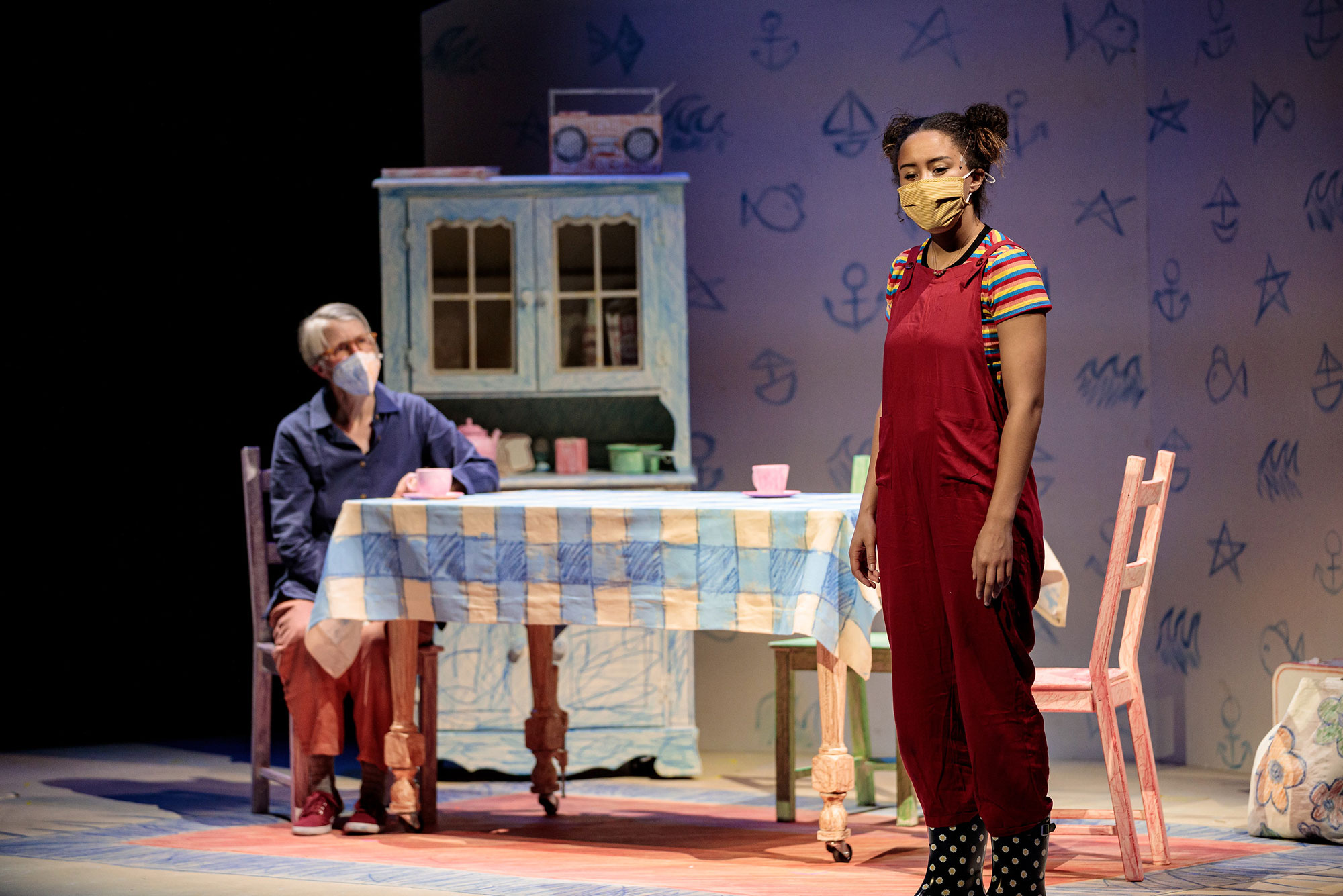 Theatre
Wheelock Family Theatre's Walking the Tightrope a Story of Love and Loss as Experienced by Two Generations
Free virtual production will stream on Saturday from the Booth Theatre
This deep into the pandemic, most members of the BU community are familiar with hybrid classes. But circumstances recently forced the two actors in the Wheelock Family Theatre (WFT) production of Walking the Tightrope to hold a hybrid rehearsal.
"I was live in the rehearsal space and Elaine [Vaan Hogue] was on an iPad, and it presented some problems," Valyn Turner (CFA'23) says. "She couldn't hear us at times, and the video would get choppy, but the important thing was, we got the gist of what was happening."
"I have to say, when I finally came in person last week, it was really wonderful," says Vaan Hogue (CFA'97), a College of Fine Arts School of Theatre assistant professor of acting and directing. "It's a little disconcerting wearing a mask when you're performing, because you can't see half the face. I miss seeing smiles. But being in person—there's just no substitute for it in theater."
A co-production with the School of Theatre, Walking the Tightrope, by Mike Kenny, is the story of six-year-old Esme (Turner) and her annual summer visit to her Grammy Sofie (Vaan Hogue). But this summer is different; they both must learn how to deal with loss. The four-camera production, directed by Nick Vargas (Questrom'24), WFT artistic and education director, was recorded before a handful of invited faculty members at BU's Joan and Edgar Booth Theatre and will stream Saturday, May 1, at 2 pm. (Both actors are masked.) The production, recommended for ages six-plus, is free, but you must make a reservation ahead.
Even without the pandemic, Walking the Tightrope would be a little different from most WFT productions.
"This is really kind of an unorthodox form of storytelling. It gives more of the agency to the child's imagination," Turner says. "It's all in this sort of childlike imaginative drawing-come-to-life type of space, and all of it is in Esme's style. She really is the director of her own story. There's puppetry and there's shadow play and all these visual aids that draw the story and bring you in."
"There are pop-up books where things will appear, and the colors are crayon colors," says Vaan Hogue. "We're telling the story visually at the same time we're speaking the words."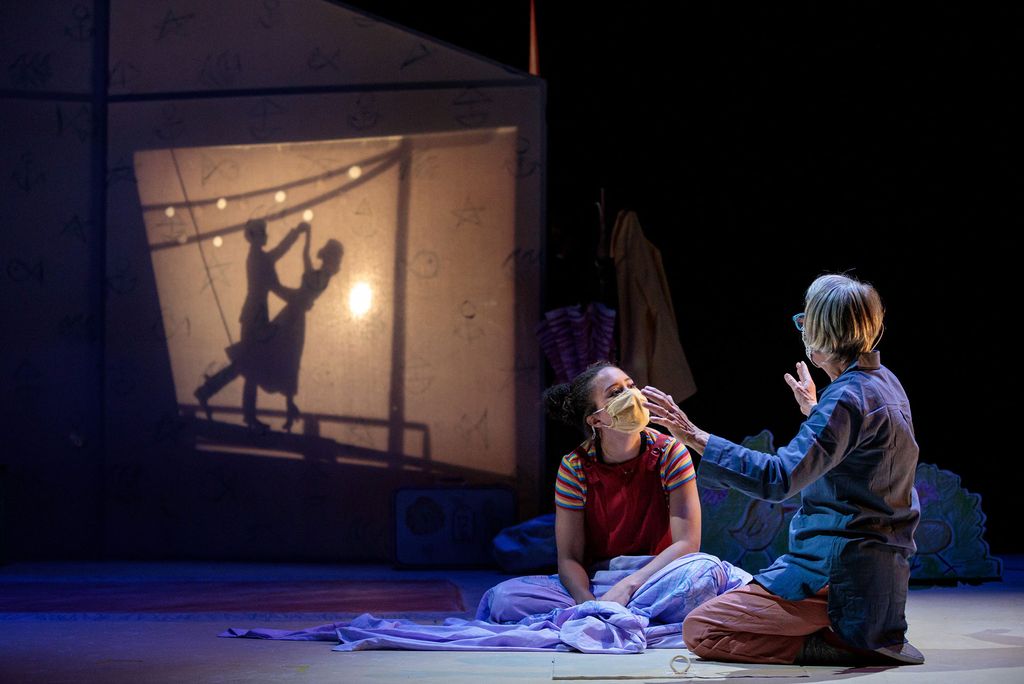 The production is brought to life not only by the actors, but by the student design team: lighting designer Qian Chengyuan (CFA'22), sound designer Sean Doyle (CFA'22), costume designer Emma George (CFA'22), and scenic designer Samantha Mastrati (CFA'22).
The heart of the story is Esme's excitement about her annual visit to her Grammy Sofie and Nanna Queenie. But this year Queenie isn't there. Unable to express the truth, that Nanna Queenie has passed away, Sofie tells Esme that Queenie has joined the circus: "She looked like an ordinary woman, but inside beat the heart of a tightrope walker."
The truth comes out, though, when the circus comes to town.
"Esme is 6 going on 35," Turner says. "She is retelling the story how she remembers it. Continuity is very important to Esme—she knows what things stay the same and what things change over time. And she is headstrong and she is bold! I think she thinks she's a little bit taller than she is. And she wants to tell this story in a way that honors the people she loves."
Vargas says that Turner captured the essence of Esme in her virtual audition.
"I just remember she was in her apartment, a smaller room, and she was running all around and becoming the character, not just sitting and talking like you and I are," says Vargas. "We were so excited to see someone who could lift the text off the page and really create the environment around this character even through Zoom."
Vaan Hogue's Grammy Sofie was originally Granddad Stan in the play; the change was made with what was the enthusiastic approval of the playwright, according to the creative team.
Sophie and Queenie had "an actual same-sex relationship, and I think that is just really wonderful," says Vaan Hogue. Wheelock artistic director Emily Ranii (CFA'13) had told Vaan Hogue that Wheelock is dedicated to celebrating the diverse range of families in the world today, "and for me it's super important. I've been with my partner for over 25 years—we are legally married; I don't use the word wife, that's a whole other subject. But I've never played a role like this, so that's really special."
Sofie, she says, is the one who takes care of things in the house that break, mows the lawn, those kinds of tasks, and Queenie was the one who did the cooking and more domestic chores. So when Esme comes to visit, Sofie has to figure out how to do things that she's never done before, including tell bedtime stories.
To Vargas, the play is about understanding how different generations can learn from one another. How Sofie, though she's older and wiser, is still learning how to enjoy life and how to honor someone she loved very dearly—and not to underestimate the importance of talking to young people about serious issues.
"It's about how her character goes through and understands grief and loss and how Esme grapples with what it means to have someone not be there anymore," Vargas says. "But it's ultimately about the bond they create together in that understanding."
Wheelock Family Theatre's virtual production of Walking the Tightrope is Saturday, May 1, at 2 pm. RSVP here to attend.