CFA Presents Two-Part Pulitzer Winner Angels in America
Ambitious production about 1980s AIDS epidemic demands much of cast, design team
In the 1980s, America was riven by a crisis that the federal government mostly ignored, a tragedy that played out across the country in living rooms and hospital wards and in whispers that gradually gave way to angry roars as more and more people—many of them gay men—began dying.
Tony Kushner's epic two-part play Angels in America, a searing exploration of this country during the height of the AIDS epidemic, won the Pulitzer Prize for drama and both parts won the Tony Award for best play. A revival hit Broadway last year starring Andrew Garfield, and now the College of Fine Arts School of Theatre brings it to the Booth Theatre. Part One: Millennium Approaches runs this weekend and Part Two: Perestroika next weekend, each with a different cast and director.
A key challenge for the directors was connecting actors who weren't even alive during the epidemic to the turbulent emotions and politics of the time.
"Really connecting that environment of fear and uncertainty to the environment now of fear and uncertainty, I think that has been the thing we hold on to," says Jillian Robertson (CFA'19), director of Part One: Millennium Approaches.
"When this play was first done, it was a response to the vilification of gay men, and in many cities at least that has changed," says Jeremy Ohringer (CFA'19), who helms Part Two: Perestroika. But as a country, he says, "we seem to continue to find new enemies in very interesting and very disturbing ways."
Set in New York City and subtitled A Gay Fantasia on National Themes, the play premiered in San Francisco in 1991 and on Broadway two years later. Key characters in its kaleidoscopic vision of America during the epidemic are Prior Walter, a gay man with AIDS who comes to believe himself a prophet, closeted gay Joe Pitt, a Mormon who works as a clerk at the US Court of Appeals, Joe's wife, Harper, and his mother, Hannah. They appear alongside real-life characters like Roy Cohn, the vicious lawyer and onetime sidekick of the infamous 1950s Communist-hunter and US senator Joseph McCarthy. Cohn is now dying of AIDS while furiously trying to keep his closet door closed. Another real-life character is Ethel Rosenberg, prosecuted with her husband, Julius, by Cohn for espionage and executed after Cohn lobbied successfully for the death penalty. Over the course of the play, Prior's boyfriend, Louis, leaves him and takes up with Joe Pitt, Belize, one of Prior's exes, becomes Cohn's nurse, and looming over them all is the angel of the play's title, a messenger from heaven.
Longtime friends and occasional collaborators Robertson and Ohringer, both directing graduate students, began talking about doing Angels a year ago. At more than six hours total, the two plays can be daunting. To fulfill the educational mission and involve as many students as possible, they are using two different casts and lighting and sound directors. The productions do share costume, prop, and set designers and a dramaturg. With one team rehearsing at CFA and the other at 808 Comm Ave, the hospital bed Prior is confined to for much of the play has been pushed back and forth across Commonwealth Avenue on more than one occasion.
But connecting to the social and political currents of the Reagan era remains in the forefront, for cast as well as audience. It's a historical moment that's not taught in schools, Robertson says. And while the directors may be (slightly) closer to that time than their undergrad casts, there are others on campus who lived it, some in New York City during the epidemic. Robertson and Ohringer brought in a few of them to talk with the cast. "I think it was good for them to be able to contribute in a really personal way," Ohringer says. "There's a desire from both faculty and students to share in a moment that we are all still connected to."
At one long early rehearsal, the directors paired members of the two casts and sent them to research different aspects of that era and report back to the group.
"The AIDS epidemic feels like something so far away, but it's still huge today," says Madison Findling (CFA'19), one of the actors playing Harper, Joe Pitt's valium-addled wife. "Really understanding the scale of how horrific it was, was eye-opening. I knew about it, but when we all sat down as a creative team and talked about it, the full scope of it finally hit me.
"We looked at what New York was like at the time, the politics in the country, and Mormonism is another huge thing we had to learn about," Findling says. "It's a holistic context for the entire play. Some productions don't, but we are leaning deeply into the time of the piece and the world of it."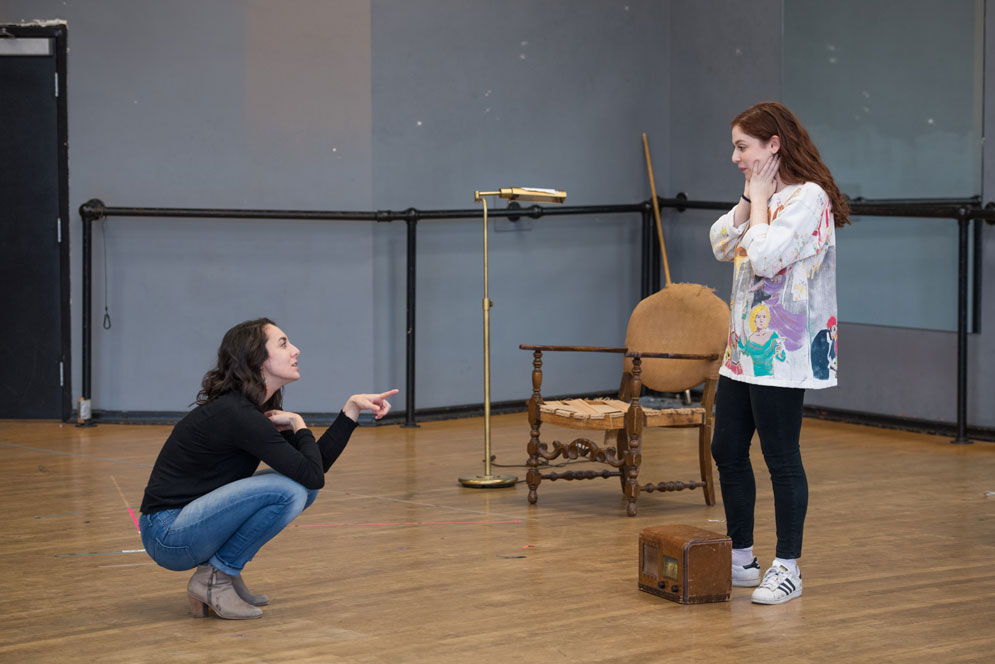 Although very different in look and approach, the two Harpers say the double casting has been a rare opportunity to bounce ideas off someone inhabiting the same character. When Harper is confronted with her husband's homosexuality in Part One, it nearly destroys her. Asked how they summon the depths of the character's pain and confusion, the two give simultaneous heavy sighs—then crack up at their matching reactions.
"The pain is in every rehearsal. I have to let myself go there, because it's so enormous," says Aida Neitenbach (CFA'19), Part Two's Harper. "It drives everything. She can't let go of it until there's a scene when he finally says he sees nothing in her, and that's when she can finally let go of him."
We are now in a different moment for gay rights, perhaps, but AIDS remains a global issue, and many Americans are still fighting for equal rights, the directors note.
"We see these human beings connect throughout the play, as lovers and friends and family, and there's a great quote: 'There is no one else out there, we must help each other,'" Ohringer says. "I think that's the message the play gives, that you have to find a way to survive. There are no angels, you have to pick yourself up and do it. And that's what we hope to teach in a way through this play—that people will leave the theater saying, 'Well, OK, we have each other, that's how we can fix this.' That's my hope."
Angels in America, Part One: Millennium Approaches runs Thursday, October 18, at 7:30 pm, Friday, October 19, at 8 pm, Saturday, October 20, at 8 pm, and Sunday, October 21, at 1 pm. Angels in America, Part Two: Perestroika runs Friday, October 26, and Saturday, October 27, at 8 pm, and Sunday, October 28, at 1 pm. Both productions are at the Joan & Edgar Booth Theatre, 820 Commonwealth Ave. Tickets are $15 general admission, $10 for alumni here or by calling 617-353-3380; free with a BU ID at the door on the day of performance, subject to availability.