On DACA and Challenges to Our Values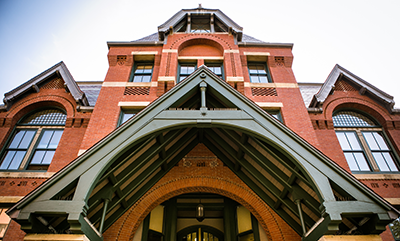 Before beginning today's Note, which we initially ran earlier in the week, an acknowledgment of the upcoming 16th anniversary of the 9/11 attacks. I have written previously about my personal experience of that day, an experience that was shared by countless others in New York City, and by those watching from around the world. From the vantage point of now, 9/11 often feels to me like it inaugurated a troubling new chapter in our nation's history, one that we have yet to complete. This is especially true for those who were directly affected by the attacks and must now live with the long-term mental and physical health consequences of trauma. As we continue to navigate the era that that day began, our commitment to creating healthy populations remains more important than ever, as does our obligation to mitigate the forces of hate and intolerance in our society. This is, I think, the best way for us to honor the victims of 9/11—by letting their memory guide us towards the creation of a better world.
With sadness and hope for the future, on to today's Note.
Ever since our political sea change last year, I have found myself thinking often about the subject of values. At this angry, uncertain time, our values as a school—our focus on analysis, free inquiry, and the fostering of a diverse, inclusive community founded on open-mindedness and mutual respect—have arguably never been more important. Our values present an alternative to the political rancor of the present moment, pointing us towards a better way of addressing each other and the issues we face. They also remind us that our country and our academic values share a common origin. Each sprang from the Enlightenment, a period when unquestioned rigid social structures gave way to the application of reason to understanding the workings of the world. The Enlightenment would influence everything from philosophy to politics, eventually leading to the concept of human rights and the birth of the first country in history to be explicitly founded on these ideals. Despite our shameful legacy of slavery, and the racism and xenophobia that have cast a shadow over all our progress, this country has managed, stumblingly, to carry these founding values across the centuries.
Global progress moves, if haltingly, apace. We are all fundamentally global citizens; this can be felt particularly in a great international city like Boston, and even more so on the proudly global campus of Boston University. In his address at last week's SPH Orientation, BU's Dean of Students Kenneth Elmore called our community "cosmopolitan," a word that means "familiar with and at ease in many different countries and cultures." I agree that our school is indeed cosmopolitan, as is, in its best moments, the United States.  It is incumbent upon us to continue aspiring to the ease of the true cosmopolitan, even as our world presents us with many shades of unfamiliarity and often disorienting change.
Unfortunately, current politics fall far short of this aspiration, and nowhere is this truer than in the area of immigration. Immigration has been a net positive for this country since our earliest years. Yet the backlash to opening our home to so many has led to periodic outbreaks of hate and bad policy that fly in the faces of our better angels. Donald Trump proved this yesterday, with his decision to end the Deferred Action for Childhood Arrivals Program (DACA). DACA was designed to enhance our country both pragmatically and morally. It allowed undocumented immigrants who arrived in the US as children to obtain protected status through academic excellence, public service, and good citizenship. While the Obama administration's decision to enact DACA through executive order provoked partisan disagreement, there has been broad across-the-aisle consensus that DACA recipients should be allowed to stay in the US. The program strengthened America and improved the lives of 800,000 of our country's most promising young inhabitants—lives that President Trump has now profoundly disrupted. His long equivocation about DACA's fate only compounded the fear experienced by those who had to wait while their government decided whether or not to reject them. Even if Congress chooses to preserve DACA, or something like it, to safeguard the program's recipients, this will not be something that these young immigrants will likely soon forget. We must now add their pain to that of the many Muslims, refugees, women, and LGBT Americans who have seen their basic worth questioned by this administration.
Why do I write a note on DACA and values, stepping outside my usual scope of writing on health?  I feel compelled to write this for three reasons.
First, DACA and policies around immigration affect members of our community, and it falls to all of us to defend all members of our community from forces that threaten them, even if those forces seem at times to be our own government. We stand firmly with President Brown who has said clearly, "We will not provide information about students who are undocumented unless specifically compelled to do so by a warrant or subpoena, and we will provide advice and counsel on a case-by-case basis to students who self-identify as undocumented and come forward to seek our counsel." Any concerned students should talk to our student services staff or engage with the University resources offered through Marsh Chapel, the Howard Thurman Center or to the ISSO team for confidential meetings. More information is at: https://www.bu.edu/isso/undocumented-individuals.
Second, our values are the bedrock on which all our houses are built, and the current administration's efforts to undermine those core values shake our institutions at this very foundation.  I consider myself to be extraordinarily fortunate to be a member of the great academic enterprise that has made American universities the premier universities in the world over the past century. Fundamental challenges to the Enlightenment principles on which these universities are built are a threat to all of us, and it falls to us to stand up and say "no."
Third, this too matters for the health of populations. In addition to the direct physical and psychological effects of marginalization and bigotry, and the threat of potential deportation for those directly affected, this administration's slow disinvestment in public goods and in the social, economic, and environmental conditions that shape health, directly threaten the health of the entire American population. Beyond the direct effect these policies have on health is the tone they set. It is a tone of meanness, of disregard for the norms of respectful debate. This, too, matters for health. Incivility leads to hate; hate, if left unchecked, can lead to violence, as it did in Charlottesville. Even when we avoid this worst-case scenario, a culture of incivility still breeds a politics of exclusion, empowers the worst among us, and makes solutions increasingly hard to come by.
With this in mind, I turn, once again, to values. At this unique season in our history, it strikes me that we in public health can make a difference not just by working to improve the conditions of health, but by working, each day, to elevate the public debate, inspired by the same Enlightenment ideals that have always made our school and our country great. Reason, depth of analysis, clarity of thought and expression: These are the antipodes of bigotry and hate. Together, these values can create a context where we can shift culture, and ultimately policy, to create a healthier world.
Warm regards,
Sandro
Sandro Galea, MD, DrPH
Dean and Robert A. Knox Professor
Boston University School of Public Health
Twitter: @sandrogalea
Acknowledgement: I am grateful to Eric DelGizzo for his contributions to this Dean's Note.
Previous Dean's Notes are archived at: http://www.bu.edu/sph/tag/deans-note/
---
Related Profiles: