Embrace change. Advertising
Don't prepare for a job. Prepare for a career. Advertising exists at the forefront of innovation in society, technology and culture. That's part of its appeal. That's also its greatest challenge: the business is always changing. Blurring lines between advertising, media, marketing, technology and entertainment.
Take the next step.
Follow us on social media.
---
Shape advertising's future.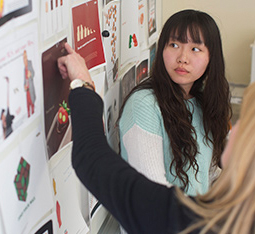 The Boston University Master's in Advertising prepares you to compete in that dynamic environment—not just for a great first job, but the job after that. Even for jobs that don't exist yet.
The focus is strategic branding, targeted creativity, self-discovery and higher-level thinking. Yes, there's plenty of hands-on experience. But it's blended with an understanding of the underlying principles of advertising.
Over three semesters, you'll study in small, intimate classes with a faculty of highly accomplished advertising professionals. They challenge you to learn by doing, getting you ready to thrive in the most demanding environments. Just as they have.
---
Live it to learn it.
Gaining experience is key to your career success.

In AdLab, the world's oldest and largest student-run ad agency, you'll work on account teams creating real campaigns for real clients including corporations, entrepreneurial start-ups, and non-profits. You can spend from one or two semesters trying different roles: account executive, copywriter, art director, strategic planner, digital designer or social media. AdLab experience is well-respected throughout the industry and you'll find alums everywhere in the ad world.

Want even more experience and networking opportunities? Intern in your area of concentration. Our excellent internship program places students at global agencies like Hill Holiday, Digitas and Publicis, as well as many numerous media companies and marketing organizations.

You may even want to spend your third semester in our London Internship Program, taking courses such as British Media in the Digital Age and Global Marketing Communications and, of course, interning. It's a great way to gain international credentials. Keep in mind that this program requires advance planning.

Access one of our greatest resources. Boston is the nation's seventh-largest media market and home to some of the world's foremost advertising, media, marketing and communications firms. Boston is a center for high tech, medicine, finance, biotech and education.
---
Bright minds wanted.
You don't need an undergraduate degree in communications. You do need intellectual curiosity, creativity, an interest in pop culture, confidence, drive, and a commitment to join the many BU alumni who have moved on to top positions throughout the advertising industry and academia. If that's you, welcome to COM.

---
Prof. Edward Boches, who teaches advertising at COM, talks about the need for creativity and collaboration, and the importance of establishing a new type of classroom setting. Get more information on our graduate programs and the application process.