RIP: Angelo Codevilla (1943 – 2021)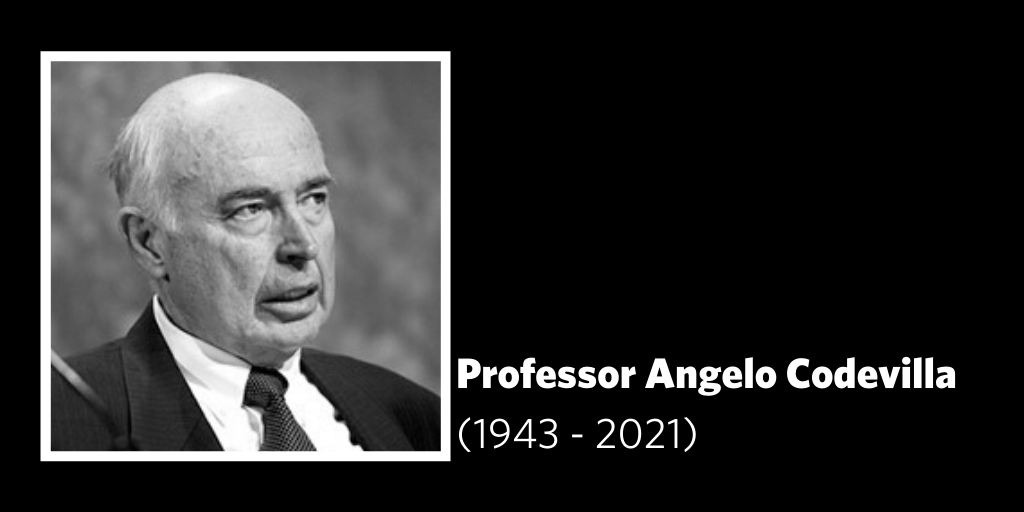 Angelo Codevilla, Professor Emeritus of International Relations at the Frederick S. Pardee School of Global Studies at Boston University, passed away on September 21, 2021.
Codevilla taught at Boston University from 1995 until his retirement in 2008. Prior to his tenure at BU, Codevilla served as a U.S. Naval officer, an Assistant Professor at Grove City College and North Dakota State College, a U.S. Foreign Service Officer, and a member of President-Elect Reagan's Transition Teams within the U.S. Department of State, in which position he dealt with Western Europe and with matters affecting the U.S. intelligence community. He also served as a U.S. Senate staff member dealing with oversight of the U.S. intelligence services, has held a professorial lecturer at Georgetown University, and was a Senior Research Fellow for the Hoover Institute at Stanford University.
"My office was down the hall from Angelo for my first few years at BU. Since both he and I tended to leave our doors open, I learned a lot about him by the way that he would engage his students during office hours," said William Grimes, Pardee School Associate Dean for Academic Affairs and Professor of International Relations and Political Science. "Angelo had a dedicated group of students who would take all his classes and visit him often. He had an easy rapport with them, alternating between scholarly mentorship, parental concern for their careers and wellbeing, and friendly banter. Fully trilingual in Italian, English, and French, he enjoyed talking about languages, history, and politics. While I often found myself disagreeing with him on his interpretations of world events over the decade and a half in which we overlapped, I was grateful for his friendly interest in me, his booming laugh, and his willingness to talk about any subject of interest."
"Angelo was a committed teacher who never left any doubt as to where he stood on issues," said Erik Goldstein, Pardee School Professor of International Relations and History. "He had a wide academic universe, writing well-received books on topics ranging from Machiavelli to Swiss politics. Angelo was very much a proponent of being well-read in the classics of international relations and ran a lively early morning seminar on the subject. On a personal level, he was always a caring and concerned colleague."
He will be dearly missed by his family, students, colleagues, and friends around the world. His New York Times obituary article can be read online.