Lori and Schilde Publish Article on Migration Management in Global Commons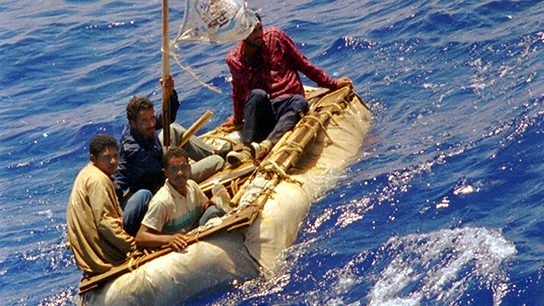 Noora Lori, Assistant Professor of International Relations at the Frederick S. Pardee School of Global Studies at Boston University, and Kaija Schilde, Associate Professor of International Relations at the Pardee School, published an article in the latest edition of International Relations evaluating the phenomenon of migrant interdiction in international waters, and specifically the High Seas global commons.
In the article, titled "Muddying the waters: migration management in the global commons," Lori and Schilde explore the Liberal strategies of exclusion as well as the contradictions between universal liberal values enshrined in democracies and more exclusionary practices towards migrants. The two take a focused look at migrant interdiction in international waters conducted by the United States, Australia, and Europe. In doing so, they argue that maritime migrant interdiction by liberal states such as these in the global commons is the result of domestic tensions between a state's security institutions trying to fulfill their protection mandates and the liberal domestic institutions upholding rights it grants to individuals.
An excerpt:
Advanced liberal democratic states interdict migrants on the High Seas global commons. Why have liberal states engaged in this practice over the past four decades? Deterrence and humanitarian rescue explain part of this puzzle, but they are insufficient for understanding the patterns and justifications for migrant interdiction on the High Seas…We argue that liberal states use the regulatory gray zones of the High Seas to 'muddy the waters' in order to advance their security interests. States with the highest domestic refugee protections have incentives to circumvent their own obligations, which vary over time with changes to domestic asylum laws.
The full article can be read on International Relations' website.
Noora Lori's research broadly focuses on the political economy of migration, the development of security institutions and international migration control, and the establishment and growth of national identity systems. She is particularly interested in the study of temporary worker programs and racial hierarchies in comparative perspective. Regionally, her work examines the shifting population movements accompanying state formation in the Persian Gulf, expanding the study of Middle East politics to include historic and new connections with East Africa and the Indian subcontinent. Lori is the Founding Director of the Pardee School Initiative on Forced Migration and Human Trafficking. Read more about Professor Lori on her faculty profile. 
Kaija E. Schilde is an Associate Professor at the Boston University Pardee School of Global Studies. Her primary research interests involve the political economy of security and transatlantic security. Her book, The Political Economy of European Security (Cambridge University Press, 2017) investigates the state-society relations between the EU and interest groups, with a particular focus on security and defense institutions, industries, and markets. Learn more about Professor Schilde on her faculty profile.