Pardee Alumni Wins Emmy for Work on "March Madness Confidential"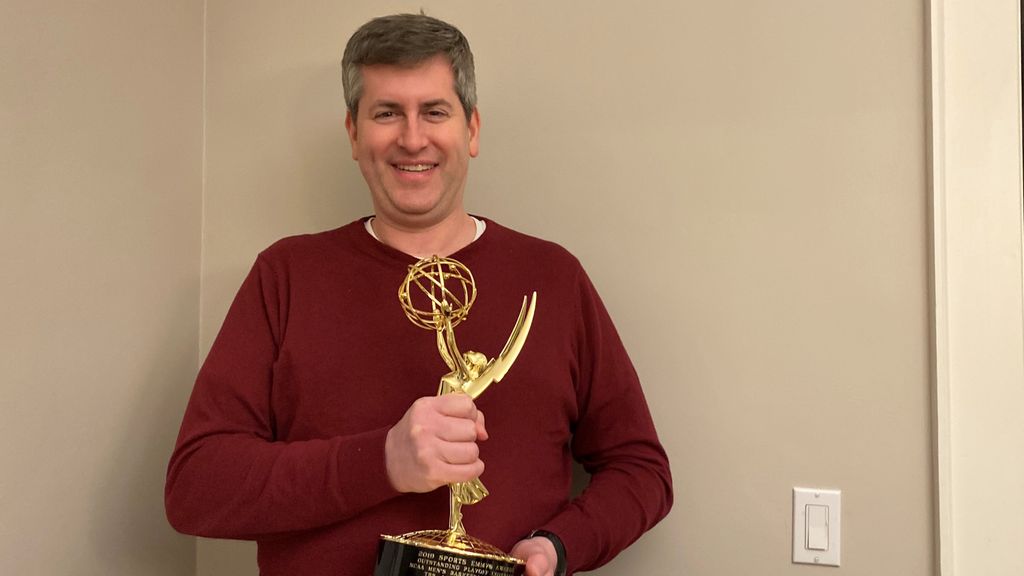 Joel Kitay (Pardee '94, COM '94), founder and president of Kitay Productions, was recently awarded an Emmy for his work on CBS Sports' 2019 March Madness Confidential.
The program provided exclusive, behind-the-scenes access to teams during the NCAA Men's Division I Basketball Tournament. Kitay and his team covered Murray State University, providing short form interviews and video content to be aired on CBS and TBS as well as social media. This is Kitay's fifth Emmy win; his first four were awarded during his time as Broadcast Manager for the Baltimore Ravens.
The Pardee School caught up with Kitay to discuss his Emmy win, career path, and how Boston University remains a big part of his life.
Kitay attended BU with the help of a Trustee Scholarship and graduated with degrees in International Relations (IR) and Broadcast Journalism. As he approached graduation, Kitay pondered whether to pursue a career in diplomacy or in broadcasting. "I was always interested in current events, world affairs, and why things are the way they are," he said.
An avid sports fan and broadcast buff in undergrad, he ultimately pursued a career in sports broadcasting. However, Kitay still fondly recalls his IR education and recounted particularly memorable experiences such as participating in a wargaming exercise, which forced him to collaborate with others and work on a tight turnaround.
"My IR degree really helped me understand how organizations are structured and how people work together," Kitay recalled. "When covering games, we're making lots of decisions on the fly and under pressure." He noted that these decisions certainly aren't life and death, but his IR experience helped prepare him for high pressure situations.
Kitay is still active at BU, producing and directing games, commencements, and other events that take place at the University's Agganis Arena.
In discussing what's next for him and sports broadcasting, Kitay remarked that the COVID-19 pandemic has caused a "seismic change in how to produce games," noting resource limitations, personnel restrictions, and new safety procedures. While he would like to see a return to normalcy regarding his coverage of games, he also hoped that new telework and safety protocols remain in place moving forward.
Learn more about Kitay and his work on Kitay Productions' website.