FMHT Hosts Hackathon for Digital Solutions to Human Trafficking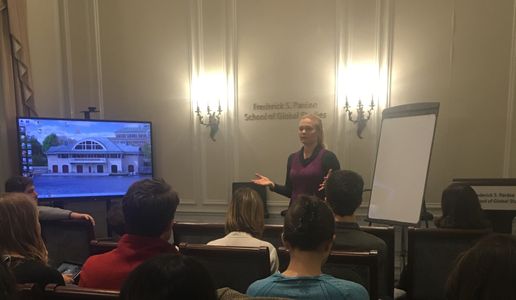 The Initiative on Forced Migration and Human Trafficking, a research initiative at the Frederick S. Pardee School of Global Studies at Boston University, hosted a hackathon on December 2, 2016 to brainstorm and discuss digital solutions for refugee human trafficking.
The hackathon was attended by about 40 people from the Pardee School, the Boston University School of Law, the Boston University Rafik B. Hariri Institute for Computing and Computational Science and Engineering, the Boston University Software and Application Innovation Lab and the private sector.
Kaija Schilde, Assistant Professor of International Relations at the Pardee School, presented to the group.
The event was aimed at finding digital solutions to provide a secure system to ensure continuous communication between each NGO and the refugees it is in contact with. Breakout sessions were held to brainstorm solutions to data and research, technology, ethics and legality and partnerships and fundraising.