NATO Parliamentarians Visit Pardee School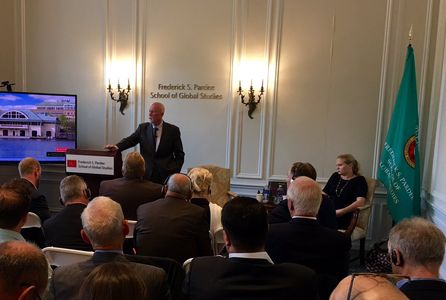 The Frederick S. Pardee School of Global Studies hosted a delegation from the North Atlantic Treaty Organization (NATO) on September 30, 2016 to dialogue with faculty members on topics ranging from the challenges of fighting modern terrorism to the implications of the Brexit referendum.
The high-level delegation included 38 parliamentarians from NATO member states including former Foreign Minister of Iceland Ossur Skarpedinsson (2009-2013) and many others who had held Ministerial and high policy positions in their countries. The delegation included senior parliamentarians from the Czech Republic, France, Germany, Hungary, Iceland, Italy, Latvia, Netherlands, Norway, Portugal, Romania, Slovenia, Spain, Turkey and the United Kingdom. 
Associate Dean for Academic Affairs William Grimes addressed the economic and diplomatic dimensions of the United States pivot to Asia.
Kaija Schilde, Assistant Professor of International Relations, discussed meeting the defense spending commitments of the Wales Summit and the implications of the Brexit referendum for European defense cooperation. 
Ambassador Robert G. Loftis, Professor of the Practice of International Relations and Director of Graduate Studies at the Pardee School, led a dialogue on the ongoing conflicts in Syria and Iraq and the diplomatic moves needed to end them. 
Pardee School Research Professor of International Relations and Political Science Jessica Stern led a dialogue with the delegation on the United States approach to confronting the modern terrorist challenge.