Hefner Keynotes at Jakarta Education Conference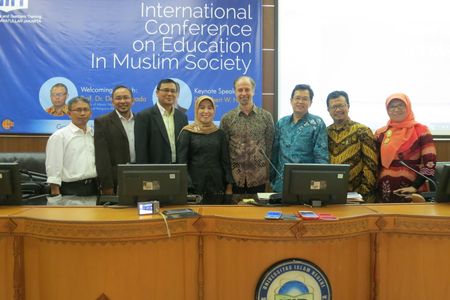 Robert Hefner, professor of Anthropology, was the keynote speaker at a recent Indonesian conference on education in Muslim society.
Hefner is the director for the Institute on Culture, Religion, and World Affairs (CURA), a regional center at the Frederick S. Pardee School of Global Studies at Boston University.
The conference, titled "The International Conference on Education in Muslim Society," was organized by faculty in Tarbiya and Teacher Training at the Syarif Hidayatullah State Islamic University in Jakarta from October 29-31. The theme of the conference was innovation and focused on forward-looking developments.
Hefner's topic was "Mediating Modernity through Educational Innovation: The Cultural Past and Pivotal Future of Islamic Schooling."
Hefner has conducted research on Muslim culture, politics, and education since the mid-1980s, and on the comparative sociology/anthropology of world religions for the past thirty years. He has directed some 15 major research projects, and organized 11 international conferences.Recent projects have examined shari`a law and citizenship in eight Muslim majority countries (2008-2010); the culture and politics of Muslim education (2005-2007); the prospects for and the politics of civil democratic Muslim politics (2002-2004); and social resources for civility and participation in the deeply plural societies of Malaysia, Singapore, and Indonesia (1999-2001). Hefner has authored or edited fifteen books, as well as seven major policy reports for the U.S. government and private policy foundations. Five of his books have been translated into Indonesian.