Direct Swap Walkthrough
Students looking to change their on-campus housing may request a Direct Swap with another student by searching and requesting to swap rooms on the My Housing portal. All steps are shown to provide students with information that is necessary when completing the form. Click on images to expand.
My Housing Portal
To login to the My Housing Portal click at the top of the page.
Login
Enter your BU username and Kerberos password to login.

Home Page
On the top ribbon, select Direct Swap to access the web form.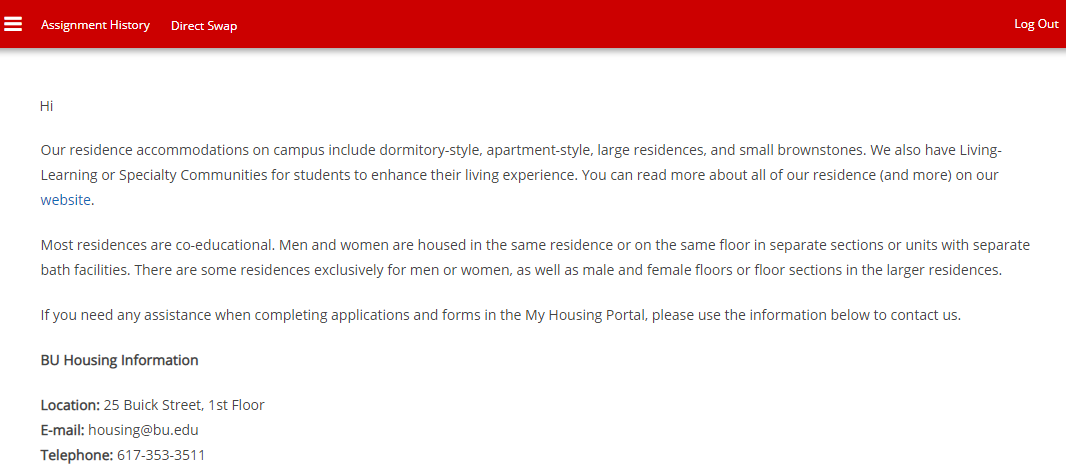 Select Assignment
Select your current room assignment that you would like to swap.

Direct Swap Preferences
On this step you will list up to ten preferences for the kind of room you are looking to swap into. These will be listed as part of your room search, and people looking to swap out of rooms that fit these preferences will be able to see you more easily. Each choice should specify a location and room preference (Single, double, apartment, dorm, etc…)
Once you specify at least one preference you will be visible to other students in the Direct Swap Search. You may change preferences at any time. To remove yourself from being shown in the search, contact the housing office to be removed.

Direct Swap Management
On this step you can view incoming and outgoing requests. You can also accept or decline a request. If you want to cancel an accepted request contact the housing office. To view direct swap postings, click Direct Swap Search.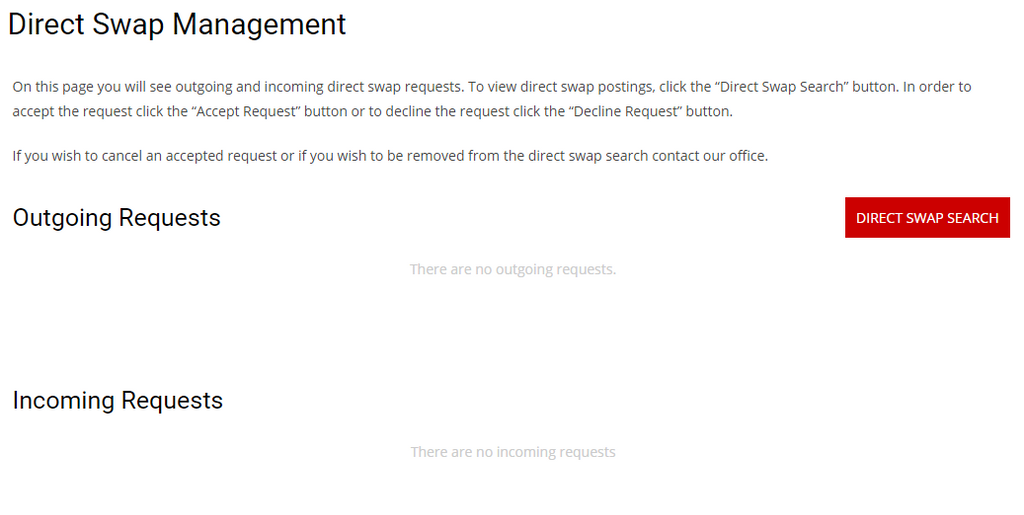 Direct Swap Search
Here you will be able to view all postings and filter the results. You can filter by predefined criteria, based on the preferences selected earlier, or you can customize the results.


To search for direct swaps set the filters according to the settings below:
| | | |
| --- | --- | --- |
| My Preferences | Other Student Preferences | Result |
| Predefined | Predefined | Results are exact matches of your preferences. You are offering what the other student wants and they want what you are offering. |
| Predefined | Custom | Results are matches of what you are looking for and your room may or may not be what another student wants. |
| Custom | Predefined | Results are students who are requesting your room, but they may not be in rooms matching what you are looking for. |
| Custom | Custom | View all results based on criteria you specify. It will take some time to load all results. |

Result Description
The result shows the room details and student information. You can click on Room Details to view more information or you can send a message to the student by clicking Send Message.
Note the result filters on the top right corner. They show how the results match your and the other student's preferences. Once you have found the room you would like to swap into, click Request Swap. The other student will be notified and they can accept or decline your request.