What Does the Future of Restaurants Look Like? Insights from Hospitality Experts
Even though life is slowly returning to normal in 2021 after the COVID-19 pandemic, it has been a grueling year and a half for many restaurants and foodservice businesses. For those who have survived, the future looks incredibly uncertain, facing emerging challenges in the industry.   
To help restaurants and foodservice businesses keep a pulse on the industry trends, BU's School of Hospitality Administration invited a group of expert panelists across the hospitality industry to join this engaging dialogue around what the future might look like for the restaurant industry. 
The Summer Conversation Series is powered by BU SHA's Master of Management in Hospitality Program.
Learn about BU MMH program's new concentration—Restaurant Management & Experiences.
The Panelists
The Challenge of Labor Shortage in Restaurants
One of the biggest shifts in the restaurant industry in the post-pandemic world is the labor shortage. As restaurants and bars reopen, many find it difficult to be fully staffed. How do we get people to start or stay working in this industry?
Facing labor issues, restaurants need to be closer to employees and manage talent with a millennial mindset. Allow and encourage staff to express themselves and structure the operations to invest in employees' professional development. "That top-down corporate approach just doesn't work anymore today." Frank Schuetzendorf explains. 
"Restaurants need to have a vested interest as an employee. Maybe there are new business models that could [be] develop[ed] to have employees actually [become] shareholders of the company. To really have them be 100% invested in the outcome and to stay on board for a longer period of time. And then above and beyond that larger organization, it's also important to work on the company culture."
To better retain employees, Kiana Estevez thinks that fostering the diversity of food creators and sharing their stories with the audience are also important tactics.
"Chefs are the people who are creating the inside of our kitchens, the inside of restaurants and we have to embrace that creativity. . . . When we really can step away from the confines of a restaurant menu of three lines and bring in a culture that is unreported, cuisines that are unreported, that's what's gonna get people into the door. That's what's gonna bring this next generation of chefs to truly redefine what a restaurant is," says Kiana.
Future Restaurant Business Models
Restaurant business models are not just a post-pandemic issue because the traditional business model has been in question for decades. How do restaurants' business models need to change moving forward?
Parker Doyle, the Director of Transformation of The Moseley Group, shares his opinion. "Pre-pandemic we saw restaurants in California adding surcharges to cover the rising minimum wage and healthcare costs. And some restaurants had success, but the thing was that often the ones who did have success were hiding it at the bottom of the menu and weren't transparent with the costs that were associated with it."
When it comes to business strategy, even though there are no one-size-fits-all solutions, Parker explains developing a business model that ties with an authentic brand is key for business success. 
Parker believes connecting the business model to a strong brand is important. "Your brand is at the center of everything that you do—profit-sharing, higher wages, tips, or non-tips. These all have implications on the brand that you're developing and trying to sell. It's really all interconnected and a brand is the sum of multiple touchpoints, all of which matter and beyond the basics of your business." 
Derek Domino, the VP of Sales at Bbot, thinks that COVID-19 did not change consumer trends but rather it accelerated them by 10 years. He took the adoption of digital ordering as an example. Digital ordering was in a quantum leap in the past year. Even though there might be a dip since indoor dining came back, he predicts that a good mix of all ordering in restaurants is still going to be from off-premise customers. 
The new restaurant business models need multiple revenue streams. "One of the words we say is omnichannel; you need to have a kitchen that can handle orders from multiple sources, different kinds of order types, and different kinds of clientele," Derek says. Restaurants need to rethink how to have those different kinds of service models and guest experiences out of a single restaurant, from online presence, handling orders, floor plans, to the loading zone.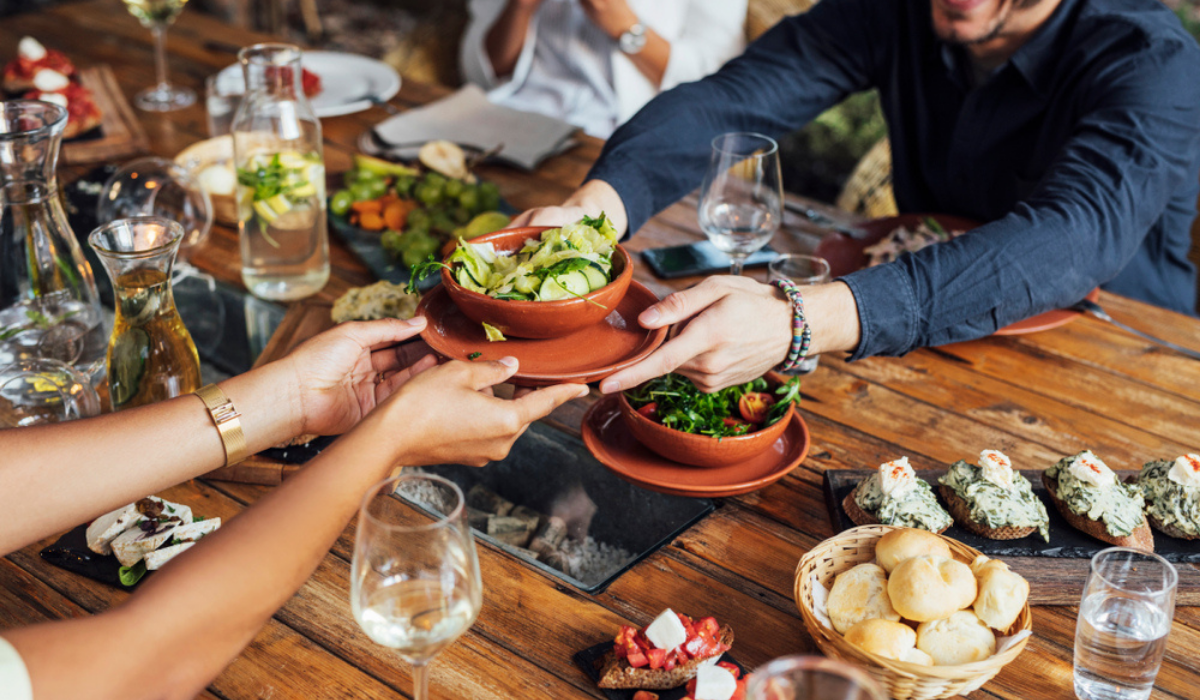 Well-paying, Equitable, and Sustainable Restaurant Concepts
The panelists also share their opinions on the implications of creating restaurant concepts that are well-paying, equitable, and sustainable. Parker thinks that restaurants are in a wage and benefit crisis, a reset period that requires us to be smarter and more purposeful with our decision-making. 
"Restaurant operators need to ensure they're smart and tactical with their brand strategy, menu, operations, store design, and their technology stack. All those things need to communicate together and work together in one direction." Parker points out that a flexible operating system, smart store design, and technology are needed for success. 
"You need to develop an operating system that's able to efficiently flex up and flex down during off-peak dayparts that can be run by one employee or five," he says. A good store design is critical to a flexible operating system and the brand. "Store design tells the story, material choices, the consumer flow, and touchpoints." 
As for sustainability, he thinks that a sustainable restaurant may be LEED-certified or may have a kitchen that showcases fresh produce. "You really need to showcase what you're doing to guests these days," says Parker.
The ability of data analysis and tracking is important as well. "If you're really not on top of your data and realizing what the menu operations and guests are saying, you're not going to succeed in this day and age," Parker explains.
Kiana shares her opinion from another perspective. With one and a half million job openings in the industry, restaurants may need to raise their prices to provide competitive wages and benefits. However, we need to understand that price increases can have a gentrification component to them as well with concerns about pricing out the local community.
That leads to the question of "how do we award diversity and equitable practices in a way that makes customers want to spend that extra dollar?" There is then a challenge of communicating this value with customers and encouraging them to support restaurants that pay employees well.
Accordingly, how restaurant owners build well-paying and sustainable businesses will be a constant experiment moving forward. "If you're being a leader by saying, I'm paying my employees well, I'm practicing sustainability and diversity, that's not a bad way to go," Kiana suggests.
Technology Reinventing Restaurant Operations
When it comes to hospitality technology, Derek believes that technology and brand will need to be highly synonymous. The technology should serve the unique brand and provide the services that the target customers desire. 
Restaurant operators need to think about what their brands should be and how they can use technology to give the guests the experience they want, especially as customers will expect or demand personalized experiences from restaurants in the future.
Derek shares his own experience with technology in the restaurant space, "Restaurants are going to have to figure out where they want to live on that spectrum. In my current company, we did QR code ordering and payments from the table." 
However, Derek also points out that the new norm for many restaurants could be having an omnichannel approach by providing different services. For example, restaurants can keep their high-touch experience and premium offering while making a virtual brand around the top-selling items. They can cross utilize all ingredients and have different ghost brands that come out the back, enable APP orders, and offer a well-made affordable dish that's high volume at the back of a fine dining restaurant.
Learn about Technology Trends in Hospitality.
Looking Forward: What's Exciting about the Future of Restaurants?
Reflecting on 2020, Kiana envisions a larger diversification and disruption of cuisines because the pandemic has impacted how people understand food and dining experiences. From the guests' standpoint, since the pandemic forced people to cook at home more, they had the chance to truly savor and understand ingredients. They now can understand value better and will be willing to pay a premium for it with a greater willingness to try new things.  
Parker finds excitement in how restaurants will evolve to meet younger customers' high standards of excellence. Younger customers are expecting restaurants to be hyper convenient and provide authentic cuisines all at the touch of a button on their phones. Parker also foresees the growing concepts of plant-based cuisines like Mediterranean style, as well as the growth of convenience store foodservice programs.
Frank is excited about the convergence with technology, which will spark more creativity in the restaurant industry. "I think there's going to be a lot of creativity with new up-and-coming chefs and millennials that started out [and] have great ideas." With technology, it's also more cost-efficient for people to start small businesses.
Lastly, Derek thinks that the labor crisis in the industry will force restaurants to pay a competitive wage and offer benefits to employees. But the labor issue is also a constraint that forces restaurants to innovate to be more efficient and to create a happier working environment for employees. "This is now a forcing factor to pay staff minimum wage, change your business model, figure out ways to bring in new revenue streams, or implement technology just to be more efficient" Derek explains.
Learn More About the Future of the Restaurant Industry
Watch the full Summer Conversations video to gain more cutting-edge insights about future restaurant trends and challenges. The panel also provides their answers to the following in-demand questions about the restaurant industry:
What are the challenges in managing various technologies for different aspects of the business?

What advice do you have for food and beverage companies who are still struggling from COVID in places outside the US?

What areas have benefited most from the acceleration in consumer trends brought on by the pandemic?
Boston University SHA's Master of Management in Hospitality program is now offering a new Restaurant Management & Experiences concentration for those who want to ignite innovation and business success in the restaurant industry. Contact us to learn more about the program.